Now that you have a clear idea of your career plans, you need to begin actively looking for work. So where do you begin? Firstly, look for job offers that correspond with your chosen career path. As you will see, plenty of tools are available to help you find them. Let's have a look at these together and see how you can organize your job search to get the best results!
Finding job offers on the Internet
‌The Internet has plenty of job-hunting websites, and used productively, this tool is certainly very effective. However, as you will see, it is possible to find job offers elsewhere than on the World Wide Web! Depending on your career plans, you may need to diversify the ways by which you enter into contact with a potential employer.
What sites should you consult?
Both job sites and professional networking sites respond to various objectives and offer their own unique services. Let's have a look at them together.
Initially, you should have a look at some of the numerous generalized job sites that exist. Pôle Emploi and APEC publish all kinds of offers, in all kinds of domains and for all kinds of profiles. Other sites like Monster, Keljob and Regionsjob are widely looked at by both job-seekers and employers.

Meta-search engines, like Indeed, aggregate their results from generalized job sites and company websites. They therefore provide jobseekers with a huge range of job offers.

Professional social networking sites like LinkedIn or Viadeo, are increasingly used by employers as a place to post job offers. Have a look at the Careers section on LinkedIn which offers a search engine for job offers.
Although it is not strictly a professional network per say, Twitter allows jobseekers to remain up-to-date on current job openings at various companies and institutions, as long as you subscribe to their newsfeed.

There are also specialised sites per domain area. These allow you to identify the businesses and institutions that are hiring in a particular field and redirect you to their respective
websites. Some examples of these include: Autoactu for the car industry, Profilculture for the cultural sector, and Asfored for the publishing industry.

(Almost) all company websites have a jobs section. This can usually be found under titles like 'Recrutement', 'Offres d'emploi', 'Rejoignez-nous', etc.

The website of the Centre d'Information et de Documentation Jeunesse is also a place where you can find offers and apply for positions. Academic and career guidance is just one of their many missions.

Finally, don't forget about generalized ad sites, like LeBonCoin for example, which now hosts a jobs section: 'Emploi'.
Efficient job-hunting
- In order to find as many job offers of interest as possible, vary the key words (job title, functions, companies, etc.) during your search:
Use a variety of different titles to describe the job or profession in question (see course Discovering the job market and keeping track of job postings and news). For example, in France the position of 'développeur territorial' is sometimes advertised as 'développeur économique' or 'chargé de mission coopération économique territoriale', etc.

Search engines bring up job postings with different titles. Make a note of these for future reference!

Make use of the key words available in the scroll-down menus

Use Jobs and Trade Directories as another guide. For example: le répertoire des métiers de la fonction publique territoriale. (Civil servants directory).
- Optimize your search by using search engines that make use of search operators (article in French: Faire une recherche sur internet)
- Sort your results using filters and criteria depending on your priorities (geographical zone, status, sector...) and by making use of the specific tools offered by each site (such as the ROME codes on the Pôle emploi website). Remember to use the advanced search tool that allows you a greater choice of filters and search criteria.
Example of an advanced search:
You're looking for a job as an in-house company lawyer (employment law).

Your requirements: job based in Paris, with a CDI (permanent contract).

You are flexible with regard to the company's activities or business area and the salary.
Your search should be:
Free field: Juriste droit social*
Filter: Offres uniquement en CDI, postes basés uniquement à Paris**
*Employment law positions
**CDI positions only, jobs based only in Paris
See the example below:
Your objective: Set up 3 alerts on 3 relevant sites and sign up for 3 newsletters in the field of your chosen career.
Get organized!
In order to avoid getting confused between the hundreds of job sites that exist and wasting time doing the same searches over and over, organization is key! Here are some tips to help you:
Make a list of the websites that you check most often and plan to visit them on a regular basis (every 2 or 3 days). Job offers are updated every day (NB: some sites allow you to save your search criteria. Take advantage of this!)

Read the newsletters you have signed up for as soon as you receive them

Document the offers you have selected and/or applied for
To help you in this last task, we suggest that you fill out the following table as you do your research. Another option is to document your research on your computer, using a job search dashboard like JobHero.
Meet professionals
Going out and meeting people is another great way of finding potential job opportunities.
Fairs, forums, job dating...
The number of professional job fairs and forums increases from year to year. There is a huge variety out there: fairs connected to a specific activity area, forums or job dating events organized by universities and schools, job fairs organized by municipal authorities (mairies in France), etc. These provide an ideal opportunity to make direct contact with employers. You should make this your aim instead of simply going and coming home with a pile of brochures and reading material!
To avoid wasting time:
Double-check the dates of upcoming job fairs (for example on the website of your local CCI (Chamber of Commerce) or the following websites: l'Étudiant or Studyrama). Look out for adverts in other places: public transport, etc.

Target the fairs best suited to you in terms of the activity area and the businesses and organizations in attendance. For example, if you are interested in publishing, you should visit the Salon du livre and make a point of talking with the representatives of the publishing houses you have earmarked in advance.

Pre-register for the fair(s) and write the dates in your diary.

Come prepared! This is not a job interview but it can be the opportunity to make a good impression on a recruitment agency. Prepare your pitch (see course Preparing for your job interview, in France or in English-speaking world) and think of a way of passing on your contact details (for example, a business card. The small format ones are very discrete and relatively inexpensive).
In order to make the most of your visits to job fairs, we suggest making use of this table to make note of any contact made with professionals.
Make use of recruitment agencies
Recruitment agencies are hired by companies to find suitable candidates for various job openings (based on skills, experience, etc.). There are different kinds of recruitment agencies: multi-domain or highly specialized. The type of profile targeted by the latter is generally a very experienced candidate, but some agencies look for atypical profiles to fill emerging careers ('chargé de mission projet urbanisme' or 'politique de la ville', for example), or positions that demand a very high level of technical skills. These kinds of jobs may suit recent graduates.
What is the best way to contact them?
Upload your CV to their website and make contact with them two weeks later by telephone or email (you will find their contact details on the Contact page).
Certain temping agencies (agences d'Interim) occasionally advertise for long-term positions. In fact, some of the positions they advertise for may be for long periods of time, and may even lead to fulltime employment. However, you should always be clear with the temping agency from the outset by telling them that your goal is long-term employment.
Use your network
Your personal network of contacts may be a useful tool when it comes to finding a job. Don't think twice about getting in touch with direct and indirect contacts! Here is some advice to get you started:
But first ... the false arguments that may prevent you from trying:
I don't want to bother them. You'll never know if you're bothering someone unless you've actually tried contacting them. The person in question may be unavailable for personal or professional reasons, but you're not to know this. It's always worth a try!

I don't know anyone who works in the activity area that interests me. Don't forget that your network is larger than the people with whom you have a direct connection!
How do you use your contacts?
Make a list of people and get in contact with them. Your network is made up of various spheres or circles of contacts.
The 1st circle consists of all the people you know, who, if you contact them directly, will immediately know who you are: friends, students, people in your sports club/group or leisure activity, former internship tutors, former students at your school, and any relatives or friends of the family you may have living in France, etc.
The 2nd circle consists of all the people you can contact thanks to your contacts in the first circle.
The 3rd circle consists of all the people you can contact thanks to your contacts in the second circle.
Etc.
Unsure of how to develop your network with the aim of getting a job interview? Two possibilities:
Ask one of your contacts to put you in touch with people likely to be interested in your profile. You may want to phrase it as follows: 'Bonjour, Je suis étudiante à "..." en Master "..." et je recherche un emploi dans le domaine de "...'" Connaissez-vous des personnes de votre entourage qui pourraient être intéressées par mon profil ? Je vous remercie beaucoup par avance pour votre aide.'

Make direct contact with people likely to be interested in your profile by mentioning that you are contacting them on behalf of someone in your network. You may want to use the following as a guideline: 'Madame / Monsieur, [Name] [Surname], en copie de ce mail, m'a vivement recommandé de prendre contact avec vous au sujet de mon orientation. Actuellement en fin de Master [...], je suis partagée entre la perspective de préparer les concours de la fonction publique et celle d'avoir une première expérience dans le domaine du conseil. Accepteriez-vous de m'accorder un peu de votre temps pour me faire part de vos conseils ?Je vous remercie d'avance pour votre réponse. Bien cordialement'
Exercise:
Using the template below, make note of contact made amongst the 1st circle and fill in the 2nd and 3rd circles as you obtain interviews or responses to your mails. For each person contacted, write down the date of contact, the subject of your exchange, possible leads, follow-up to be taken, etc.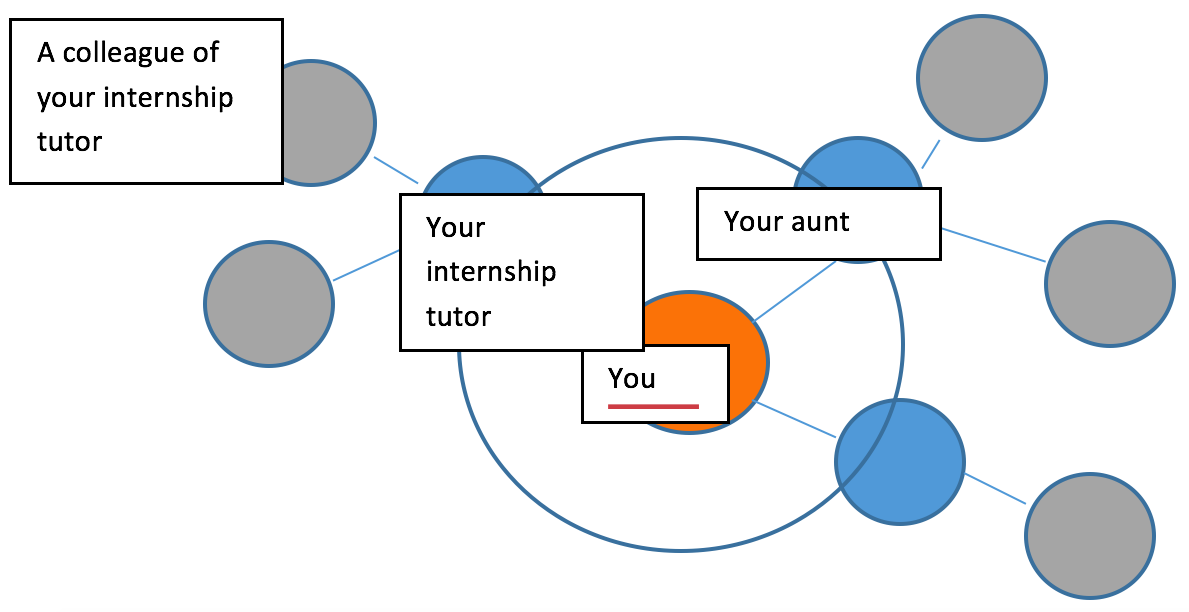 Target potential employers with spontaneous job applications
This isn't the most effective method of finding a job (- 1% of positive responses). With a spontaneous job application you have no real idea if the potential employer is hiring or not. So don't waste too much time here! On the other hand, if there are 2 or 3 companies out there that are your dream employers/jobs, and if you have a specific project or skills to offer them, then it's always worth sending a spontaneous application. The best way to go about this is to show your knowledge of the company's activities and to identify how exactly you could fit into the enterprise: your role, what you could bring to the company, etc. An interesting article on the subject is the following: How to Get Any Job You Want (even if you're unqualified)
Did you understand all the info‌rmation so far? Test yourself with this quiz!
These are all the different ways of looking for a job and the procedure to follow. Now it's up to you. Good luck!
This course was developed with the support of: