Do your career plans include the possibility of working overseas? Would you like to enhance your profile thanks to a stint in the US or Asia, but are uncertain as to how to go about this? Would you like to know more about the European and international job markets? This is the topic of our course.  Although the course features many statistics relating to French expats abroad, the resources referred to are of benefit to both French and non-French* students and graduates.
*resident in France
Targeting the European job market
Step 1: Assess your options
 As you can see here for example, the preferred destination for French nationals living abroad are other EU countries. Of the 1.68 million French living overseas, almost half of these live in Europe.
As almost two thirds of job offers come from European countries, in this course, we distinguish between the European job market and the international job market (outside of the EU).
Would you like to acquire new work methods? Practise a foreign language? Discover a new culture and environment? Go overseas to work or to open up your own business? European mobility offers a real opportunity for graduates! As you can see in the graph below, 4 of the top 5 countries chosen by French expats as their destination in which to live and work, are European countries.
If you are a member of the EU, you are no longer required to hold a work permit, and therefore, benefit from the same work opportunities, rights and obligations as the citizens of the country in which you have chosen to live and work. In other words, no need for visas! However, in some countries, certain administrative procedures need to be followed in order to obtain the status of resident: you need to register with the local administrative authority in Belgium and with the Central Register of Foreign Nationals in Spain.
The EU has developed a whole host of resources for EU citizens providing them with all the necessary information they will need about working outside of their home country within the EU:
Europass : learn how to tailor your CV according to the standards of the host country…

Eures : find thousands of European job offers.
What type of profile is hired?
Although statistics are often a bit patchy, it is worth noting that many overseas work contracts are with a local company, as opposed to a large multinational corporation! Therefore, it is worth targeting local companies!
The more experience you have in a particular field, the more likelihood you have of finding work easily. It is a good idea to start by looking for an internship, as this increases your chances of being hired in the host country. Don't forget that the 'Nordic' countries—Germany, Denmark, Finland and Sweden—have succeeded in dramatically lowering their unemployment rates and therefore, there are greater job opportunities in these countries.
The type of profiles sought by certain countries:
Switzerland (boasting the largest number of French expats): medical personnel, computer specialists, bank managers specialized in international business, real estate negotiators.

United Kingdom (the 2nd most attractive destination): head chefs, IT executives, specialists in finance and new technologies.

Germany: environmental specialists.
Ensuring your qualifications are recognized overseas!
 Even if the qualifications given by the French State, have, in theory their equivalent in other countries, it is often necessary to obtain a Statement of Comparability (equivalency) or a certificate of your degrees and qualifications. In order to do this, you should contact the ENIC-NARIC Centres. This network exists in all EU member states. They can issue you with the required documentation allowing your qualification to be recognized abroad and inform you of the necessary steps to be taken in order to exercise certain regulated professions.
Step 2: A whole host of networks to help you target the European job market
The various European institutions have put in place a whole host of resources and networks to favour mobility between the different job markets in Europe.
Other institutions and programmes (French Chambers of Commerce and Industry overseas, international volunteering programmes, etc.) are also a good source of information for anyone (French or non-French citizens studying and/or working in France) looking to work abroad.
Did you understand all the information so far? Test yourself with this quiz!
Are you ready to apply for jobs on the European job market? Check and see if you have any last details to take care of before you leave!
Exercise forum:
Have you ever worked overseas? Why not share your experience on the forum and leave some advice for those hoping to find work abroad. You should:
Indicate the name of the host country

The number of years of experience there

The job you held there

Your advice on how best to find work

Any other advice or tips, or even possible contacts for those wishing to work overseas
Applying for jobs on the international job market (outside Europe)
Step 1: Assess the realities of the job market
Facts and figures
Any international student or graduate studying or working in France may be interested in reading about their French classmates or former classmates, now working overseas. Current facts and figures indicate that French expats have a high level of education (the equivalent of a Masters or PhD, with almost one third of all French expats having the equivalent of the Bac plus 3 years of third level studies).
(Figures from the French Ministry of Foreign Affairs indicate the following:  junior high school level: 6%, high school level: 9%, Bac +1 to Bac +3 level: 32%, Masters level: 41%, PhD level: 12%).
In what sectors do French expats work? According to the following pie chart, many French expats work in education (especially in FLE; the French equivalent of TEFL), or in business and administration. In the private sector, jobs are found most easily by engineers, IT professionals, and specialists in video gaming, film and fashion.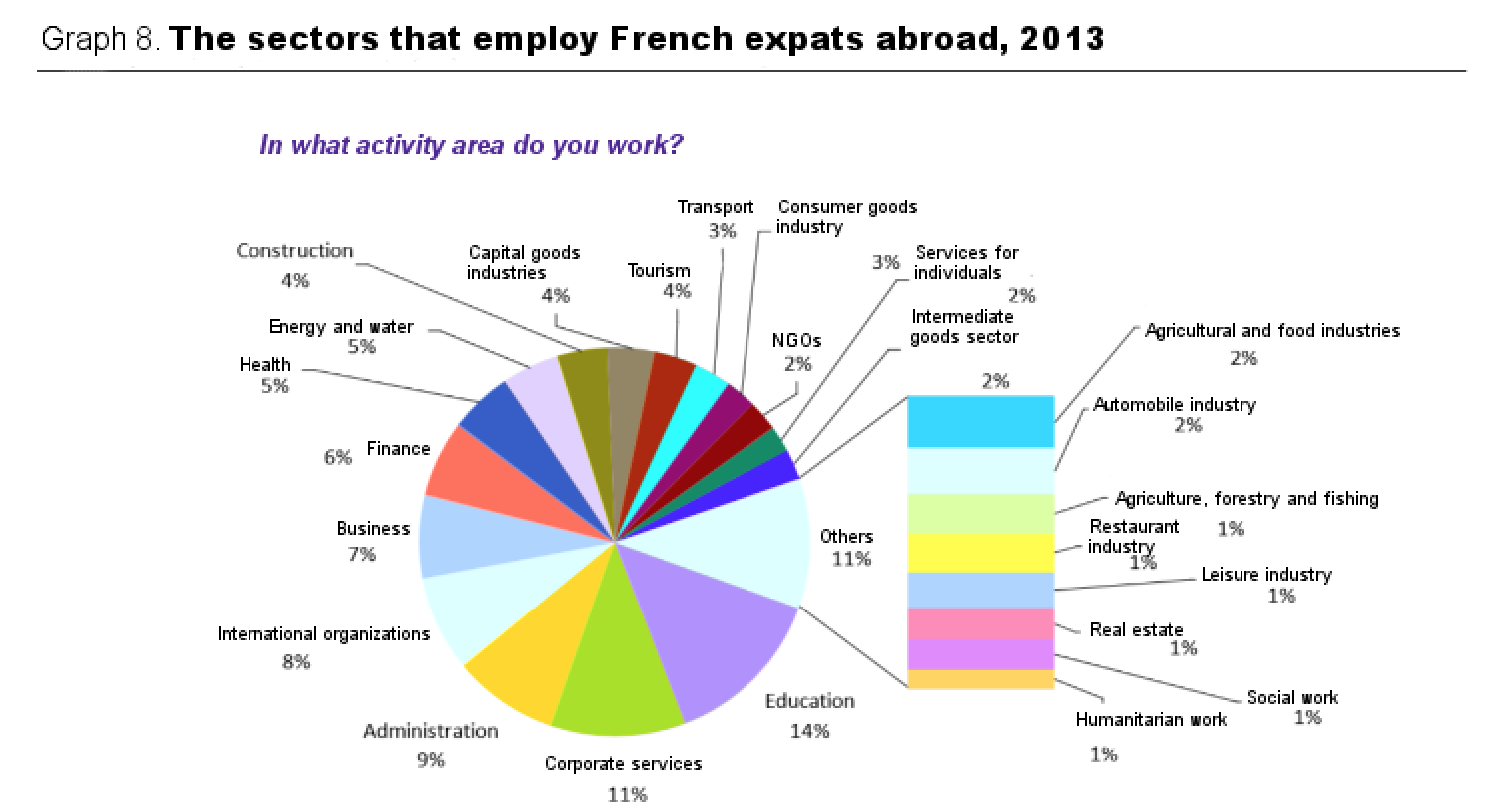 International readers may also be interested to discover the most popular destinations for French expats. According to the 2015 Report of the Grandes Ecoles, newly-qualified engineers and managers working in non-EU destinations, could be found primarily in the US (7%) and China (7.3%). The impact of the global recession has been felt in all countries, except India where markets continue to grow and expand.
What kind of profile is sought after?
Depending on the country you apply to, the required level of qualifications can vary. You may need to obtain an equivalency for your level of studies with regard to the activity area targeted. Your plans to work overseas should therefore take into account the following: activity sector, and level of education and experience, in order to help you pinpoint the country, and even the city likely to provide you with the most job opportunities.
If you are wondering which country you should target, depending on your activity area, have a look at the following table:
World regions

Africa

Near and Middle East

US and Canada

Latin America

Asia and the Pacific

Professional sectors

Oil industry, construction industry, ICT, banking.

Hotel and restaurant industry, tourism, certain careers in the oil and mining industries.

Hotel and restaurant industry, sales, management, communications, health industries.

Language teachers, sales profiles, environmental specialists.

Graduates from the most prestigious schools (such as the grandes écoles in France) and very specialized profiles (engineering, finance, business).

Level of qualifications sought

It's better to be qualified as the African job market is already saturated with non-qualified workers. Graduates from prestigious institutions (such as the HEC, Essec and Polytechniques in France) are warmly welcomed. 

Very specialized profiles as these are rare on the local market. 

For the hotel and restaurant industry, the French CAP / BEP / Bac pro qualifications are enough.

This level of qualification is also adequate for anyone looking for work in the construction industry.

For certain profiles, prior experience is favoured over qualifications particularly for sales, waiters/waitresses and hospitality staff in the tourist industry. Speaking the local language is a must.  

Highly qualified graduates as there is plenty of competition from the local, educated workforce. Specialized and unusual profiles have a higher chance of finding work.

Prior work experience is an absolute necessity when applying to jobs in China.  

Examples

Angola, Nigeria, Ivory Coast, Ghana, Gabon and Algeria: geological engineers.

Qatar: oil industry, tourism, teaching.

Abu Dhabi: heavy industry, technology industries, renewable energies.

Silicon Valley: IT engineers.

Canada: technical and specialized trades (welders, electricians, mechanics, engineers, etc.).

Chile, Peru: food industry, scientific research (chemistry, geology), mining industry.

Brazil: IT and communications technology sector for the most qualified graduates, agribusiness and industry.

China: import-export (with prior management experience), primarily selling French goods.

India: state-of-the-art engineering, petrochemical industry, energy, telecommunications.

Australia: manual workers (masons, carpenters), IT engineers, digital marketing specialists.
In summary, to help you select your destination, you should first of all find out about the following:
The host country's job market (unemployment rates, the activity areas that are hiring, qualification requirements).

Integration: the level of language required (for example, is it really a good idea to look for work in China if you don't speak any Mandarin), knowledge of the local customs and culture (culture shock is a big part of moving to Asia).

The opportunities for work in your activity area (is your profession exercised by foreigners in the host country? Do you need to pass certain tests in the host country in order to be able to work? This is often the case for regulated professions like doctors, nurses and lawyers, etc.)
The recognition of your qualifications overseas
Unlike Europe, in other destinations, there is no equivalency between French and international qualifications. Students holding degrees from other countries may need to investigate if this is also the case for their qualifications. For further information, contact the Enic-Naric network.
Step 2: A whole host of networks to help you target the international job market
There are plenty of international websites to help you begin your search. Here you can find countless job offers from all over the world:
Career Builder one of the most established international job search websites.

International jobs: this website, in English only, publishes job offers, by country.

Newslink lists all of the offers published in international newspapers, magazines and radios.
You should also think about contacting networks of alumni working in your destination of choice, and other organizations such as expat groups, etc.
It is also worth attending one or more of the international job fairs held in France:
Le forum Expat This is held every year in early June and is organized by the French newspaper, Le Monde. In attendance, a wide variety of French businesses and institutions present abroad.

Le salon Studyrama‌ Focusing on international studies and careers, this fair takes place in October.
It is also worth looking at the international section of the Pôle Emploi website, which publishes numerous job offers and provides plenty of tips and advice about working overseas.
Other options, particularly for younger people, include:
The French Embassy runs a series of international volunteer programmes open to all members of EU countries (not just France), aged between 18 and 28 years. These are known as Volontariat International en entreprise (VIE) and Volontariat International en administration (VIA), and allow individuals to work overseas for a period of between 6 months to two years. Volunteers are usually placed in the following sectors: banking, pharmaceutical industries, IT, etc.
Another possible option for international students who have studied in France and have a very good level of French, is to make contact with the French Chambers of Commerce and Industry overseas, particularly if you are interested in working in another French-speaking country. These are present in 83 different countries and can provide you with lists of local companies. They may even offer you advice on how to draft your CV and cover letter to suit the destination country.
Finally, it is always a good idea to make contact with expat groups and associations before you arrive. The UFE for example, is the international network for French speakers and francophiles: www.ufe.org
Did you understand all the information so far? Test yourself with this quiz!
We have just looked at the different tools you may use to help you plan your move overseas. These are the first elements you need to help you identify the possibilities per region, as well as the activities and levels of qualifications sought after in these locations. If you are undecided as to your destination, this should help you to narrow down your selection to a region, and then a single country. Using this as your base, you can then do further research into that country and the activity area of your choice. In any case, you should then:
Consult the job postings per country

Find out about the administrative details and visa requirements for each country

Get active on networks and make contacts before you arrive‌
To help you ask yourself the right questions before making the big move, we recommend you download the following grid to help you get organized. Once you've selected a country, you can now begin to tailor your job candidate profile to suit the market and the requiremen‌ts of that particular country.
Steps

Case 1

Case 2

Case 3

1. Assess your language skills

If you feel most confident using French…

=> Opt for a French-speaking country

You may be proficient in English…

=> But remember you are in competition with plenty of native English speakers who have the same qualifications as you…

If you speak another language in addition to French and English…

=> Speaking three languages is a fantastic asset. You should target companies speaking your third language established in the destination of your choice.

2. Assess your skills and qualifications. How are these viewed in other countries?

You're a recent graduate…

=> This profile is less sought after: begin by looking for an internship. This should be easier to find.

You have experience in the sought-after activity area…

=> You should have plenty of opportunities.

Do you know if your qualifications are recognized in the country of your choice?

=> Remember to think about equivalency!

3. How is the job accessibility in your country of choice?

If you are a European citizen and would like to work in another European country…

=> All you need is a valid form of ID or a tourist visa.

If you've chosen a country where it's possible to obtain and change visa status on site…

=> Why not begin with an intern visa or volunteer visa (see V.I.E. international volunteering programmes) and go from there…

If you've chosen a country where it's not possible to apply for a visa on site…

=> You are required, by law, to obtain the appropriate visa before you travel to that destination.

4. Draft your CV

If you feel most confident using French and want to work in a French-speaking country…

=> Draft your CV in French but tailor it to the country in question. Formats and styles differ depending on the location.

If you are an English speaker and you want to work in a country with a language that is not widely-spoken…

=> Draft your CV in English but adapt it to the conventions and practices of that country.

If you have a relatively good level of the language of the country to which you are travelling…

=> Draft your CV in the language of the host country using Europass for help and advice.

5. Do your research on the Internet

If you're travelling to a country where informal networks are more widely used than professional ones…

=> Open accounts on all social media networks (Facebook, LinkedIn, Viadeo) and start making contacts!

If you're travelling to a country that has a very different culture to your own…

=> Ask for advice on expat groups and forums and contact your country's chambers of commerce on site for advice on professional etiquette.

If you're thinking of moving to work in a country that is relatively far away, where travel to and from the country to search for work, and telephone calls are too expensive…

=> Begin your job search by looking at the Internet and targeting the websites of companies that interest you. Perhaps they publish job offers online.

6. Find out about the administrative formalities before you leave

If you are an EU citizen and you're going to another European country…

=> A valid form of ID and/or passport are all that you should need.

If you're travelling to a non-EU country…

=> You may need to ask for a work visa for that country. You should check this out before you go.

If you are travelling outside of Europe to a destination with visa quotas in place…

=> Remember to respect the administrative formalities once you arrive in that country. Visa application procedures, etc.
                                                                     This course was developed with the support of: