You've been selected for interview and the interview day is fast approaching! What's the best way to get prepared? Below are some tips for a successful interview! ‌
What is the purpose of an interview?
Interviews may take place by telephone, face to face, or even via Skype. The recruiter needs to understand your educational and professional history in order to:
Validate the suitability of your profile for the job in question

Check whether your personality will be suited to the culture of the company/SMB or start-up to which you have applied.
He/she may ask you to elaborate on certain choices or decisions:
Why did you apply to this particular job offer?

Why this activity sector and not another?

Why this particular role?

Why this particular company?
In other words, your main goal is to show that you are THE candidate they are looking for. Being convincing in an interview is an exercise that cannot be improvised: it requires plenty of training before the big day.
What are the different stages of a job interview?
Naturally, all interviews are different, but in general most interviews follow the same format:
The recruiter provides a brief presentation of the job

The recruiter provides information about the job with regard to the company hierarchy

The candidate speaks about his background and/or experience

See tips below with regard to preparing your presentation pitch

The recruiter asks the candidate questions

If you've prepared your pitch well, the interviewer will ask you questions you've prepared for

The recruiter provides more details about the job, the challenges, and salary, etc.

Remember to take notes and write down any possible questions to ask at the end of the interview!

The recruiter asks the candidate if he/she has any questions about the job or the company, and/or the salary, benefits, etc.
Download the sample questions checklist.
You may be required to sit several interviews for the same job.  Over the course of these interviews, you are likely to meet with (in no particular order): the site or unit manager (generally a more technical interview); someone from the HR Department (company etiquette and job terms and conditions: working hours, salary, work council, etc.); and the managing director, if the position is high up in the company hierarchy (he/she will present the company's strategy, your opportunities within the company, etc.). Whoever you meet, the following steps are useful to any job interview.  
Prepare for the interview in 5 easy steps
What's the best way to prepare for your interview? Below are the five key steps to interview success.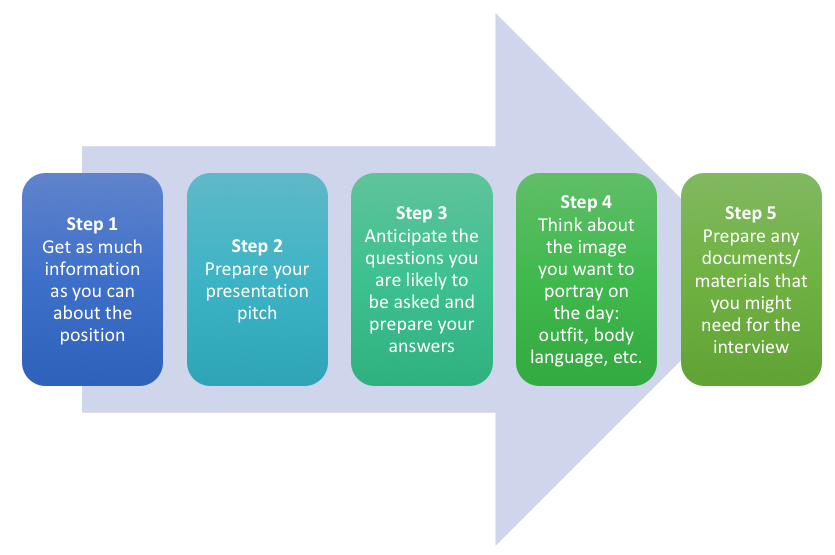 A job search may take some time before you yield any results. You may sit several interviews for several different companies. It is therefore a good idea of keep track of each one in the table below:
Download the interview follow-up table.
Our advice:
Don't schedule more than one interview per day: the interview may last longer than expected.

If you are unable to attend the interview at the last minute, it is always better to inform the interviewer and/or the company so as to organize an alternative interview date.
Step 1: Get as much information as you can about the position and the company so that you can feel at ease discussing it
To prepare for your interview, the first step consists in gathering as much information as you can from the job advert. To do this:
1. Study the advert and decipher it:
Underline the essential information (the profile of the ideal candidate, the responsibilities and tasks, potential challenges, any important context or background information, etc.)

Using these elements as your starting point, summarize the information in your own words

Select any element that you should include in your presentation pitch
Here is an example of an analysis of a job advert.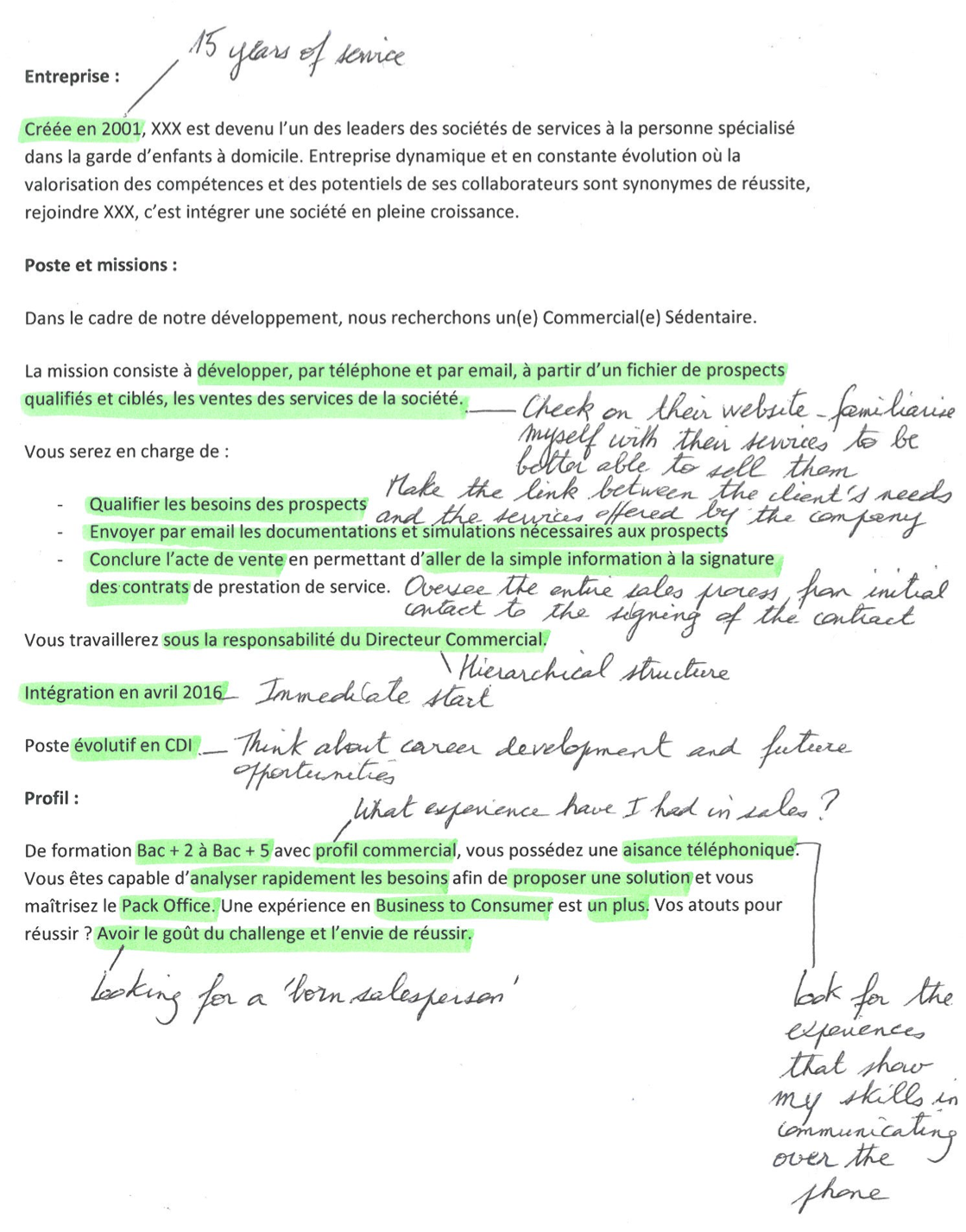 2. Do some research on the company
As you can see in the example above, make use of the information contained in the job offer to guide you in your research into the company.
For example, with regard to the above advert, you could find out more about the services the company offers on its own website, in order to come up with some convincing sales arguments. 
When you do your research, make a note of the key information (important dates and figures, the names of the directors/managers, etc.).
Step 2: Prepare your presentation pitch
The pitch is a brief presentation of your educational and professional history. It should be informative, clever and efficient.
The question that every recruiter asks when they meet a candidate is: 'Is this candidate really suitable for this position?'
Within the first few minutes of the interview, you need to convince them that you've got what it takes.
The pitch shouldn't be longer than 3 minutes. Why? Because after 3 minutes, you risk losing the recruiter's attention and he/she may not remember all of the information given. You need to select the most important and relevant information that has a direct link with the job in question.
In order to do this, the pitch should be prepared in advance.  
First of all, think about your answer to the following question: 'With regard to the position you have applied for, what would you like the recruiter to remember about you?'
You don't need to follow the order of your CV. You can begin your pitch with an experience you are particularly proud of, and which is relevant to the job on offer.
This way, the recruiter will want to know more about this interesting experience/skill, and you will feel at ease answering any questions he/she may have about it.
The structure of your pitch:
In two or three sentences, share the experience of which you are the most proud, one which is particularly relevant to the job in question (be concise, you can go into more details later on).

In a sentence or two, say what kind of position you are looking for today in connection with the above point.

Then, refer to certain key elements from the job advert with which you feel comfortable (for example, the language skills required or a technical skill sought, etc.), and make the connection with your educational and/or professional background (be concise but give a concrete example each time). This should make the recruiter want to know more about these, and he/she may ask you questions about these points later on in the interview.
To prepare your pitch, our advice is the following:
For the first two points, write out your sentences and learn them (by heart!) for the interview day to help get you started

For the third point, make very brief notes (in summary or bullet point form) to help you remember the different points you would like to talk about

Your experience==>criteria of the ideal candidate profile, for example: Head of Customer Services at EDF ⇒ comfortable using the telephone/good customer relations/service
Practise the pitch several times on your own and then, in front of someone. Remember to time yourself to make sure you don't go over three minutes.
Here is an example:
Context:
Nicolas is applying for the job of Responsable événementiel - Organisations de receptions (Events Manager – Receptions Organizer) in a rapidly expanding start-up, specialized in high-end receptions. The post requires significant experience in the luxury goods events management sector, with strong business skills and the desire to manage a team.  
Here is Nicolas's presentation pitch with the three aforementioned sought-after skills referred to below:
'Pendant cinq ans, j'ai été responsable de l'organisation de projets événementiels spécialisés dans les décorations de Noël de luxe pour le compte de grands magasins (comme les Galeries Lafayette). J'ai particulièrement aimé la relation clientèle. Mon responsable m'a d'ailleurs confié la charge de développer le portefeuille clients. Aujourd'hui, fort de cette expérience, je souhaiterais manager une petite équipe pour mener des projets de plus grandes envergures.'
For the third part of the pitch:
Elements from the job advert

That relate to my experience/skills

Your ability to transmit detailed information to various levels

Excellent command of English

A second language is an advantage

You have overseas work experience

Company 'XYZ' - coordination of events with rotating teams

Fluent English and French, Head of International Clients at XYZ

Level B2 in Spanish

8 month internship in Australia and 4 months in Canada
FORUM Exercise
Write out your own pitch based on these rules. Share and discuss it on the forum!‌
Step 3: Anticipate questions you are likely to be asked and prepare your answers
Once you have prepared your presentation pitch, you should now put yourself in the recruiter's shoes: what questions is he/she likely to ask you?  Are there any 'blanks' on your CV? If so, prepare answers to possible questions about these. If your educational and professional history doesn't follow a conventional order, this isn't necessarily a bad thing, but be prepared to answer questions by the recruiter about the other experiences you may have had.
Here are some examples of questions that the recruiter may ask:
What interests you the most (and the least) about this particular job opening?

How do you see the profession evolving in the future?

Can you tell me more about 'X' experience? What skills did you learn? What were the results of your activities (turnover, deliverables, etc.)?

How or why did your last work contract end (end of a CDD [temporary work contract], dismissal, etc.)?

What obstacles (if any) have you encountered in the various projects you have worked on?

Why do you want to work for us?

What kind of salary would you hope to get? How do you envisage your career development?

What are your strengths/weaknesses?

Do you have any other interviews scheduled?
Exercise: You need to practice your answers. Now is a good time to get started! We suggest having a look at the APEC website for further tips and guidance. The interview simulator allows you to answer questions asked by a recruiter and provides an insight into their perspective.
In addition, the recruiter may wish to assess your skills in a role play situation or through various tests. For example, if you apply for the position of IT developer, you may be asked to write some code or to resolve a technical problem.  If you are applying for a management position, you may be asked to simulate a conflict resolution role play.
Step 4: Working on your image: outfit and body language
A successful job interview not only relies on your professional experience but also on your attitude. The recruiter wants to find out if your personality and nature fit with the identity and vision of the company.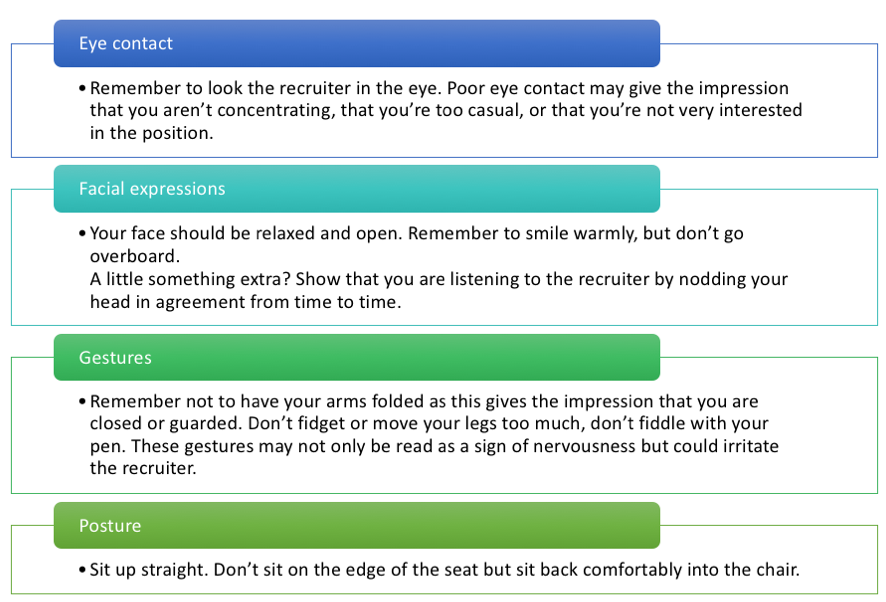 What should you wear for the interview?
You should choose your outfit based on the following:
The dress codes of the activity area/company/profession

Your own style and personality
It is important to find the right compromise between who you are (your style and personality) and the appropriate dress codes for the activity area/company.
The recruiter will pay attention to your appearance. Choose an outfit you feel comfortable in. You shouldn't feel as if you are doing the interview in disguise.
| | |
| --- | --- |
| | |
| You can for example, adapt the traditional suit/skirt and heels… | … into a more relaxed and comfortable outfit. |
Step 5: Prepare any documents/materials you might need for the interview
You should never turn up at an interview empty-handed. Prior to the interview, you should ask the recruiter are there any specific documents or materials you might need to bring with you on the day. At the very least, you should bring the following:
your CV

a form of ID

a notepad and pen to take notes

a copy of the job advert

your preparatory notes
You might be asked to bring along to the initial or subsequent interview(s), the following:
copies of your degrees (these are especially required for civil servant positions. Depending on your grade, you can only apply to certain positions. For the position of 'ingénieur territorial' in France for example, you must have an engineering degree).

a list of referees with their contact details (notify them in advance that they may be contacted. These might include people from a former work place: manager, company CEO, Head of Human Resources, etc.).
Exercise: Quiz
Now you know how to prepare for an interview. At the end of the interview, remember to always thank the interviewer.  If you like, and if it is appropriate, you can also send a follow-up email summarizing the key points of the interview. In any case, if you don't hear anything, remember to make contact with the recruiter to find out if the position has been filled.
                                                                    This course was developed with the support of: