By now, you should now have a good idea of ​​what your skills are, and may perhaps even have a rough career plan in mind. But how do you go from this to knowing exactly what career (and what level) you want to have? With this question in mind, it may be easier to start by examining the sectors that interest you. Companies that share the same main activity can be said to belong to the same industry (food, health, etc.). Each industry area has its own specific rules, and requires specific skills and education profiles.
In this course, our aim is to help you discover, via online resources, the sectors, industries, professions and functions, so that you can learn to identify those that interest you and offer the most opportunities. But there are other possible ways to help you choose a career: meeting professionals, talking with relatives about their jobs, etc. These and other methods are presented in detail in the course devoted to defining your career plans.
Keeping track of job news and postings in the area(s) you are interested in will enable you to stay informed of related career news and can also help you further define your career plans. For example, if you want to work in the publishing industry, it is better to focus on digital publishing, which is a rapidly expanding market, as opposed to encyclopaedia publishing, a market that is decreasing dramatically! Are you ready to discover the job market? Good. Then, let's get started!
Finding your way around the job market: sectors and professions
Discover the sectors
According to the INSEE (French National Institute for Statistics and Economic Studies), there are four primary sectors in France that account for the majority of all jobs. These are: the primary sector (agriculture), the secondary sector (industry), construction, and the tertiary sector (the service industry). Growth in each of these large sectors is influenced by the socio−economic context.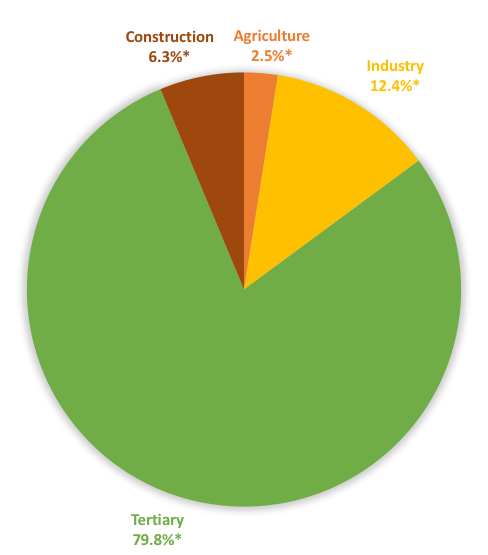 These four primary sectors are each comprised of several industries. An industry is made up of companies and organizations that share the same main activity (commerce, industry, services, etc.). These companies produce, exploit and manage similar goods and/or services, or share similar objectives. They are often in competition with each other. For example, SFR, Orange and Free are all part of the same industry: networks and telecommunications.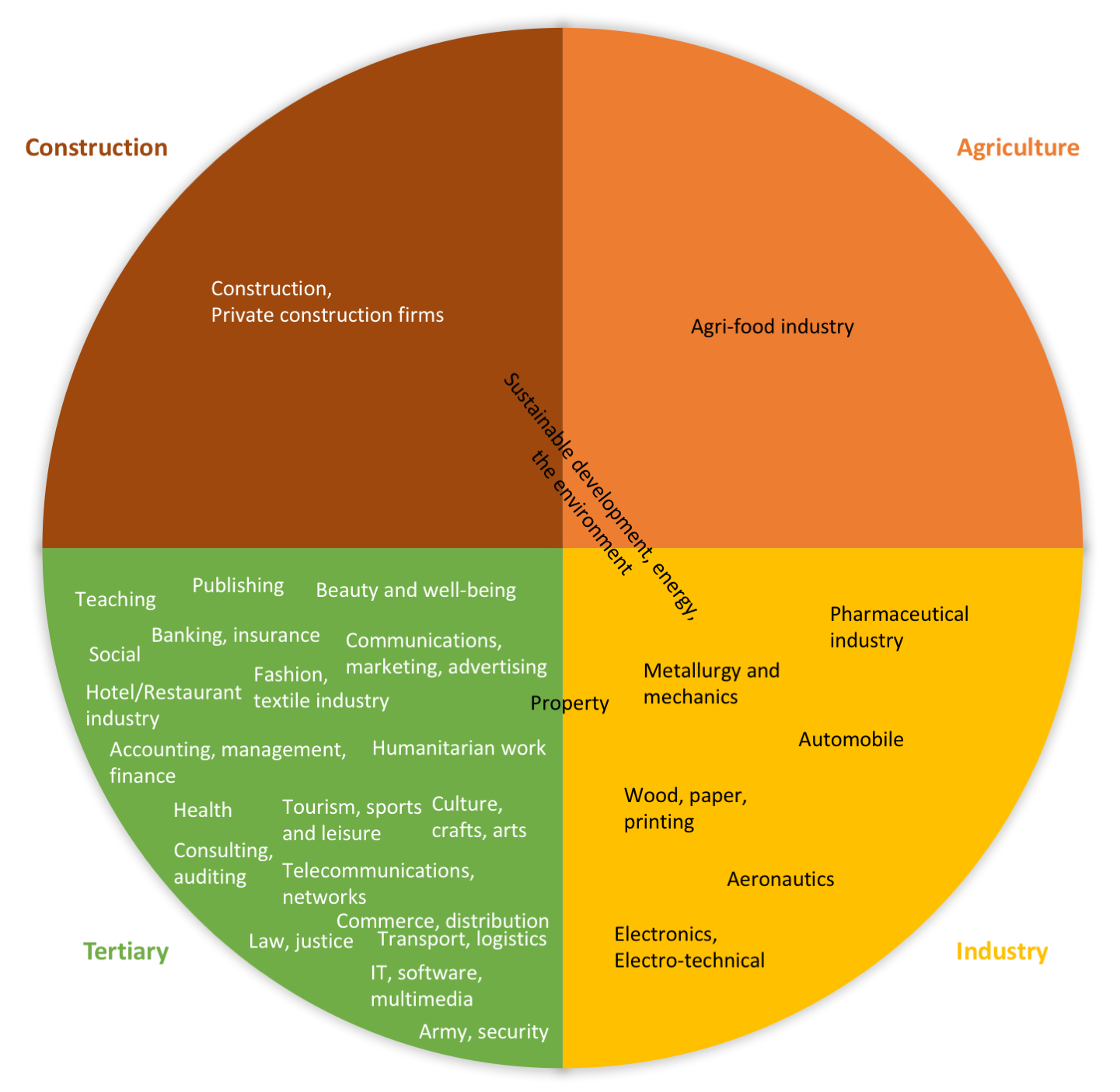 Depending on the source consulted, the number of industries in France varies. Onisep accounts for 35, L'Étudiant reports as many as 44, the Guide des métiers, 20 and APEC, 26. Each of these websites provides detailed information about each of these industry areas. It is worth having a look at these sites in order to gain a clearer overview of the job market in France.
Certain industries, currently undergoing rapid growth, may be a particularly promising source of employment in the years to come:
IT and the digital sphere, with over 15,000 jobs between now and 2018 for Internet-related jobs alone

teaching, with 25,000 jobs available with the French Department of Education

commerce, and especially e-commerce (5,000 jobs)

service industry and online health industry, with hundreds of thousands of jobs due to be created between now and 2020
(Figures ONISEP)
To gain an understanding of the different professions within each industry, you can also:
Visit the info and recruitment fairs organized by your school and/or by municipal authorities (e.g. Paris pour l'emploi Fair), etc. For more details, have a look at the online fair calendars such as that offered by L'Éudiant.

Make the most of industry visits and open days to meet professionals so that you can get a clearer vision of the everyday reality of the job. Look out for the Semaine de l'Industrie, organized every year.

Do an internship or apprenticeship. This is a great way of discovering companies, the public sector and professions from the inside.

Get involved in a 'mini-company' if this scheme exists in your school.
Discover professions
As we have just seen, within each large sector are several industries. Each industry is in turn comprised of several professions.
Here are some examples of professions, their industry and their sector:
You can find out more about the various professions by looking at the job descriptions available on the websites of the APEC and Pôle Emploi. Remember however that new jobs or evolving professions may not necessarily be listed. Once you have decided upon the industry that interests you, have a look at all the different professions it comprises.
Another way to find out more about the different professions on the job market is to consult this interactive jobs map. It was developed by the founders of Impala, and allows users to find out more about different professions based on specific questions you may have: what professions/jobs correspond to my tastes? Which jobs guarantee the best starting-out salary?
The public or the private sector?
In France, there is a big distinction between the public and the private sectors. Indeed, it provides a blueprint for the type of employer one wants, as each sector has its own distinct benefits and disadvantages. However, you shouldn't exclude the same career in either the public or private sectors: civil engineering in the Army (public) or construction firms (private).
The public sector includes the state civil service (ministries, prefectures, universities, high schools, etc.), the public hospital sector (public hospitals, public retirement homes, etc.), and the territorial public service (municipalities, départements, regions). For more details, look at the Civil Service portal: Portail de la fonction publique.
In almost all other cases (large companies, SMBs, etc.), one is working in the private sector.
The table below outlines the main characteristics of the public and the private sector.
| | | |
| --- | --- | --- |
| | Public | Private |
| Employer | Local government, ministries, public institutions | Companies of all sizes (see box below) |
| Interest | General or public interest (even if profits need to be generated to ensure the running of the service) | Capitalistic (to make a profit essentially) |
| Recruitment | By competitive exam (except for positions on temporary contracts) | By interview |
| Professional mobility | Less than in the private sphere | Greater than in the public sphere |
| Average retirement age | 60 years and 10 months | 62 years and 4 months |
| Average salary | Higher than in the private sphere | Lower than in the public sphere |
Structures such as NGOs, associations, foundations, workers' cooperatives (or SCOP as they are known in France) have some of the characteristics of both the public and private sectors. For example, a SCOP can have a democratic mode of management but is essentially a profit-making structure; an NGO or association based on the French Law 1901 does not have profits as its main objective, but if a profit is generated it will be reinvested in development, running costs, or in the interests of its direct beneficiaries.
If you choose the private sector, the working environment may vary greatly depending on whether you are employed by a large multinational or an SMB. The size of the company has an impact on working methods and practices: decision-making is a faster process in a smaller business and your personal weight will have more of an influence. Conversely, your learning curve and responsibilities will be better structured in a large company.
Download resource: Sizes and types of companies
Selecting the industry
Use the industry as your starting point
If you have no clear idea of what profession you would like to do, but you now have an idea of the industries that might interest you, complete the chart below. If you are still uncertain, try the exercise anyway with the industry or industries likely to interest you.
Exercise: Fill in the table based on the industries that interest you. To help you to do this, make use of the job profiles and reference guides on APEC or other sites (i.e.: ENSSIB for anyone interested in becoming a librarian or archivist, or Portail des métiers de l'Internet, etc.)
Have a look at the example below from the reference guide for‌ jobs in the arts and media from the APEC site:
| | | | | | |
| --- | --- | --- | --- | --- | --- |
| Industry | Types of jobs, functions, responsibilities | Salary | Required profile | Work environment (type of structure, etc.) | Companies and organizations to watch |
| Culture, arts, crafts | Head of Cultural Sponsorship | Young graduate between €25,000 and €30,000 / young civil servant €30,000 and €40,000 / senior civil servant between €40,000 and €50,000 | Higher education business school IEP, communications school / A-level + 3 (Bac + 3) A-level + 5 (Bac + 5) cultural administration, management experience in cultural agencies | Museum, library, theatre, festival, regional arts authorities, ministries, foundations, arts management and advisory services, etc. | RMN, arts management and advisory firms, XX, ... |
| | | | | | |
Select a career path based on your tastes and preferences
Even if we are concentrating here on industry areas as the entry point to a profession, remember that there are plenty of other ways to discover the multitude of industries and professions out there.
For example, why not identify the methods and tools that you would like to use in your professional activity.
For example:
Using languages (English, French, Spanish, Mandarin, etc.)

Carrying out research (bibliographical research, surveys, investigations…)

Using the advanced functions of Excel

…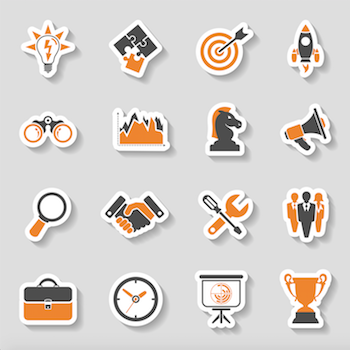 ‌To identify your tastes and preferences, you could take a subject area studied in class as your starting point. For example, if you are enjoying your current marketing course, why not consider exploring the communications/advertising industry and/or the commerce/distribution industry?
Once you've listed your preferences (methods, tools, etc.), don't hesitate to talk with professionals, teachers, or career guidance specialists (in your university and / or specialized service in town halls, APEC etc.), so they can help you identify the professional activities in which you could thrive.
Let's take the example of Julie below:
Julie did an internship in a home care company. Her responsibilities were purely administrative (filing and management of employees' salaries and client files, archiving, etc.). As part of her internship report, she wanted to carry out a study on the profession of home help by directly interviewing professionals. For this, she put into practice survey methods learnt in class (semi-structured interviews, exploratory interviews, etc.). Julie realized that she really enjoyed this way of working. She would now like to find a job that allows her to carry out field surveys.

Julie made an appointment with her internship tutor to ask him in what contexts she could do this type of research. Here are several possibilities:

Data gathering for socio-economic research

Market analysis for new product/service launches

Identification and definition of customers' needs in the case of R&D projects
Exercise: Now that you've explored the different possible professions in the industries that interest you the most, go back to the mind map of your career plans and fill in stage 2.
How to keep track of job postings and news
Now that you've identified the industries and professions that interest you, it is important to monitor the market so that you can keep up-to-date on any change and current job news. Whether the aim is to help you further refine your career plan, to target your job search or to gain an insight into the industry and how it works, it is vital to acquire knowledge of the industry and the profession in order to find your way around the job market.
Further your knowledge
To further your knowledge of the job market, you can:
Look at business newspapers and magazines. In France, for example, have a look at Les Echos and La Tribune, as well as specialized magazines per activity sector (i.e. 'L'automobile et l'entreprise' for those working in the automobile industry. Or 'Actualité juridique pénal' for criminal justice professionals)

Look at the websites of companies that interest you; these are usually designed in such a way as to showcase their expertise and professions

Meet with professionals:

Identify those who are of interest to you: are they participating in an upcoming jobs fair? Are they part of your circle of family or friends? Are they former teachers, tutors, internship supervisors? Can you contact them via a professional networking site?

Talk to them about their responsibilities and their working environment Download the guide of questions to ask a professional
By gathering information from a variety of different sources, you will gain a current and complete vision of a sector, industry, profession, and company, as well as its projects, products and services.
Monitoring the market
In order not to waste any time, you should monitor the jobs market with the following two objectives in mind:
Collect information about your sector or profession that will be useful in helping you define your career plans. Imagine that you are interested in virtual reality and 3D technologies: your search should be designed in such a way that you will be kept informed of all the developments in this market (which companies are concerned? Is there a key event in this field? What are the market figures? What new uses are emerging? etc.)

Find concrete information on which you can take action. Are there significant opportunities in terms of employment? What course of studies are essential?
Your monitoring work should consist in regularly checking your preferred sources of information. Here are some steps to setting up an effective monitoring programme: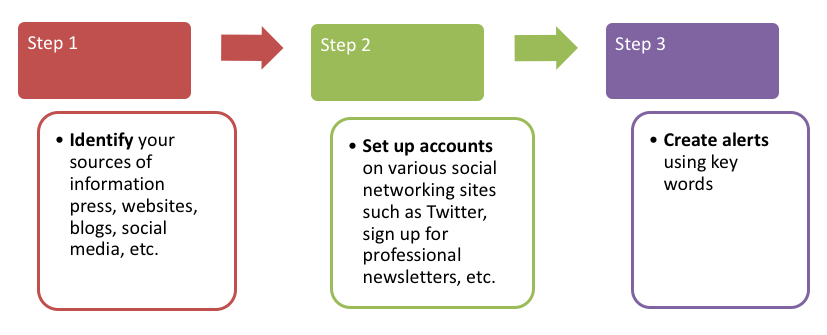 Exercise: Reproduce the steps above for each of your four key industries.
Have fun doing your research!
This course was developed with the support of: