It's true that routine can become daunting. It's a danger we face too. Events are a nice way to break up the usual routine at work.
We value events at OpenClassrooms, as they help us talk to one another in a different setting. We believe creative ideas emerge at events.
What are the different types of event held at OpenClassrooms?
Off-site retreats
Let's talk about the Mother of all Events first: off-site retreats!
We started off-site retreats years ago. The idea was simple: take three to four days away from the office, to live with colleagues in a different setting, enjoy some time together and, if possible, generate some wonderful ideas. In fact, we initially said that if one great creative idea emerged, we'd consider it a success. And boy, did we succeed! 😊
It's hard to talk about off-site retreats: it's an experience you have to live to understand. Retreats are an annual event (usually at some time between March and June). Just talk to people to find out what they think about off-site retreats. 😉
We usually go to a big chalet in the Alps, or near to a beach (like the beautiful island of Corsica). Here are a couple of videos that will give you a better idea of what happens at an off-site retreat:
At Porquerolles island
In the Alps
In Corsica
A few pictures:
How it works
Usually over the course of four days, we spend time together doing various activities, and two half-days working.
You'll be working in cross-teams. We think it's a good idea to mix one person from the Sales Team with one from The Tech Team, another from the Marketing Team, etc.
You'll have plenty of time to relax and participate in various activities if you want (skiing in the Alps / walking, ziplines / the beach...).
During the two half-days of work, you'll:
Suggest business-related ideas (half-day one). There is a theme each year, like "How can we better accompany our students?". It's a good time to suggest bold moves, so don't hold back!

Suggest culture-related ideas (half-day two). This is usually an open theme. It can be anything to make the workplace more pleasant. Think about what would make you happier at work.
You'll have several hours to think about these ideas each time and to prepare a presentation that you'll make in front of the rest of the team (we advise you to start brainstorming with your teammates as soon as you know who they are).
Each presentation will be voted by the whole team. The most upvoted will be done first when we come back, while the others still have a chance to be done later.
Team days
Team days are an idea that was pitched with success at a previous off-site retreat. The idea is simple, yet powerful. We believe this is why they have been widely successful and are still active.
What's the concept? Well, the cross-teams working at the off-site retreat found out that they liked to work with each other. They don't get to talk a lot at work (of course it happens, but the Tech Team is with the Tech Team, the Marketing Team with the Marketing Team, etc.).
What have they decided? That it would be great to create cross-teams each month for three days, after each Checkpoint (this would be the starting signal). People would just move seats for a few days and work close to people from other teams.
We decided not to set the bar too high: the teams wouldn't have a specific project together. They would continue what they were doing. However, they would talk with eachother because they were sitting next to eachother and would have lunch together once during the team day period. 🍴
It worked so well that this has become a powerful habit over time. If you see one day that people have moved desks, you'll know why!
The Chief Happiness Team
This is another idea that emerged at an off-site retreat. One of the teams said that we should have more micro-events throughout the year (we all agreed on that) and suggested that a team could be responsible for the animation of these events for four months at a time.
The Chief Happiness Team missions would be:
Organize and animate events (a special lunch, a bowling outing, a fusbol tournament...).

Take pictures and display them in the office so we can remember these great moments together.

Hold a presentation after their four month period to show everything they had done, before handing over to the next Chief Happiness Team.
The group that suggested this idea offered to be the first Chief Happiness Team to try out the idea. That's the spirit! 😊
Special Lunches
We often organize special lunches at the office. We usually have a theme each time: crepe party, big raclette party...
The special lunches are organized by individuals (mostly Virginie at this time) and the Chief Happiness Team.
They are not that expensive and create great memories! If you have a creative idea for a special lunch at work, speak up, talk to someone (like Virginie) and make it real! You can be sure we'll all thank you for this initiative. 😋
Founders' dinners
Some times ago, a spontaneous dinner took place after work. here were four of us: cofounders Pierre and Mathieu, and two people from the company. It was both simple and fun: we had a nice dinner in a cool restaurant near the office, in a relaxed environment. We talked more about our hobbies than about work, and we all enjoyed it. So much that we wondered: wouldn't it be cool if we did this more often?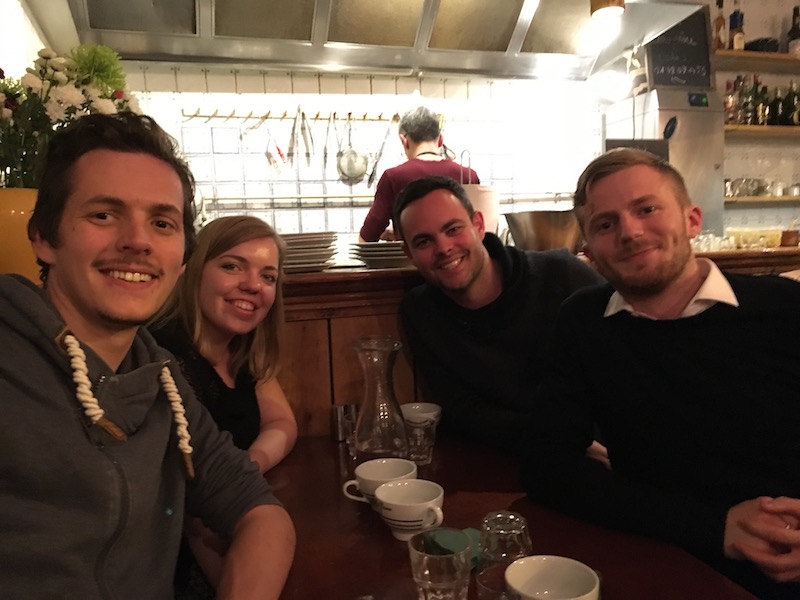 That's how founders' dinners started! They happen:
In a cool restaurant near the office

Once a month

Usually from 8pm to 10pm

With four people (Pierre, Mathieu and two other people from the company interested in participating)
And... that's it!
For the record, this is how the event was initially announced by Mathieu:
This sounds like a TV show but it's actually a very serious idea. 😉

We already had dinner with some of you on several occasions in great places. Each time it was a cool experience that proved to be useful for understand each other better in a different setting. We now want to do this on a regular basis!

For people invited, it's a way to get to know each other, to better understand the company strategy and to participate by generating new ideas.
For Pierre and myself, it's also a way for us to get to know you better, to generate new ideas and to have a good dinner. 🙂

So here is the idea and it's really that simple: Pierre and I invite you to dinner in a nice restaurant in the area! The idea is to invite two people once a month.

The first founders' dinner will take place on Thursday the 25th of this month around 7:30-8pm.

How can you participate?
- just reply to this email if you're interested
- if a lot of you reply, we'll have to pick people randomly and the others will be invited to the next founders' dinner
- if we have a free space, we might invite you privately to participate. Feel free to come or not if you can and want to 😊

We hope you like the idea!
We have enjoyed all our founders' dinners so far and continue to organize them every month. If you want some feedback, Natalie has written about her experience. You should read it!
If you're interested, just let us know when we announce the next founders' dinner on Slack!
More events that you can get involved in!
There are a lot more events, like the usual afterwork drinks that you'd expect at a startup but also:
Escape game

Laser game

"Five" soccer (5 vs 5)

Special Lunches

Going to see a movie together

Make a suggestion!
These events can be organized by anyone (if you have an idea, speak up!).
How should I organize an event if I have one in mind?
Just do it! But wait, there's more to it. These guidelines will help:
Anyone can organize an event

And if at least eight people from the company come to this event...

Then OpenClassrooms will pay for it (up to 30€/month/person)
You read that right: OpenClassrooms will pay for your theatre ticket or laser game, as long as at least eight people come with you. 😊
Here is the email Nicolas sent to the team to spread the good word:
Leveling up our team spirit :-)

Hello everyone! 
Looking back on last year, we see that either OC or members of the team have organized various events, for example: 

- an indoor football game (which led to competing in a tournament: p)
- a Star Wars VII movie night
- a Raclette lunch
- a Bowling night

Each of these activities was an opportunity to be together, outside of the office, doing something unrelated to our day-to-day jobs in both smaller and large groups.
Some of these activities were funded by OC, others by the participants.

Yesterday, we had a meeting with Virginie, Pierre and Benjamin. Pierre has officially informed us of his will to strengthen this team spirit by funding all these external activities. 

We've already been talking about this for a while, I've exposed the idea to some of you, and it's been fairly well received.

From now on, OpenClassrooms will fund all these activities. If someone wants to organize an event, all they have to do is form a group of at least eight people, and OC will contribute financially up to 30 euros per person, per month.

If the event can be paid in advance, the company credit card will be used, otherwise, you can make a claim after the event. 

I think it'd be cool to give this initiative a cool name, just like "Team Days" has become a common phrase.

So ready, steady, GO and suggest activities! ; p
What you should do
Don't ask for permission: you have both the freedom and the responsibility to integrate new ideas at OpenClassrooms.

Simple ideas like events can be organized easily by anyone at anytime. OpenClassrooms will pay up to 30€/person/month for the event, provided there are at least eight people from the team. Should we go bowling or for a laser game next time? Or maybe to the Opera?

If you hear about an upcoming founders' dinner and want to participate, quickly say that you're interested: it's limited to two people per month.

If you want to help organize more events, consider being part of the next Chief Happiness Team (people change every three months). It's a nice way to work with other people from the company on something that will provide great memories for everyone.‌
In the next chapter, we'll talk about how we integrate even bigger ideas. For instance, how did we come to launch the feedback process? The open salaries? What else will we come up with next? Let's prepare the future! 🚀