Mission
OpenClassrooms is an online school that helps people all over the world progress in their work life. To do so, we are addressing needs from various users on our platform, including students, mentors, employers, and even our employees.
People wish for a lot of things. We know: there's a very long list.
The bad news: All these needs can't be addressed (there are just too many requests and not enough developers!).
Good news: The OpenClassrooms Product team understands these needs, prioritizes them, and makes sure those that add the most value get done first. They ultimately look to increase students success.
The product team includes 2 specific fast-growing amazing sub-teams: Product Management and Product Marketing. Let's dig in to better understand what they do and how they work.
Roles
Product Management scope
Product Managers are responsible for delivering a differentiated product to market that addresses a market need and represents a viable business opportunity. A key component of the Product Manager role is ensuring that the product supports the company's overall strategy and goals.
They usually lead a squad composed of:
Back-end developers

Front-end developers

QA engineers

Product designers

Solution manager
Each product squads own a specific part of the user life cycle and objectives. They follow a specific vision, supported by a specific North star metric. They pursue 1 main Objective that is related to 1 or several Key Results per period (3/6 months).
Scopes and organization of the squads might evolve quickly to support the strong growth of the company.
Product Marketing scope & responsibilities
Product marketing is a relatively new function in French companies when compared to US and UK markets, but it is fundamental in rapidly growing companies such as OpenClassrooms. It is a strategic marketing function that bridges the gap between product management, marketing and sales.
The primary role of a Product Marketing Manager (PMM) is to drive the demand and usage of the product. It includes analyzing target markets, defining value propositions and messaging, and ensuring salespeople and customers understand it.
Product marketing is a cross-cutting function that requires an extensive understanding of the product, the learning topics, and its implications for customers.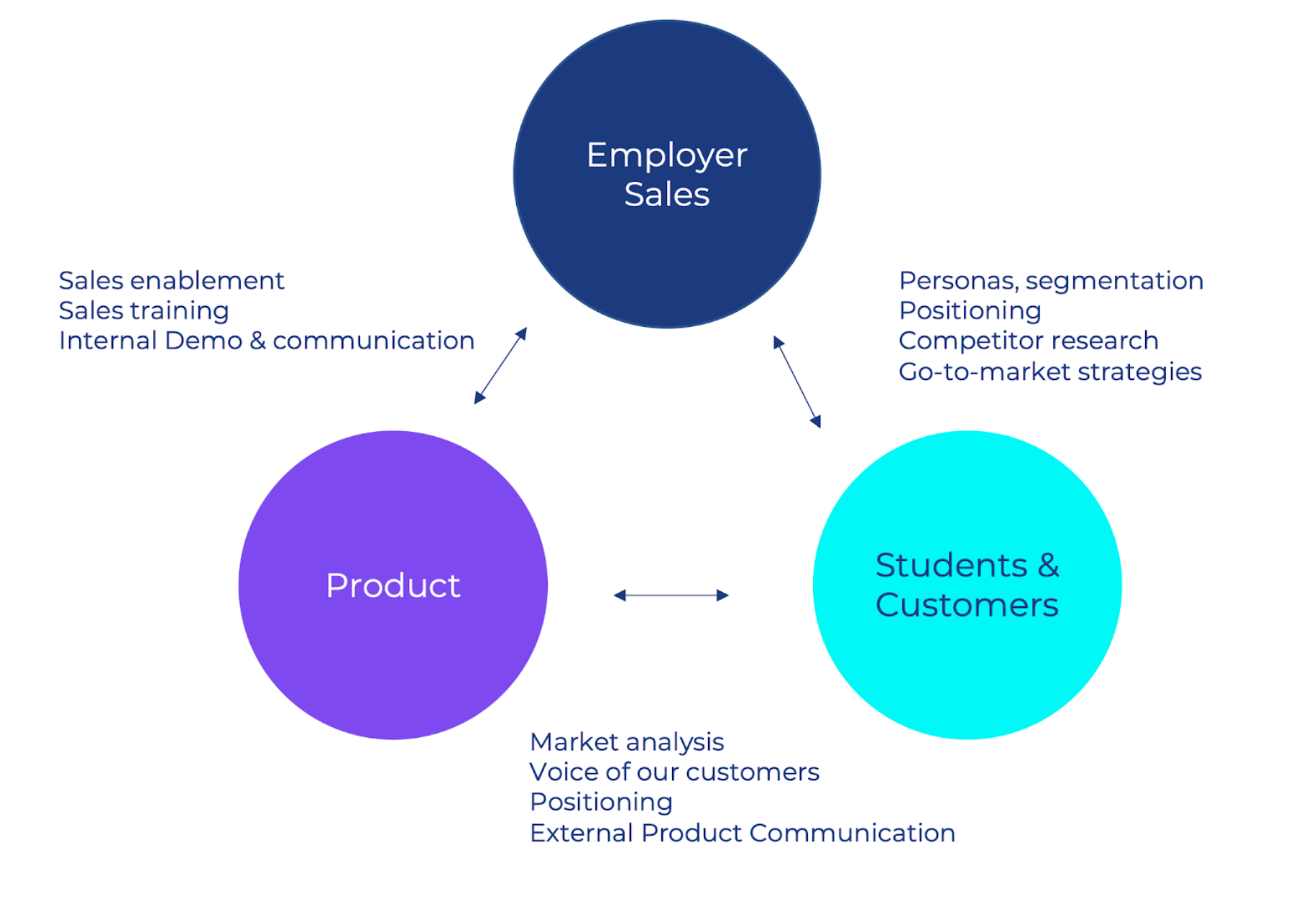 The responsibilities of a PMM are to:
Understand market problems and opportunities

Understand the buyer experience and buyer personas

Analyze wins/losses

Gather competitive and market intelligence

Assess competitive landscape

Enable sales

Position the product

Highlight product value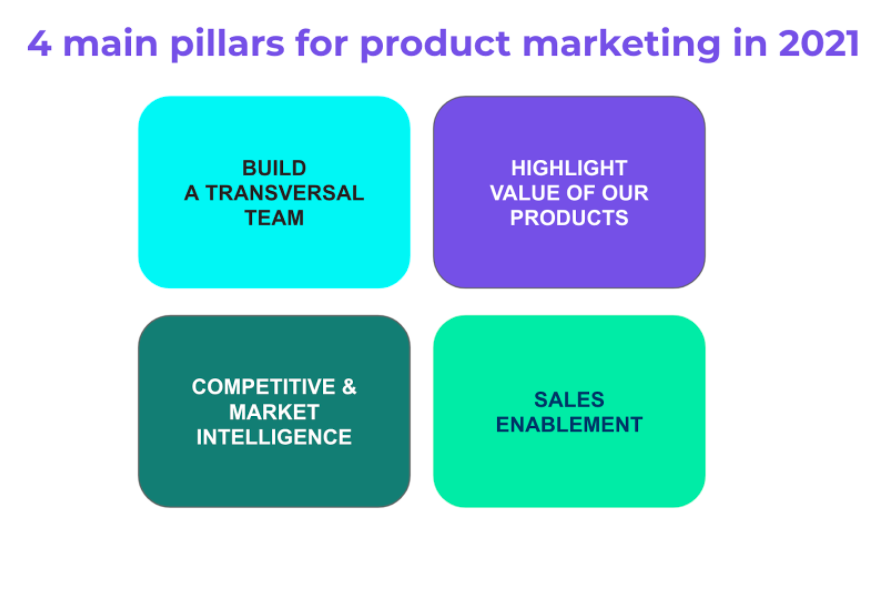 Process and Habits
The Product Management and Product Marketing teams are growing fast and every member is taking part in building new habits and processes to collaborate inside the team and with other departments.
Prioritization and Transparency for Product Management
"People think focus means saying yes to the thing you've got to focus on. But that's not what it means at all. It means saying no to the hundred other good ideas that there are."
– Steve Jobs
Product managers gather insights from diverse sources, match them to user needs, and assess how much value the corresponding update would add for the user and the company.