Before going further, you may be wondering what you're getting into. "How long will it take me?", "What level is expected?", "What is my time commitment", "How much will I get paid?" etc.
These are questions that come up often. Here are some FAQs and their answers.
Time
How many students can I mentor?
This depends on several factors:
The number of students you want to mentor, which you can indicate on your mentor profile

The number of students who are arriving to start an OpenClassrooms path

The number of mentors who are available to mentor on the same path
This is why we cannot guarantee how many students you can mentor.
We recommend that you start with a few students. As a new mentor, you can start with up to 5 students but you can also choose to start with 1 or 2, to see if you like it. Indicate it directly on your mentor profile. Then gradually increase your capacity to take on a third student, then a fourth 😊.
How much time will mentoring take me per week?
This completely depends on the number of students you take on. Mentoring sessions last 30 minutes (for self-funded students) and last 45 minutes (for funded students + 15 minutes between sessions to fill reports, answer questions, take a look at their work ). So count around 30 minutes or an hour per student depending on the student type. 🕑
Besides video conferencing, you may need to prepare customized exercises or respond to emails from students. This is, nonetheless, a minority situation, and should only take a few extra minutes.
Which subjects should I know?
It's up to you! We ask mentors to take students in subjects where they're comfortable.
We seek mentors for most courses that appear in OpenClassrooms paths. When you apply to be a mentor, we'll ask you for subjects in which you're interested.
Which experience level should I be at?
As a mentor you will have several years of real life industry experience. That being said, we are not only looking for experts. We need experts and we welcome them, but we're more interested in people with solid teaching skills.
What are these teaching skills?
Empathy: you really need to care about your students. You must show that you care about their success and that you are there to help when needed. This sort of thing makes you happy! 😊

Humility: You're not afraid to say when you do not know something or that it is not your specialty. You're not there to be omniscient but instead to be a human being sharing their experiences.

Patience: some students need more time than others. Carefully explain that you understand this as many times as necessary. You give appropriate exercises and, if necessary, you go back with the student to solidify the knowledge that they're figuring out.

Confidence: learning a new skill is hard, and your students will need you to be there to encourage students to keep going, even at the times of difficulty. Sticking with the program is critical to their success in the program and of course to finding a job!
We won't ask you technical tests because your experience counts for more than a coding interview.
Length
How long-term will I mentor each student?
In practice, this varies from several weeks to 5-6 months (rarely longer) until you have shared your experience and pass the baton to another mentor.
And if it does not go well with a student?
Each person is different. Sometimes you'll be like two friends, and sometimes it will be a little harder to work together. If the student is voluntarily dragging their feet, does not seem to listen to what you tell them, it's taking a lot of energy...something is wrong.
We know it can be frustrating in the long run. This is why all mentors have the right to ask for another student without having to justify the reason. It is essential for us that there is good cooperation between mentors and students.
Note that we offer the same thing to students: they can request a change of mentor without having to justify the reason. It is very rare in practice, but if it happens to you, don't stress about it and move on to another student. Mentoring should be fun!
What if I want to take vacation?
If you're gone 1-2 weeks, you can arrange something with your students usually without a problem (like multiple sessions the week you come back). Relax, and enjoy your holiday! 🏖
However, if you'll be away longer, let us know in advance so we can pass the baton to another mentor temporarily.
What if I want to stop mentoring?
No worries! This isn't a lifetime commitment. Just let us know in advance (at least two weeks). This will let us find another mentor for your students.
How will I be paid?
The payment method really depends on your banking situation, however the most common methods of payment are via Paypal and wire transfer.
Mentor Tools
As a mentor there are a few tools you'll need to know in order to manage your students and your time. Other than the platform the main tool is Workplace.
Workplace:
We use Facebook Workplace, a version of Facebook for schools and business that works exactly like Facebook itself. Students and mentors can discuss amongst themselves in public groups, and mentors have their own private groups as well.
Here's what a Workplace looks like: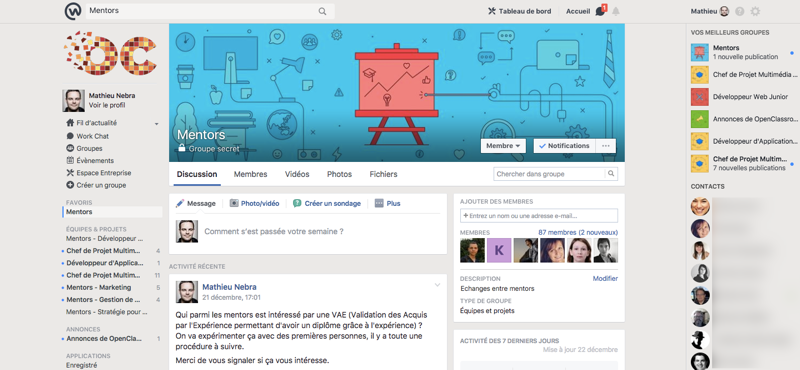 Your Obligations
As a mentor, you'll have a number of obligations:
Reputation: Make sure you don't do anything that would hurt OpenClassrooms' reputation. That seems obvious, but it's always better say it loud and clear.

Confidentiality: As a mentor, you'll have privileged access to information about changes within OpenClassrooms. We'll let you know about these evolutions in order to make it easier to work together, and because we trust you. In turn, we'll be counting on you to make sure this information stays confidential.

Professionalism: You're a role model for your students and an essential part of their learning at OpenClassrooms. Naturally, you'll be in a position of authority with your students which shouldn't be abused.