You've just joined OpenClassrooms as a student and you're on your way to start your learning journey. How does it work? Follow this guide!
The concept
You're going to learn online via a path such as "Product Manager". Your objective is to finish the path by completing the projects in it.

Projects require a lot of work. Usually, you won't know how to start with them at first. This is totally normal.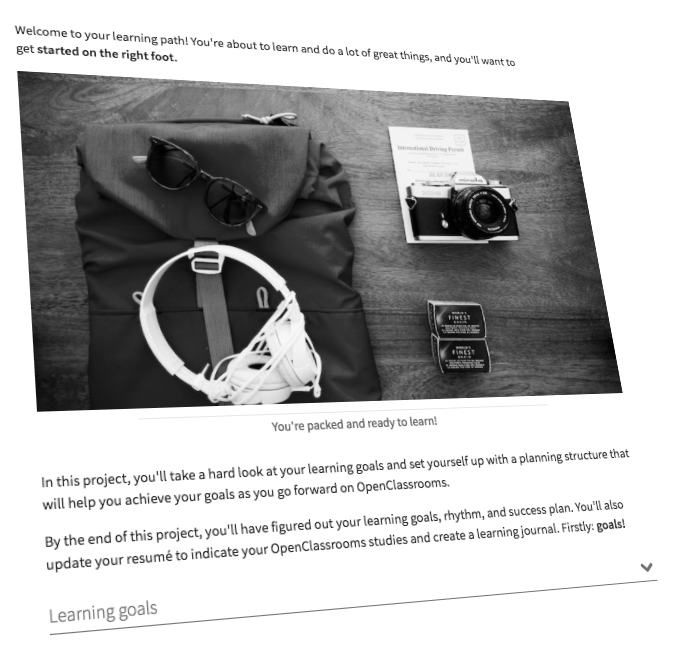 To help you complete these projects, we offer 3 tools:
Courses that will help you learn

Discussion spaces like messages and forums

A private mentor whom you'll see weekly in videochat sessions
Your private mentor
You will be contacted by your mentor in the next 48 hours. You'll agree together on when you'll have your first videochat!
We mostly use Google Hangouts for these sessions: you simply need a free Google account to use it. Remember to check that you have a working microphone and a webcam: you'll save a lot of time in your first meeting!
You'll have a meeting with your mentor every week.
During each session, you'll discuss what you've done in the last week. Your mentor will have given you courses to read and exercises to do, both adapted to your current level and experience. They will guide you to learn to find the solution by yourself. You will gradually understand step-by-step how to complete your current project.
The mentor is there to help you if you don't know where to go. They have a good overview of what you can and cannot do at the moment and will guide you to your next goals. Mentors often say that their role is to help the students be more confident in their ability to learn by themselves (and it works!). 🤗
Don't forget that your mentor will also evaluate and grade your progress. They will evaluate the quality of your projects before grading them. You will have to respect your mentor's feedback in order to succeed (that is not an option!).
Your deliverables
Close to a presentation, you can upload your deliverable on the platform from your project page.
To upload the file, you can drag and drop it or click in the dedicated upload area. File must be a .zip and can't be more than 100Mo.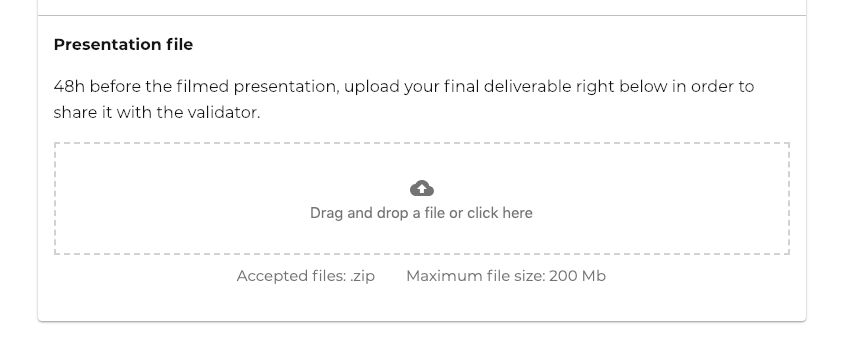 Once the deliverable is uploaded, your mentor and your evaluator can download the file from their project interface.
Discussion space: Workplace
Between 2 mentoring sessions, you can discuss with other students and even other mentors on a dedicated space called Workplace (it's an online tool based on Facebook). This is where the other students live: learn how to go there often, as it offers you an additional space to get and give help. It can be very useful while you're waiting for your next mentoring session.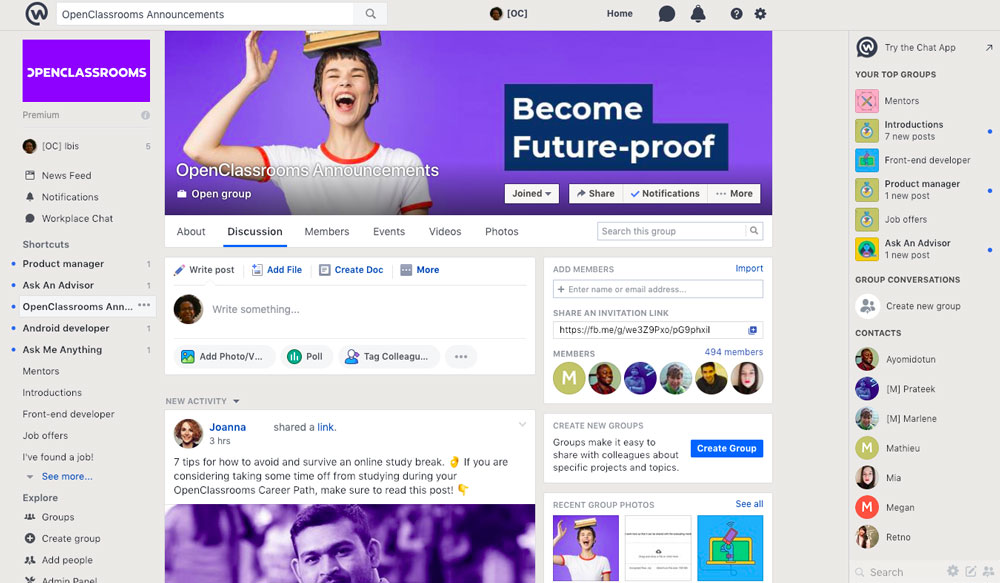 This is a dedicated space for you as a Premium Plus member. Learn to use it; it will be really helpful!
Start by presenting yourself there in a few lines. It will help you make connections! Just write down a short biography, describe one of your hobbies, and add a picture. 🙂
Organize yourself
Depending on the path you've chosen, you're going to work for several months, a year or more. It is essential to be well-organized.
You need to have a clear plan. For instance, if you want to finish your learning in a year, and there are 6 projects in your path, you should finish 1 project every 2 months on average. Keep that in mind on your journey
You should work a bare minimum of 4 hours a day, Monday to Friday. The most dedicated students work, on average, 6 to 8 hours a day. It's also important to work every day -- not just every other day.