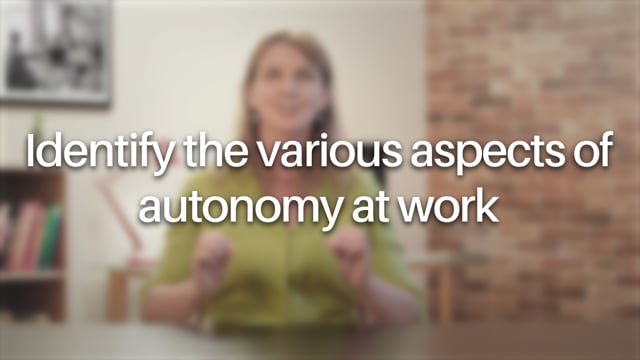 If you're taking this course, it's probably because you are aware of the current transformations happening in the workplace.
Perhaps you are taking advantage of the opportunities they give to change your status as a worker.
Are you facing changing conditions in how you carry out your work, such as teleworking and do you see both the advantages of this new situation, but also the constraints, such as the need to develop your skills?
What are the issues around autonomy today?
It's an essential, complex and ambiguous subject:
Essential, because you (like everyone) will be working with autonomous people, where everyone has their role and performs it responsibly.

Complex, because you can't just declare yourself as autonomous.

It takes time, and it will be your behaviour that will demonstrate your autonomy.

The dictate "be autonomous" is meaningless, because autonomous people sometimes have trouble with authority. When you seek to develop your autonomy, it's because you want to professionally develop yourself and push the boundaries. It may also be a requirement of your job. It's pointless to simply try to impose it on yourself without more consideration.

It's actually implementing it that will encourage the development of your autonomy. 🙃

Ambiguous, because it's different from independence.

Autonomy is broader than independence, because it includes your relationship with others.

Even if we use the term "independent worker", autonomy is practised in a given framework that includes organisation, rules of the game and shared benchmarks, where each player must take account of and understand the actions of others.
Autonomy is also a topical issue
The rollout of IT in business also impacts communication, by the development of collaborative platforms or social networking within the work context. Everyone can make use of this, both professionally or personally. These tools encourage remote working, changed working conditions and methods of information sharing. For example, this is the case for managers who guide their teams remotely, where autonomy becomes conditional and where the teams need to develop participatory collaboration skills.
Collaborative working tools enable the number of independent workers to grow and respond to business's need for flexibility and the expectations of new generations at work. Indeed, the need to personally define one's own professional identity has led to Generation Z saying that it is "tempted by entrepreneurship". 🙃
If like many workers today, you demand your autonomy, it's because it's a source of fulfilment and of skills development. You appreciate the freedom to decide about the organisation of your work and time. So, you find that the tasks to be performed are all sources of motivation.
What is autonomy?
Before proceeding, here are a few definitions of autonomy for you to consider.
Henri Boudreault of the University of Quebec at Montreal (UQAM) defines autonomy as:
"life skills that show themselves through the ability to assume control of oneself, according to one's responsibilities, so as to take action at the right moment in a given context."
Autonomy here refers to an idea of competence. Boudreault feels it's not just about freedom of choice, but about being capable of having one's freedom. He also emphasises that autonomy is exercised within a specific context, so that being autonomous also means acting within a given environment, in order to achieve the desired results.
The North American Agreement on Labour Cooperation (NAALC) says that autonomy at work is being able to act on job requirements (speed, procedure, choice of means, access to resources, tools) and to combine them in a way that is varied and that suits the situation, in order to get a feeling of control.
To summarise, autonomy can be defined as the capacity to act on three issues, which can be seen visually in the following diagram: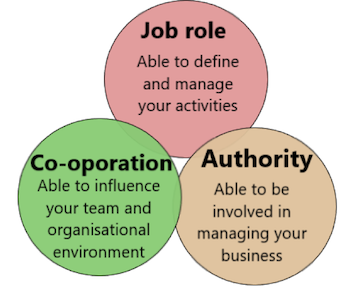 Discussion: Authority can be seen as the ability to participate in organisational management, which includes influencing the direction and selection of management strategy.
Autonomy varies according to different work environments
Autonomy becomes a key question because it's driven by many social changes, such as the development of collaborative working tools as well as the change in expectations of the new generations. These changes reinforce the need to master the skill of autonomy which is exercised on various levels.
Professionals who work independently
Are you in business on your own accord? Perhaps you're self-employed or a company director of a Limited Liability Company, depending on your chosen legal status. You are thus developing a product, a service or a freelance activity in a completely independent way.
How you operate independently can vary. For instance, do you work with businesses but don't want to be an entrepreneur? Consider working within the framework of an umbrella company: you provide goods or services but are paid through a "temporary employee" contract during your assignment with the client.
Employees who perform their work with autonomy
Are you an employee with work that requires you to be completely autonomous? This tends to be the case with employees working alone in their workplace, or with those working remotely. Unit managers who act with complete freedom fall into this category and can be regarded as internal entrepreneurs.
Beyond these cases, autonomy is found in many jobs and is expected (even assessed) at different levels.
Employees who work outside the company premises
The locations of working at one's job are also changing – and outside the company premises, you perform your work in a completely independent way.
Co-working means working in spaces shared with other players (employed or independent), who are not directly connected with you. You share tools, facilities, space etc.

Tele-working or distance working is when your business suggests that you work at home rather than coming to their premises. (There are legal rules setting out the conditions for doing this.)

Nomadic working affects you if you need to regularly travel outside the organisation. You can then have offices/desks made available to you (and there you are a co-worker), or else you find yourself working in other workplaces. This could be on the train (look at the number of people working while travelling!) – but it could also be other places (a long coffee break where the managers make electrical sockets available etc.).
Autonomy at work has lead to new jobs. Perhaps you would like to see your working environment develop; or else, you may need to adapt because your business is relocating or is offering new working conditions, etc. 🤔
Originally, only musicians looked for a "gig". Nowadays, the gig economy involves many dependent and subcontracted workers who are no longer paid by the month but on completion of the work, and often by several employers.
Slashing without clashing!
The term Slashers was coined as a reference to the slash sign "/". These are workers who accumulate several jobs, sometimes with several different statuses.
For instance, you can own a taxi firm (independent business) and be a writer (umbrella company); you can be a consultant (self-employed) and a trainer (employee); you can be an aromatherapist and an accountant, etc. There are as many examples as people, and you might be one of them!
These new forms of work organisation are more and more flexible.
As Marielle Barbe emphasises in her book Profession: Slasher, there are two categories of slashers. Beside those who choose this enriching lifestyle, there are those who accumulate several jobs through necessity. The second has always existed and is linked to the poor pay in some occupations.
The need for flexibility in work is increasingly desirable for business and individuals. In France: 75% of French employees indicate that if they were offered flexible working, that would improve their well-being (Citrix CEBR study October 2014). In the UK, 94% of knowledge workers say they would opt for this, saving them time and money otherwise spent travelling (Citrix CEBR study Dec 2014).
The four pillars of autonomy
According to the work of Boudreault, developing autonomy requires four types of dynamics to enable the "pillars of autonomy" to be strengthened:
The dynamic of experience: Becoming master of your profession, or of a work process, makes one autonomous, enables taking risks and initiatives, as well as inspiring creativity and innovation.

The dynamic of training, which develops skills. You should understand "training" here as a voluntary step taken to acquire knowledge. You are following this course: so, you're in training!

The dynamic of managing and optimising resources (documentary or human: e.g. through setting up a network of colleagues) that can be utilised according to need for information and know-how.

And, finally, the dynamic of attachment, which concerns effects and values. These are the foundations from which you can experience the feeling of a job well done and the appreciation of others and the work they do. Your autonomy is dependent upon the work of others. If you can clearly state your work expectations, you'll be able to unite a team around shared goals and strengthen your own manoeuvrability.
You now have the foundations to consider the next aspect of identifying your current level of autonomy!