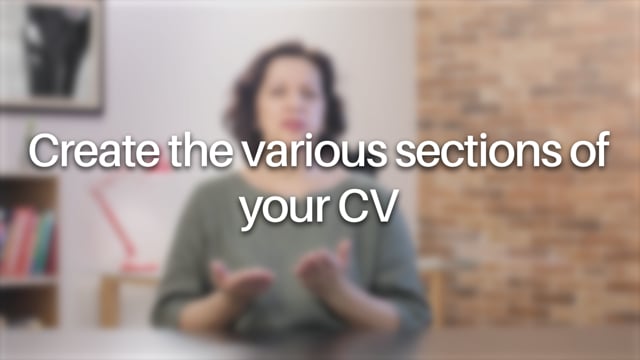 Writing your own CV is often complicated. Most candidates don't like talking about themselves, let alone have the confidence to emphasise their expertise.
Don't panic!
Let's take it one step at a time. 😉
Adapting your CV to each and every application
In today's competitive job market, employers want to ensure they attract high quality candidates to their business. To successfully attract such candidates, many large companies and recruitment agencies use software programs to recruit their workforce. These programs, called Applicant Tracking Systems, scan your CV to decide whether to move you along in the process or to discard your application.
Applicant Tracking Systems scan your CV against job specifications, comparing the information in a CV against the job description or advertisement. The CVs that best fit into this category are selected. This is why it is imperative to optimise your CV with relevant keywords contained in the job description.
Applicant Tracking Systems sort information into categories of:
Education background

Contact information

Abilities, talents, competencies

Previous work experience
An employer's desired list of skills and keywords are matched with those in the CVs to determine the value a candidate could bring to the organisation. CVs with the highest scores of matching keywords move along for further review.
How can I get my CV to pass Applicant Tracking Systems? 😳
Revisit the job advertisement repeatedly to ensure that you have identified its keywords and effectively used them in your adapted CV.
Below is an excerpt of a job advertisement for an administrative assistant in London. Notice the keywords in bold! Include keywords such as these for your CV to be recognised by the recruiter and for the Applicant Tracking System to move you along to the next stage of the recruitment process.
Administrative Assistant

Join MI5 and your administrative talents will play a vital role in helping to keep the country safe. Whether you're organising meetings and diaries, managing our information and records, booking travel, looking after visitors, uploading reports or providing essential support to our officers, you'll be playing a part in ensuring our organisation runs smoothly and professionally.

Our Administrative Assistants work across a variety of departments, offering a range of roles, diverse challenges and direct insight into the fascinating work of MI5. With opportunities to broaden and enhance your administrative skills, you can look forward to a rewarding and stimulating career.

Who we're looking for:

This is an ideal role for school leavers, people coming back to work after a career break or those looking for a change of career. You will have strong organisational and communication skills and an eye for detail, be able to work independently and within a busy team and demonstrate flexibility and a commitment to the role. You'll also need to have IT skills, including the ability to use email, the internet, MS Word and Excel.
Now have a look at this excerpt from a CV, and notice the mirrored keywords:
Committed and detail-orientated Administrative Assistant with proven organisational and communication skills and a full year of experience supporting a variety of departments in diverse roles.
A clear and simple layout
Combined with your cover letter, your CV is the business card you give to the company where you apply. Your CV explains who you are, what working experience you have and what capabilities you possess.
So what do you include in your CV?
General CV structure and tips:
Two pages maximum, A4 in size. Clear for anyone to read and to find information they're looking for, with enough white space to allow them to navigate and view at first glance.

Heading: name, address, telephone number(s) and email address.

UK legislation under the Equality Act discourages information such as date of birth, age and marital status, as it is illegal to discriminate based on this information. It is best not to include these details in your CV.

Although a photograph of yourself can add visual variety and help you to stand out, in the UK it is not necessary to include one.

It is best to mention and explain any gaps in your employment history. Your career break may have included studying for professional qualifications, volunteer work or other such activities that demonstrate what you have done during your employment gap.

You have picked up many skills over the years - include every IT package or program, as well as languages you have learnt, indicating your current level. We will cover more on this section in the next chapter. Remember to mirror keywords from the job description in your CV.

Include names of organisations, positions held, location.
The four main components:
The following four main components of your CV will describe and highlight your achievements, talents, successes and career plan. (See an example CV.)
1 - Introduce yourself
Objective 1 - Who you are summed up in a job title, how many years of experience and which specific work and industries you have worked previously.

Objective 2 - What are you looking for in a role? What value do you bring to the organisation which you are applying? Adapt your CV to specific role(s).
Let's revisit the example of a first objective that we looked at in the previous chapter's video. Do you remember the strengths we discussed?
Energetic and motivated human resources generalist with more than two years' experience managing and implementing HR requirements for small and large companies within Energy, Start-ups and Public sectors.
Notice how excited and ready I am to take on a new position, and in a new organisation? Communicating this enthusiasm to a recruiter can make the difference between getting an interview and getting overlooked, regardless of your credentials!
Now let's revisit the example of a second objective. Again, try to identify the strengths we discussed:
Experienced in human behaviour and motivators, as developed in Applied Psychology BSc degree, a great fit for any HR department. Seeking a role to utilise excellent interpersonal and communication skills, working autonomously or within a motivated team to deliver excellent customer service for clients and employees.
Notice how I articulate what I am looking for in my next role? What I bring, my experiences and skills, and how I am able to apply my degree in the next role?
Did you notice that, despite communicating these messages about myself, I didn't use words such as I and me in my objectives? Remember to remove all pronouns in your CV and eliminate extra words.
2 - Choose an effective headline
Write and tailor a compelling headline. This is the title of your CV and should include the title of the position you are applying. Highlight technical expertise or professional experience.
An example of a tailored headline: Bilingual Customer Relationship Manager
Should the job offer an international dimension, your fit will set you apart from candidates without bilingual or international experience.
3 - Education and Training
Recent school leavers: Professional Profile, Skills & Achievements, Education, Work experience.

University graduate: degree information, work experience, modules that closely match the job you are applying.
For example:
| | |
| --- | --- |
| 2017 | iOS Developer (Level 6 Diploma) - OpenClassrooms |
| 2014 | Law degree - University of Cambridge |
| 2010 | GCSE – Maths, English |
Other professional qualifications:

Emphasize your General Certificate of Secondary Education (GCSE). A pass in maths and English is essential for many jobs after recently leaving school, so be sure to include these.

Include achievements – tutor, scholarships, awards.

Recent university graduates – focus on your degree, college and school qualifications.

Currently studying – education or completing an additional qualification include dates when you're likely to complete your studies. Modules that closely match the job you are applying.

Professional qualification – completed a short or certificate course, industry related or developing current skills, relevant to include, this demonstrates your personal development and initiative in doing so to a prospective employer.

Qualifications vary from country to country. The best approach is to explain your qualification for the reader to understand the significance. Phrases such as, "equivalent to top five per cent of year", or "highest possible grade". View the NARIC website naric.org.uk for more information about comparing qualifications.

MOOCs completed, such as courses with OpenClassrooms.
4 - Professional experience
List jobs in chronological order, the most recent first.

Describe responsibilities, achievements and results in more detail. Demonstrate and emphasise your positive contribution or the impact of your teamwork.
Shine! 🤩
The content of your CV should be written by you and in your style, which will be evident in an interview.
Use the formula within these chapters to demonstrate that you have the skills and the experience required. It is not possible to provide full details of your career to date. Rather, you can provide all the details during an interview if you are invited to do so.
Take your time when creating and writing your CV. When you complete a page, leave it overnight, reflect on it and come back the next day to review your work and make any necessary changes.
Remember, there is no one perfect format to a CV. It is a creation of the work experience, skills, interests and knowledge you have accumulated over the years.
Writing a skills-based CV
A skills-based CV is generally used if you have limited work experience, are applying for a job unrelated to your degree or have gaps in your employment. Perhaps you want to change careers. Are your skills transferable to different roles, industries and employers? If so, your practical experience in a given industry could land you that job.
Transferable skills are picked up over time, gained from previous positions and volunteer work and add value to an employer.
When I knew it was time for a change in my career, I utilised my six years experience working for a start-up company as an HR officer to transfer my skills to the position of HR manager with an organisation of over 1,000 employees. The skills I obtained as an HR officer were emphasised in my CV. The skills I highlighted in my CV included leadership, motivation, listening, prioritisation, collaboration, communication, negotiation, policy development and research.
If you're not sure which skills to utilise when applying for your next role, always remember to go back to the job description. Pick out words and relevant skills and demonstrate methods to display similar attributes.
For example:
Excellent leadership skills demonstrated when I successfully managed a small group of scouts during a three day camping adventure.
We'll have a closer look at highlighting your professional skills in the next chapter!