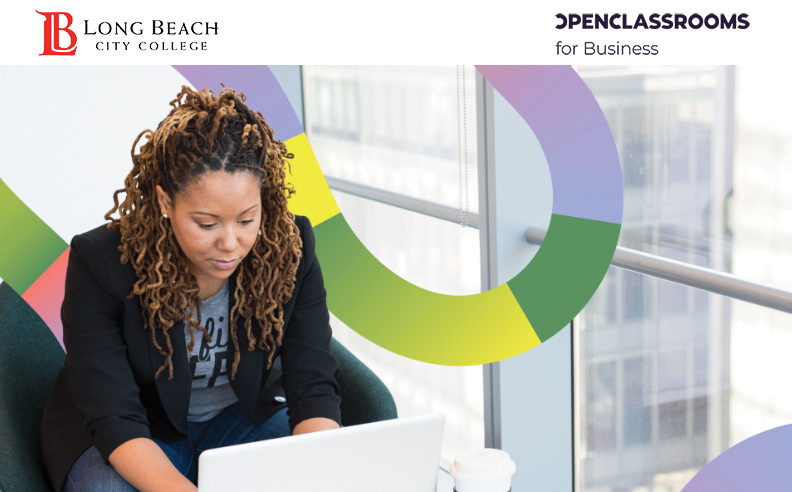 Jumpstart your future career in tech with fully funded Skills Bootcamps. Apply now...only 50 spots available!
Long Beach City College has partnered with OpenClassrooms to provide tech Skills Bootcamps at no cost to accepted applicants. Opening doors of opportunity for aspiring professionals in the tech industry!
Choose from the following Tech Skills Bootcamps:
Data Analyst
Businesses need Data Analysts to make sense of the vast amounts of data they generate and collect.

Data Analysts help extract valuable insights, identify trends, and make data-driven decisions and recommendations that aim to improve overall performance and efficiency.

Their expertise ensures that businesses can optimize their processes, target audiences effectively, and stay ahead of the competition.
Digital Marketer
Businesses need Digital Marketers to effectively reach and engage their target audience in the digital landscape.

Digital Marketers employ various online strategies, such as social media marketing, SEO, content marketing, and email campaigns to increase visibility and drive traffic to their websites.

Their efforts help businesses build strong online presence, generate leads, and ultimately boost sales and revenue.
Help Desk Technician
Businesses need Help Desk Technicians to provide efficient and timely technical support to their employees and customers.

Help Desk Technicians troubleshoot and resolve issues with hardware, software, and network systems to ensure smooth day-to-day operations.

Their expertise helps minimize downtime, increase productivity, and maintain a positive customer experience, contributing to overall business success.
Application Developer
Businesses need Application Developers to create customized software solutions that cater to their specific needs and requirements.

These developers design, build, and maintain applications that enhance internal processes, automate tasks, and improve overall efficiency.

By having skilled Application Developers, businesses can stay competitive, adapt to changing technologies, and deliver innovative products and services to their customers.

Skills Bootcamp overview
On OpenClassrooms, Skills Bootcamps students receive:
100% online technical instruction - 20 - 25 hours per week

3 - 4 projects that offer hands-on experience you can apply on the job, on day one

An OpenClassrooms mentor (in-field expert) that:

Hosts weekly one-to-one sessions

Helps you acquire the skills your company needs

Provides you with guidance and feedback through the duration of the bootcamp
Don't hesitate, apply now before all 50 spots are filled.