You are regularly encouraged to do internships over the course of your studies. But why? And what can you do to ensure that these internships will be an asset in terms of your future career? Where and how can you find an internship? And what can you do to really make the most of it?
You'll find the answers to all these questions and more in the following course.
Why do an internship?
One or more internships are a necessary part of obtaining your diploma or degree. But remember, an internship is more than just a mere formality. Never underestimate its importance in terms of your future career. Consider it as a bridge between the world of university and the world of work.
Examples of internship goals:
Discover the world of work or a specific professional field

Acquire the necessary skills to get your career off to a good start (see course Taking stock of your skills)

Discover the social and professional policies of a particular sector of activity (learn how to work as part of a team or work on a project, etc.)

Specialize in a particular domain

Discover if the job / sector meets your expectations

Develop your network of professional contacts
Four steps to finding a good internship!
First and foremost, draw up a schedule
Plan ahead! If you want to do your internship in a large law firm for example, you will need to do the recruitment interviews at least one year before the start of the internship. On the other hand, if you're looking for an internship in the area of communications, these can be done a few weeks beforehand. There's no magic or one-size-fits-all formula! Tailor your schedule to meet the requirements and demands of your speciality area.
In general, try to leave at least 6 months to carry out these 4 steps:

Step 1: Define your objectives and duties
Your internship goals should be connected to your professional goals and should allow you to get closer to your objectives (e.g., to become a business lawyer). However, your professional goals and desired career path may still be a little unclear. If this is the case, have a look at our Defining your career plan course.
In concrete terms, what does this entail? Look at the chart below: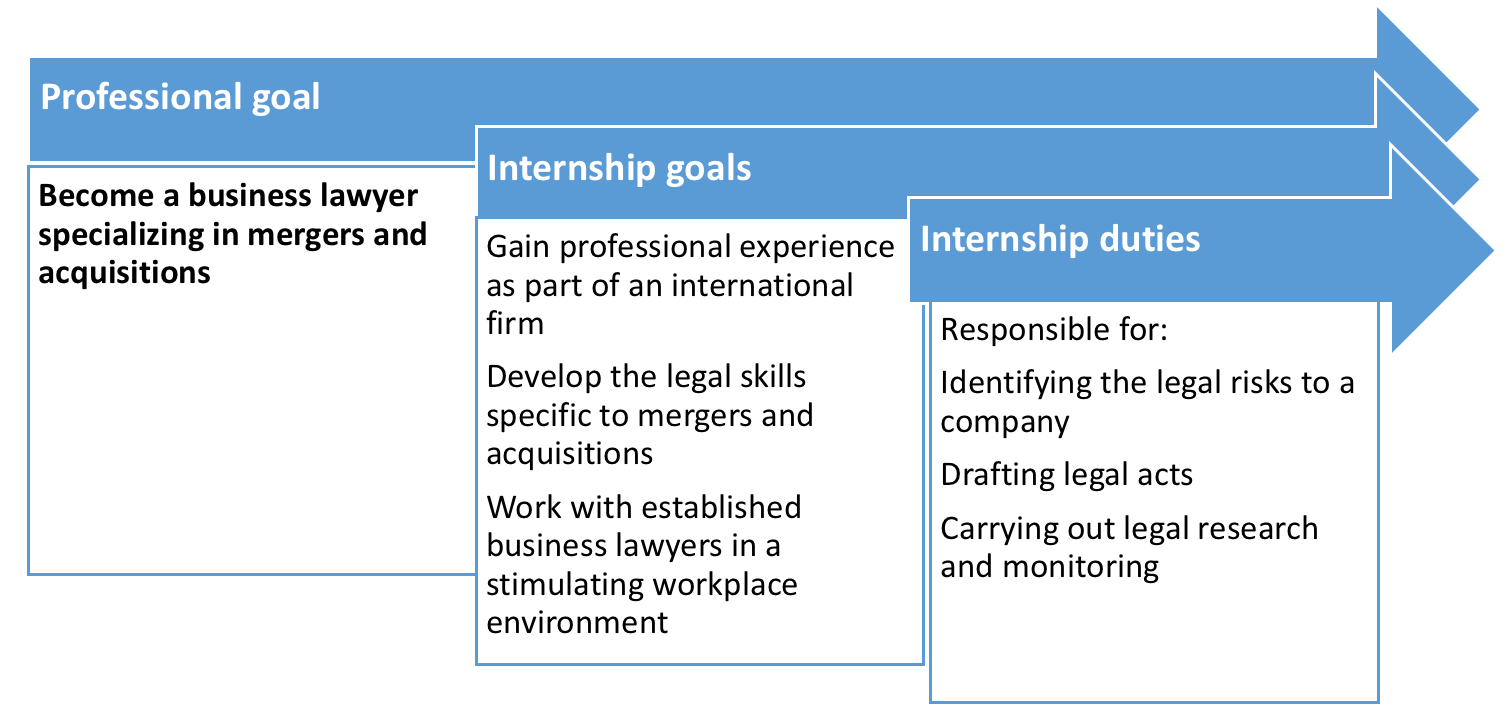 In order to better identify what duties are suited to your professional goals, find out as much as you can about your activity area and your targeted career (Need some help? Read our Discovering the job market and keeping track of job postings and news course).
Imagine you are in a Master's Programme studying Organizational and HR Management and your ultimate career goal is to become head of recruiting. You should target internships that will allow you to perform the duties and assignments that will help you develop the necessary skills to perform that career.
Suitable internship assignments might include:
Identifying appropriate recruitment methods

Writing and advertising job offers

Selecting suitable candidates
Over to you!
Fill out the following chart and define your professional and internship goals.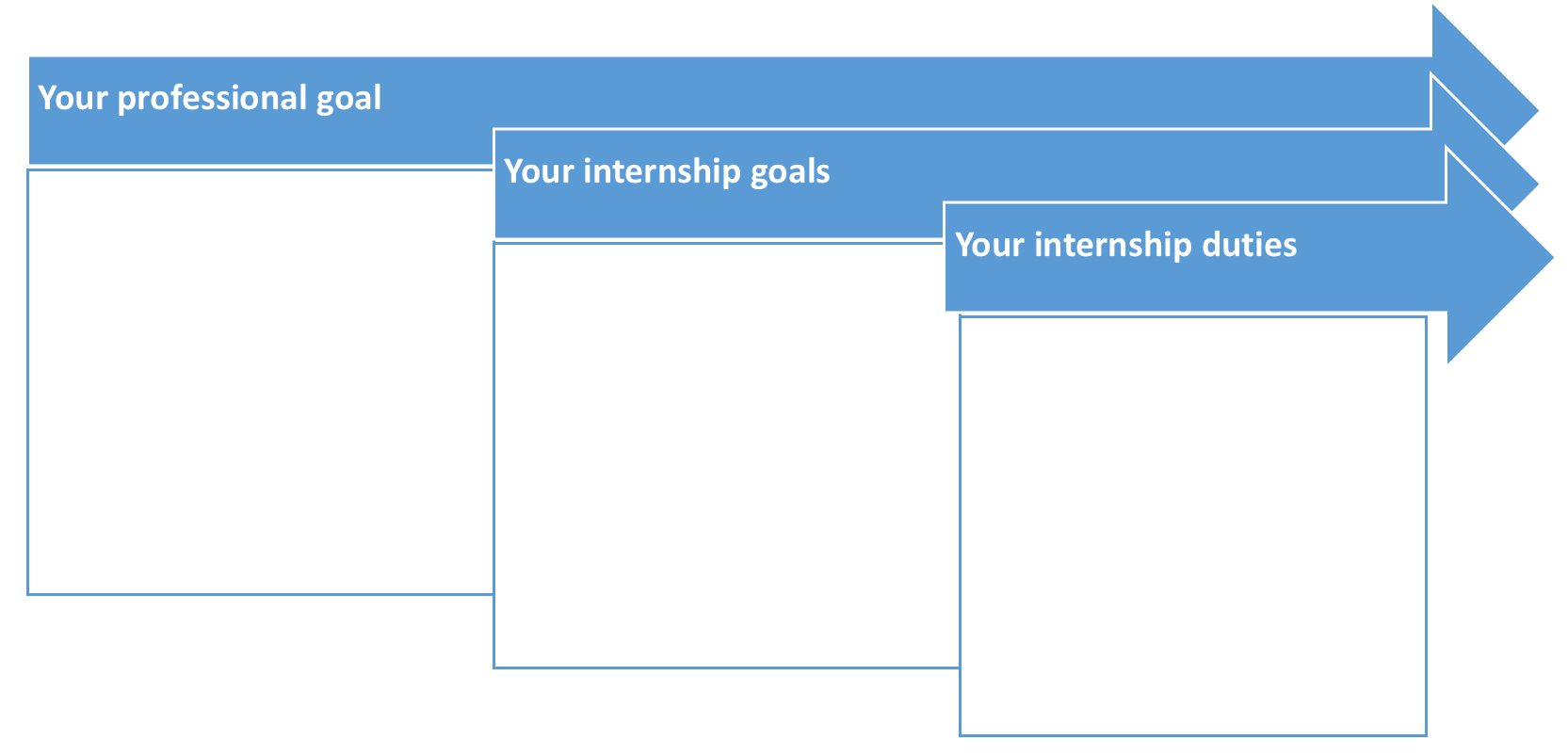 Step 2: Use every possible means to find your internship‌
Use whatever means possible! For more of an edge, follow the three steps below:
| | | |
| --- | --- | --- |
| Mobilize your connections and make the most of the university's resources | Look up internship offers | Meet with professionals at forums and trade fairs |
| Contact the network of former alumni at your university | | Find out about the different forums organized by your establishment |
| Look up your university's directory of internships | | From February to March: Take part in different forums and fairs |
| Check out the internal platform for internship offers | | |
| Meet and talk with your professors about your internship objectives | | |
| Make direct contact with the companies that interest you | | |
| | | |
Step 3: Search for and arrange suitable internship assignments
Once you are clear on what kind of internship assignments you are looking for, you can then target the most suitable offers for you.
What kind of internship offer should you look for?
The internship offer should outline well-defined assignments (objectives that correspond with your goals, with clear and feasible time frames, and suitable conditions for carrying out said assignments)

The more detailed the offer, the better! (Detailed candidate profile, skills sought, etc.)
Don't hesitate to discuss and negotiate the type of assignments you are looking for with your future internship supervisor before the commencement of your internship. This is crucial to determining the quality of your overall experience!
You could, for example, arrange to take on assignments that evolve in the case of a long internship: you could begin the internship doing mainly administrative duties and as time progresses evolve onto more demanding tasks with greater responsibility, possibly even interacting with customers, etc. All of this should be related to your professional goals.
The most important thing to rem‌ember is to find a balance between the needs of the host company and the credit requirements of your course.
Step 4: Prepare before you apply
When applying for internships, you should begin by studying internship offers and tailoring your CV and cover letter to these. See the following courses for more information: Interpreting job offers and making your profile more attractive and Preparing for your job interview on how best to adapt your resources and to prepare for interviews.
For example, if you are applying for an offer in a communications agency, make sure that your CV lists all of the relevant software and IT tools with which you are familiar.
Get ready before the start of your internship
You've found an internship? Congratulations! Now here are just a few small things to take care of before you start.
Learn as much as you can about the company
If you haven't already done so, ask yourself the following questions:
What exactly does the host company do?

What is its market position?

What is the company's organizational chart? Who does what?
Some points to watch:
To avoid misunderstandings:
clearly state the objective of your internship

validate your designated assignment(s) in writing

question the means allocated to the realization of your assignment(s) (human resources, materials, financial resources, time frame, etc.)

refer to the report or thesis you will have to write on your internship

determine in advance the methods of supervision (debriefings, meetings, etc.)

clearly agree on work hours

be prepared for your first day (know exactly where the company is located, calculate your travel time to work so you won't arrive late on day one, have enough money on you to buy lunch on the first day)
It is important to be clear on all these points before you begin. Not every company has the same understanding of what exactly an internship entails. Some employers may not have prepared for your arrival and won't have asked themselves the necessary questions relating to your internship objectives, etc. This is why it is crucial to put in place a clear framework from the outset with the host company.
Signing your internship contract
Before signing, test your knowledge on your rights and obligations as a trainee and download our quick checklist.
How to behave on an internship?
Your general behaviour while on internship is very important: your professional reputation and your university name are at stake! In some professional spheres, everybody knows everybody, so be careful not to do anything that might jeopardize your chances in terms of another internship or future employment.
The basics: Be polite, respectful and punctual!
Be polite and respectful to everyone in the company, from the CEO to the courier. Remember to say 'hello' when you arrive in the morning and 'goodbye' when you leave in the evening. Be punctual, show that you are reliable and serious. Notify your colleagues if you are delayed and be sure to ask permission if you need to leave before the agreed time (an absolute must!).
Be curious and observant from day one
The first few days will allow you to familiarize yourself with your internship duties.
Ask questions and show yourself to be curious. Check the following with your internship supervisor: Have you properly understood your assignments? How will you be evaluated? Do you have deadlines to respect? What are they? What work methods should you adopt?
From day one, observe the company's codes and modus operandi: dress code, working hours, break times, etc. What is acceptable within the company? And more importantly, what isn't?
Tailor your language: use the same technical vocabulary and jargon as your colleagues.

Make sure your clothing style is appropriate to the work place.

Comply with all written rules (company rules, safety rules and regulations, recipients of emails, models, etc.) and non-written rules relating to the company's policies. For example if your colleagues work between 10am and 7pm, even 8pm, forget about standard office hours (9am – 5pm), on condition that you aren't expected to work unreasonable hours.
Show your willingness to fit in by adapting to the host company's way of doing things.
Be modest
Companies sometimes bemoan the lack of modesty of some trainees. You should never be haughty with employees but instead be open to giving and receiving information with colleagues. Prove yourself at first on simple tasks before asking for more complex duties. To learn and grow, know how to accept constructive criticism about your work.
Your priority? Watch everything that happens around you in order to learn and progress: take in as much as you can.
If you have a problem, talk to someone
If you experience some difficulties or problems during your internship, be sure to talk to someone about them.
Initially, you should speak directly with your internship supervisor. Do so calmly, in a non-aggressive fashion. Perhaps your supervisor hasn't been very available to help or advise you (due to a large workload, frequent meetings, etc.) or perhaps he/she hasn't understood your expectations.
If the problem continues, you should go to your university for advice. Your teacher or the internship office may be able to intervene to reorient the internship if it no longer corresponds with the initial objectives. However, avoid involving your colleagues: this tends to worsen the situation.
Be proactive
How can you score points during your internship? Show plenty of initiative! Bring relevant information to the company, surpass your internship supervisor's expectations, and don't be afraid to show that you are an asset to the company! If your internship is lacking in content, volunteer to do certain tasks before they are entrusted to you, or offer to assist your colleagues.
For example, stay informed! Create a Google Alert (or other) in order to keep a close eye on current news (relating to markets, innovation within the field, international benchmarks, etc.).
Be open and build up your network
Firstly, show an interest in your colleagues' work, be curious about their job and work methods. But don't just stop there: talk to other staff members within the company. Good interpersonal relationships are the key to success!
Why forge ties with as many company employees as possible?
In order to better fulfil your duties by having a broader and more complete vision of the company's activities.

To increase your chances of being hired by the company in the future and to broaden your professional network of contacts.

To improve your knowledge of the sector by a deeper understanding of the different jobs and work methods used.
Be careful not to be too invasive. Before engaging a colleague in conversation, make sure they have the time to talk! Use lunch breaks and coffee breaks to talk more with your colleagues.
Be discreet
As a trainee you have certain rights and duties: being discreet is one of these. Keep a low profile if the situation requires it. Stay professional at all times!
Behaviour to avoid at all costs:
Vulgarity, even if some of your colleagues talk and behave in an inappropriate fashion.

Being too familiar with your colleagues and divulging too much about your personal life.

Taking part in disputes between colleagues.
What is the best way to organize your internship?
Below are two pieces of advice to help you organize your internship in a more efficient fashion.
Keep a diary over the duration of the internship
Every week ask yourself:
What have I learnt?

What duties have I accomplished?

What skills have I used?
This will allow you to self-evaluate your internship over the course of your various duties and allow you to have an overview of your professional development. You can then evaluate this in terms of your professional goals: does your internship comply with your expectations of the job? Has the internship allowed you to decide if this is really the career for you?
All of this work will allow you to gain time when it comes to beginning work on your internship report or thesis. The best method is the following: over the course of your internship, take notes and file all of the information/documents gathered.
Organize regular updates or meetings with your internship supervisor
Throughout the duration of your internship, plan regular short meetings with your internship supervisor. Depending on his/her availability and your needs, these might take place for example:
Every morning for a duration of 5 - 10 minutes or,

At the end of every week for a duration of 30 - 45 minutes.
What is the point of these regular meetings?
To discuss the progress of your work and assignments

For example: what did you think of my presentation?

To ask advice on ways to improve

For example: What and how should I have done differently?

To discuss any difficulties encountered, or raise any important questions

To have a comprehensive overview of your strengths and weaknesses in terms of the work
Evaluate your internship and think about the future
Your internship is coming to an end? Now is the time to make the most of that experience!
Ask for feedback from your internship supervisor and your work colleagues
Towards the end of your internship, ask your internship supervisor for an interview so you can discuss your overall performance and ascertain the likelihood of upcoming job openings within the company. If your internship went very well, you can even ask him/her for a reference.
Ask your supervisor and colleagues with whom you worked on a regular basis for feedback on your performance: what did they think of your work? What qualities did they appreciate? These answers will help you in future job interviews and will allow you to update your skills grid (see course Taking stock of your skills).
Update your CV
Highlight the new skills you acquired thanks to your internship on your CV. Outline the different tasks and responsibilities performed within the company in a clear and precise fashion.
Before you leave, benefit from your colleague's professional opinion of your CV: according to them, what changes should you make to your CV or what skills should you highlight in order to help you get your dream job?
Maintain your network of contacts
Once you have finished your internship, continue to stay in touch with the people you worked with. How can you do this?
Add your new contacts to your address book on Viadeo and Linkedin.

Send news regularly (graduation news, Christmas greetings, news of a new job, etc.) to stay in touch.

Send any relevant articles that may be of interest to them (relating to their market area, career news, new products, etc.).
Now, it's over to you to make the most of your internship!
This course was developed with the support of: