Ah, data... Yes, there is a lot of data at OpenClassrooms of course. Whatever your role is, you should be able to make sense of it.
As we've said in a previous chapter, to enable trust and facilitate decision-making, you have access to as much data as you need. We want to be as transparent as possible, because we believe this is the right and most efficient way to work together.
Where is the data and what does it mean?
The dashboard
The most obvious thing you'll see (and hear) is the dashboard displayed on TVs throughout the office. This is our main dashboard, showing our most important metrics. We talk about KPIs : Key Performance Indicators.
You can also access the dashboard through your browser here: http://dashboard.openclassrooms.com/
What this all means
Let's get a closer look at our dashboard to understand what these numbers and graphs mean!
On top, some big numbers are displayed, and just below, you have 6 graphs.
First, the numbers at the very top (from left to right):
Premium: it's the number of paying Premium users. We count everyone who is currently paying, adding all Premium Solo, Premium Class and Premium Plus.

Premium Class: the current number of active Premium Class.

Premium Plus: the current number of active Premium Plus.

Total Premium: the total number of active Premium users, including those who don't pay. A good part of them are free Premium Solo users, because we offer Premium Solo to all unemployed people in France through a partnership with the French employment agency "Pôle emploi".

MRR: the Monthly Recurring Revenue. It's how much money we make every month given our paying premium users. This is an important metric: the higher it grows, the better the company's shape!
You'll also see the current ARPU (Average Revenue Per User), which is how much money a user pays us on average.

Avg Premium Last 10 Days: how many users signed up for Premium each day on average in the last 10 days. We only count paying Premium users here.
Below, you'll find some graphs (from left to right, and from top to bottom):
New Premium: the number of paying Premium users who signed up in the plast 30 days. If you look at the past ten days, you should be able to guess the "Avg Premium Last 10 Days" number.

Premium Revenue: the amount of money we made in the past 30 days with Premium, day by day. The numbers shown are in euros.

New Premium Plus: the number of Premium Plus signed up in the past 30 days.

Courses Followed: the number of times people clicked on a "Follow this course" button. It basically tells us how many courses were started.

Ended Premium: the number of Premium who left us on a given day. 🙁
We distinguish between "Cancelled" Premium (they asked to cancel their subscription) and "Payment Errors" (we couldn't charge their credit card).

New Users: the number of new (free) users signed up on OpenClassrooms in the past 30 days.
Phew, that's a lot of information already. Does everyone in the company know what the figures in the dashboard mean?
Of course! This is the basis of our data... and it's just the tip of the iceberg! If you want to know more, you'll have to dig further (see the Amplitude section below if you're curious).
What the sounds mean
Believe it or not: our dashboard actually makes sounds! If you hear some strange noises throughout the day, here is a handy guide to understand what the TV is trying to tell you:
*Mario coin sound*: a new Premium has arrived, yay!

*Multiple Mario coin sound followed by "Excellent!"*: a new Premium has arrived and will be with us for one year!

*Mario growing with a mushroom sound*: we have achieved another 100 new Premium! 

*Mario end of level success sound*: we've added another 1000 new Premium! Every time this happens, we go out for a drink! 🍻

*The Mask "Ssssssplendid!" sound*: a new Premium Plus has arrived!

*Trumpets coming right from a Spanish feria*: the Sales Team has signed up a new contract! Round of applause ensues.👏
Yes, differentiating the sounds is a science, but you should quickly be able to understand what is happening!
Amplitude and Periscope: if you need to go into more detail
As we've said, the dashboard is just the tip of the iceberg. A lot more data is available.
Whenever something noteworthy happens on the website, it's stored in our database for further analysis. This is extremely useful for different purposes:
It offers more insight into our customers (how do they behave, what do they like?)

It helps us understand how people use our courses and how we could improve their learning experience (we talk about learning analytics)
Amplitude and Periscope are handy tools for analysing our data. Everyone in the company has access to it!
Periscope is easy to use, really: you don't have to configure anything. If the data is there, then use it.
If not, you'll have to dig into Amplitude if you want to get the information by yourself. Let's look at Amplitude in more detail.
When you log in, you'll see this screen:

There are some dashboards that other people have created for you. Click on them to get started if you want to easily access some data.
Next, you'll want to try out these different pages from the top bar:
Browse charts: this is where you'll find the charts you or other people have created. This is the home page.

User activity: tells you how many active users are on the website, where they come from and some live data. Not really used.

Behavioral cohorts: understand how a group of people behaves over time. For instance: how much did members who signed up in February pay over time?

Create chart: this is where you can create a new chart. You'll definitely want to click on this button!
There is a lot of stuff going on. It would take a full course to explain everything, so we'll just talk about the "Create chart" section here, which is probably the most useful.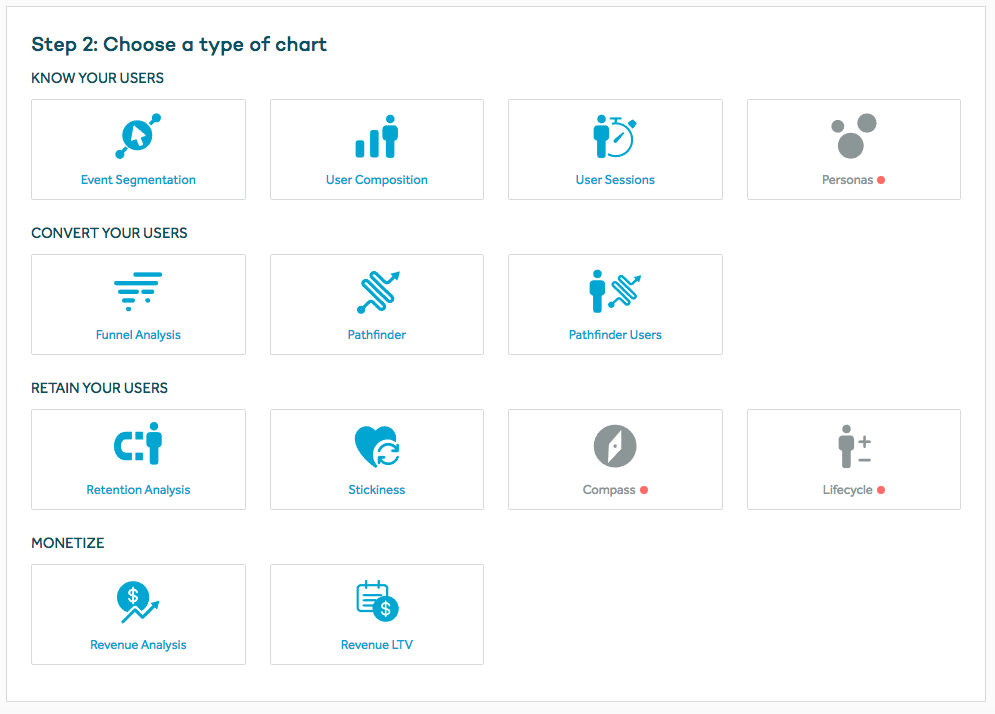 There is a lot of choice here! 😲
Start with Event Segmentation. You'll end up on a page were you can see how many times an event has happened over the last few days, hours, weeks...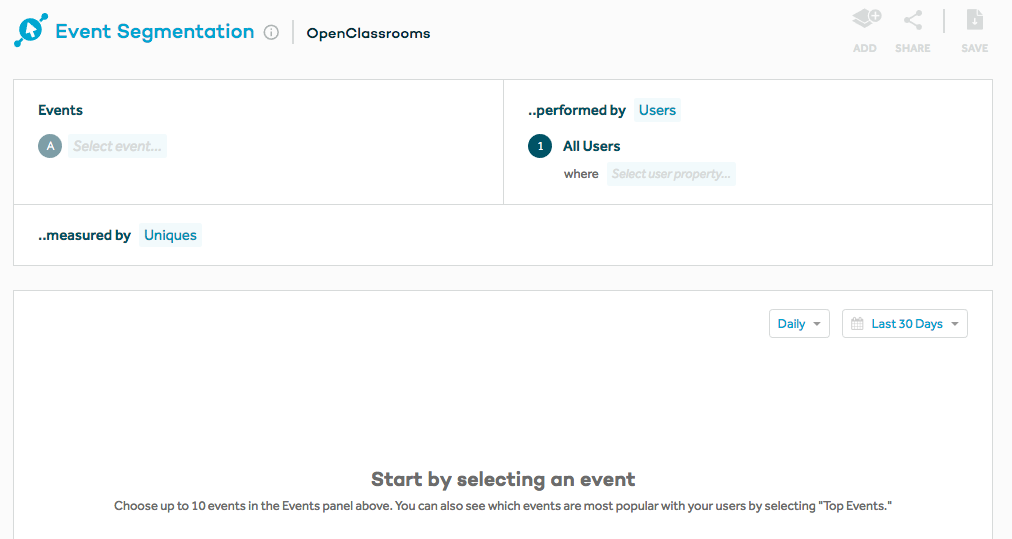 Just click on "Select event" and choose which event you want to analyse: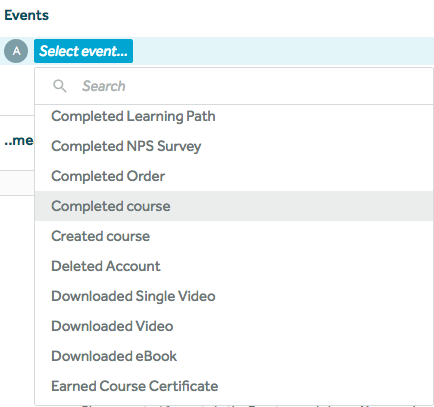 You can now see for instance how many videos have been downloaded over the past days: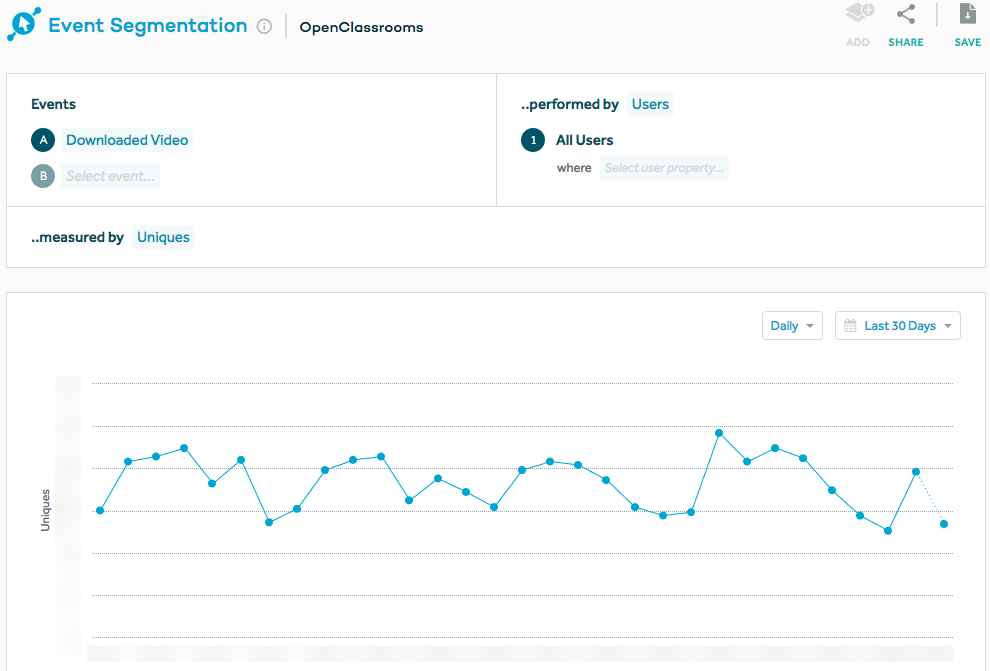 You can view the data over several hours, days, weeks and months (just look at the top right corner).
You can also get the averages, histograms... and download a CSV if you want to analyse it in Excel next. Don't be afraid to play with this page, you can't break anything!
You think this is fun? Well, it gets better. Every event has some properties. For instance, when someone downloads a video, we store which video it is, from which course, the size of the video, etc.
Just click on the + Where link next to the event name and you'll be able to filter or group some data. For instance, this is how we'd find out how many videos were downloaded in the "Learn to code with JavaScript" course :

You can get almost any information this way:
How many people got a perfect score on a specific course quiz?

How many users signed up from Morocco?

Why do people delete their accounts?

How often does a user sign in on average during their first month? When they are Premium? When they are Premium AND less than 30 years old?
You can do almost anything!
What data you can transmit to third parties
All this data is important and precious. You might collaborate with other companies, researchers and talk to journalists or at conferences.
Here is what you can't share:
Single rows, raw data (list of users...)

Key business metrics (the ones you'd see on the dashboard)

Personal data about a user: name, email, IP address... NEVER share, as this is personal data.

Anything related to the number of Premium users
And here is what you can share:
Counts, aggregates (number of course followers, number of exercises done, but nothing around the number of Premium)

Cohort data (ie: 10% of users have finished this course)
If you ever need to share more data with a partner or customer, you must ask Pierre beforehand.
The Checkpoint: understanding the key business metrics
For as long as we can remember, OpenClassrooms cofounders Pierre and Mathieu have held a monthly event called... the Checkpoint.
This monthly meeting lasts about 30-40 minutes. It's a live presentation where you get to see all the slides that we show our shareholders. This is a way of keeping everyone informed on how the company is doing, and to ensure that employees and shareholders both have the same level of information. It's also a way to promote transparency. 🙂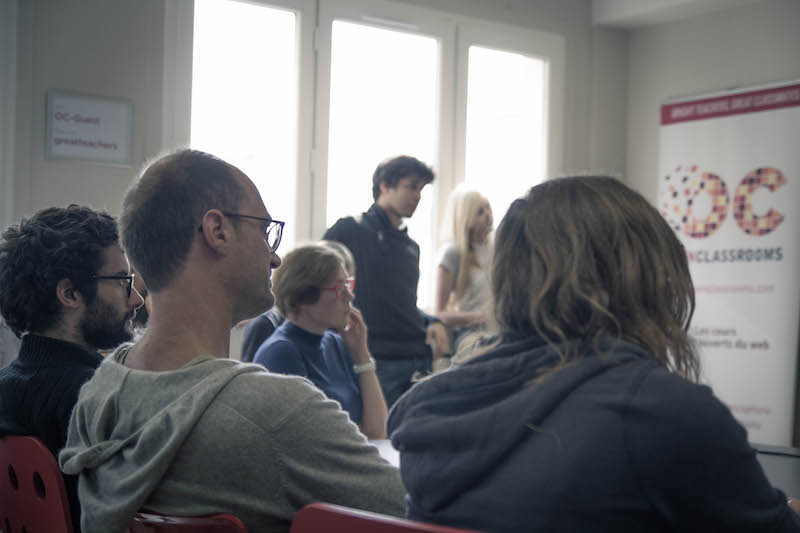 Here is an overview of what you'll see:
Our cash: how much money we have in the bank. This is usually very sensitive information which is not shared in companies, but we feel that this will help you understand the decisions being made. As you can imagine, the more cash we have, the better our CFO and cofounders can sleep!

Our revenue: how much money we've made, month after month.

P&L (Profit and Loss): how much revenue we've generated (through contracts, Premium users...) and how much money we've spent (by paying for software, our mentors, our salaries...). All this shall sum up in a positive (Profit) or negative (Loss) outcome. Obviously making profit is one of
OpenClassrooms goals! It's presented as a detailed table.

Our B2B revenue: the contracts we've signed with business customers.

Our Premium revenue: how many Premium members we have, our MRR (Monthly Recurring Revenue), how long Premium members are staying, how much money we spent on acquisition.

Staff: who is leaving the company and who is arriving.
If you don't understand any information, don't be afraid to ask a question! Remember that we do this because we want you to understand what is happening. 😉
Need more information? Look at the Wiki
OpenClassrooms uses Notion as its main Wiki. This is where we document everything we can:
What we're doing

How our processes work

What experience we got from previous projects

etc.
This is really your go-to place if you want to know more about something at the company!
Even better. This is a wiki: you can (and should) edit it. Every page is editable by everyone. If something is not up to date, or you feel like you could add something... DO IT! Go edit stuff, this is how it gets better everyday! 😁
What you should do
In a nutshell:
Understand each metric displayed on the dashboard... and ask us questions if you don't get it.

Try Periscope and Amplitude to see what sort of data you can get there. Also, ask the Marketing Team to create an account if you don't have one.

Always check which data you can or cannot share with a third party.

Ask questions during the checkpoint if you don't understand. Yes, even if you think they might be dumb: you can be sure other people have the same questions in mind!

Remember that a lot of information is in the Wiki.

Applaud if you hear the big "feria" sound: the Sales Team has signed another big contract!