We'd like to end this section with a chapter about how new initiatives are born and developed at OpenClassrooms. The main idea is to encourage everyone (including you!) to invent new ways of working together. It's a learning process.
What should you do if you have an idea that you think would be great at OpenClassrooms? 😊
The spirit
It's simple. Don't ask for permission: move forward and try things.
We want you to feel empowered to transform OpenClassrooms.
Ok, but what can I really do? What is beyond my scope?
This is precisely the point of this chapter. We're telling you that nothing is really beyond your scope. Remember when we talked about responsibility?
If you feel that something could be done better, you should act and do something.
That being said, two rules prevent us from falling into anarchy:
You should always ask for advice from people who will be impacted by your idea. This is a way of informing them of your intentions and of getting useful feedback. Maybe you'll decide to drop your idea, maybe you'll change it a little bit, or maybe you'll go all in, even against the advice. And that's ok, provided you also respect the following point...

You should accept that sometimes you'll generate a conflict. This is especially true if you decide to move on while everybody told you they weren't supportive of your idea. If this happens, you should respect the conflict process that other people might engage. Try to find a common ground.
If this looks very basic, it's because it is. The concept is that we trust you to have great ideas that will support OpenClassrooms' mission (see how we're linking to everything we said here? 😛 ).
Don't hold back and be part of the change!
How we implemented previous bigger ideas
Feedback. Events. Remote work. Open salaries. Team days. Chief Happiness Team.
All these ideas have something in common:
They are bold moves that imply change

They've been discussed by several people from different teams before being adopted

They had an identified leader, who was in charge of communication (eg: Nicolas' email above)

Several short meetings have been necessary to make progress
If you want to be part of the bigger change, remember that you can at anytime. Of course, off-site retreats are a great opportunity, but you can start something whenever you feel the need.
You could ask some people how it was to lead a new initiative. Here are some people you could talk to:
Romain: for the open salaries

Nicolas: for the events budget

Emily: for the Chief Happiness Team

Ulysse: for the brown bag meetings
Then, once you've got some advices, you can move on:
Build a small group of people interested with your idea (usually four to six people)

Talk to everyone who could be impacted or have something interesting to say, to get some advice

Hold a first meeting with a clear agenda

Take the time to hold several other meetings to get more data and input and refine your idea

Once you've got a reasonable plan for moving forward, take it for a test drive! Don't wait 'til you get the perfect plan set out, test it for real! Maybe you test it on part of the team, maybe you test a specific part of your plan, whatever it is, it'll help you get some valuable feedback and take your idea to the next level.

Once you've made your tests and decided on the final launch, communicate what you've decided to the whole team! 
Interview with idea leaders
The best way to understand what it's like to lead an idea at OpenClassrooms is to ask the people who did it. Let's give them the mic! 🎙
Ulysse - Brown bag meetings
Ulysse implemented brown bag meetings at OpenClassrooms. Previously, we had no real occasion to share what we knew. Now, people share their knowledge and ideas during certain lunches, called 'brown bag' meetings.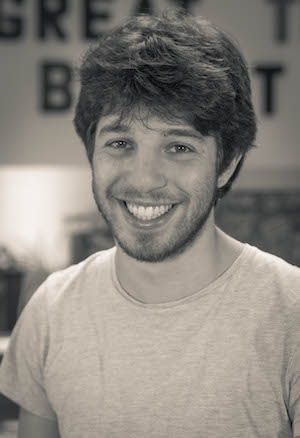 How did the idea of brown bag meetings come up?
I discovered 'brown bag meetings' in my previous job. I was working in the engines team in a tech start-up, making algorithms for the whole company. Our team and what we were doing was very mysterious for everybody. That's why I was asked to do my very first brown bag.
It turned out it was an excellent way of sharing our experience and very specific knowledge, and it led to a lot of further conversations.
Why did you decide to lead such a big change?
Here at OpenClassrooms, everybody comes with different backgrounds, secret knowledge and skills that they are more than happy to share with others. Since one of the core values of OpenClassrooms is sharing what you know and helping each other, brown bag meetings seemed to be a great fit for us.
What did you learn and what are the pitfalls that others might encounter?
Something obvious was that people love to learn. Something less obvious was that people also love to teach. Everybody has a great hobby or knowledge to share. And they could speak for hours about it.
From there to getting them to talk in front of everybody, a white board or a powerpoint is not that easy. I'm still trying to find a way to convince people that everybody else would love to hear them speak about themselves and what they do.
Marine - Feedback
Marine led the feedback initiative, which we talked about earlier. It's a nice way to develop ourselves together by getting feedback from other team members.
How did the idea of peer feedback come up?
Last autumn, OC moved its headquarters to a green park for a day. 

The team was split into several groups to brainstorm around various topics to reflect on and/or reinvent our workplace culture.
And you guessed it, my group's topic was.. Feedback! After sharing our own experiences of feedback processes in different teams, it became obvious that we all aspired to make the experience richer.

One of the group members (and serial author!) Emily happened to work at Kickstarter before joining OC and told us about the peer feedback system they had in place there.
This idea of all participating to each other's development resonated with all of us, and so we decided to come up with a similar system that would fit the OC team. 
Why did you decide to lead such a big change?
Well, to be honest, I'm a rather quiet soul and didn't exactly jump up to be a leader at first, even though I was interested in the topic. But Romain, our CTO who was also part of the group, noticed my interest and gave me a few subtle nudges at the start of the project to encourage me to take over. I found it challenging at first, but I'm happy he pushed me out of my comfort zone (y'know the saying 😉 ).
What did you learn and what are the pitfalls that others might encounter?
As a participant in the peer feedback rounds, I learned more about my work strengths and shortcomings through everyone's feedback. I also learned that giving constructive feedback takes time and a lot of thinking!

As an organiser, I learned that a little flexibility goes a long way. For example, after the first round, we asked everyone for some feedback (feedback on feedback, that's right) to see how the system was perceived and if there were any adjustments to be made.
One of the things we realised was that many people valued the process, but were finding the writing exercise way too time-consuming. So in the next round, we gave people the choice between exchanging feedback by mail or in person, and it went more smoothly.
Keeping a process flexible for its participants and open to change over time definitely helps.

Now one pitfall with team-scale initiatives is that it's not so easy to get everyone to respond and do everything in time. And it's tricky to find the right balance between giving up and harassing everyone. I'm still on a learning curve on this one, so all tips are welcome!
Romain - Transparent salaries
Romain, our CTO, led the transparent salaries initiative at OpenClassrooms. How did he manage to lead such a complex topic?
How did the idea of transparent salaries come up?
Lots of startups are doing it. We were particularly inspired by a paper from Buffer.
At OpenClassrooms, we like to try new things and learn, so it was natural to try this too.
We thought it might also answer questions about trust, skills, evolution and so on.
Why did you decide to lead such a big change?
The Tech Team has often been the lead on this kind of topic. Why? Because organization matters a lot in the success of a tech project. Organizational innovations are part of the job: agility, reviews, pair working...

Because this team is a little more advanced on these topics, it was easier to start with the Tech Team.
What did you learn and what are the pitfalls that others might encounter?
We learned more about our jobs than we expected. We though deeply about our work, we found skills that we should improve, we vocalized what everyone already knew, like who the seniors are, where are our strengths lie, etc. More importantly, we defined what evolution meant for everyone.
In the end, revealing the salaries turned out to be the easiest part, surprisingly.
What you should do
Bigger ideas take more time to take shape, but anyone can start working on them at anytime. First, build a cross-team group interested by your idea.

Get some data and ask for advice.

Take the time to make progress with a few short meetings spaced out by one or two week intervals.

Once you've decided what you'll do, you're not finished yet! Try your idea on a smaller scale if possible and refine it, before expanding it to the whole company.

Be prepared to receive less interest than you expected at first. Don't blame other people! Refine your idea: you can (and probably should) change it several times.