We're approaching the end of the course about OpenClassrooms. The last chapters will be practical: how we use the office, when we usually come to work, where we eat and what to expect on your first day here.
Let's start with the obvious: our office!
How our space is organized
We have 600 square metres of office space in the heart of Paris. The nearest metro stops are Poissonnière, Bonne Nouvelle and Château d'Eau. There are several other startups around us!
Our main offices are on the 4th floor (we also have offices on the 5th floor and a studio 50m away). When you enter, you'll see that we have:
A big open space, in which we're grouped by team (except on... team days!)

A kitchen, where we have lunch and where we sometimes also work

6 huts, where you can isolate yourself should you need to. 2 to 3 people can fit in if you want to have a small meeting.

Several meeting rooms, especially useful if you have guests.
The open space
This is where we work. Don't be afraid if it looks large (it sure is!), it's usually very quiet compared to other companies.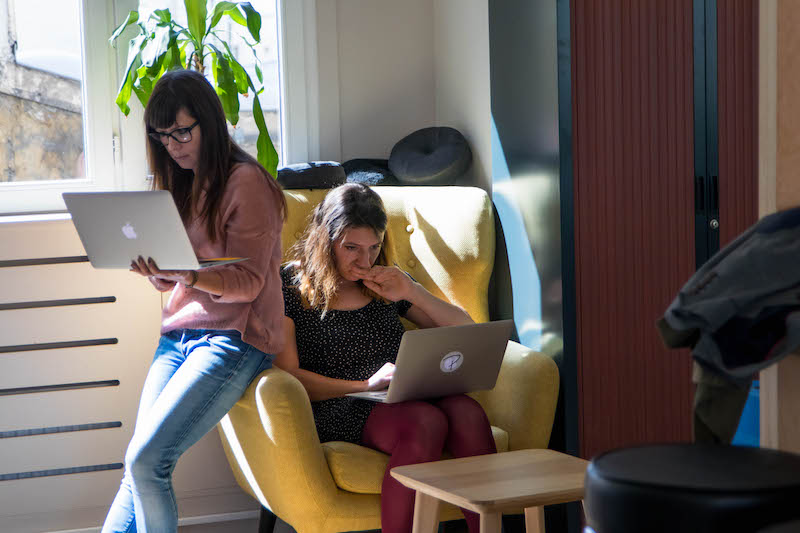 People naturally regroup by team (tech, marketing...). However, three days a month during team days, we swap seats at random to encourage mingling with other team members.
The kitchen
This is where we have lunch. People also eat out sometimes, but a lot of us like to eat in the kitchen. We also have some afterwork parties in the kitchen.
Should you need inspiration on where to eat, we've set up a collaborative map where you can find (and give) some tips on the best restaurants in the area.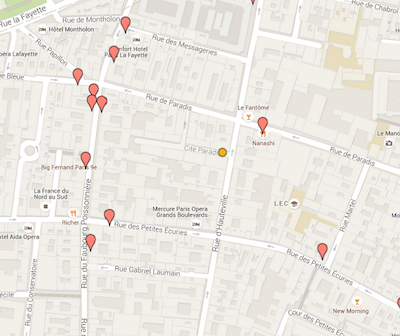 In the kitchen you have two microwaves at your disposal, as well as cutlery and crockery... You can use them, but remember to wash them afterwards!
The kitchen is frequently stocked up with everybody's favourite snacks (madeleines, waffles...) People also bring sweets and snacks to share, especially when they come back from a trip.
You can make a food request on this Google Doc (available to OpenClassrooms employees only).
If you prefer a healthier snack, we receive a big basket of organic fruit twice a week, on Mondays and Wednesdays. Help yourself! ☺️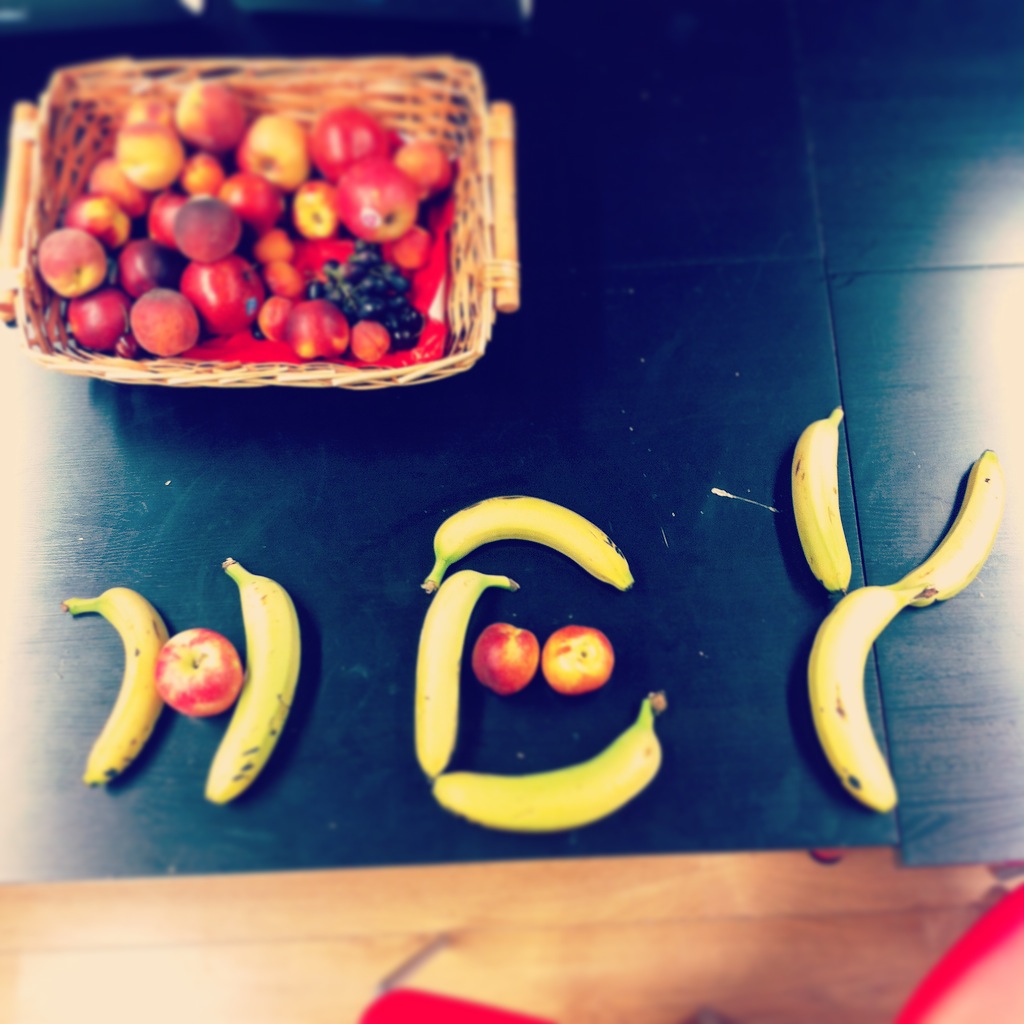 You'll find the usual coffee machines (yes, there are two of them) if you need your daily dose of caffeine (George Clooney is our coffee provider). We also have a great selection of tea! Finally, there's also water, coke and fruit juice in the fridge. Phew! 😋
You can use the fridge and freezer at anytime. We only ask that you don't leave things in there for more than a week or two.
Next to the kitchen, there's a foosball table that we like to play on after lunch!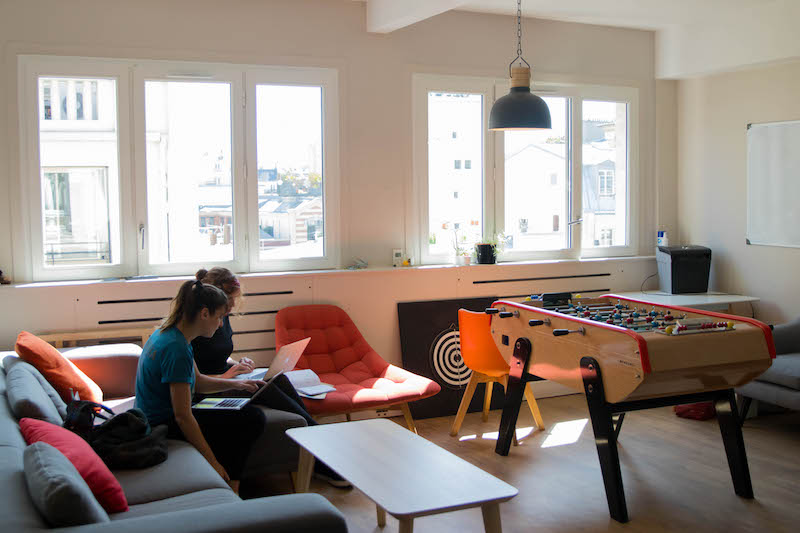 Secluded work spaces
We have five secluded working areas of different sizes. Most of them have a TV that you can use to display your screen to a group of people.
Either use the HDMI cable, or if you prefer to work cable free, connect to the Apple TV hidden behind the TV. To use it:
Press any button on the Apple TV remote to power it on

Turn the TV on

Check that you're on the OC-Staff wifi network.

Check the Airplay icon on the top right of your screen to activate screen mirroring on the TV!
You can usually use any room at any time. Whether it's to spend some quiet time alone, talk with some of your colleagues, or to meet people from outside, they are very handy!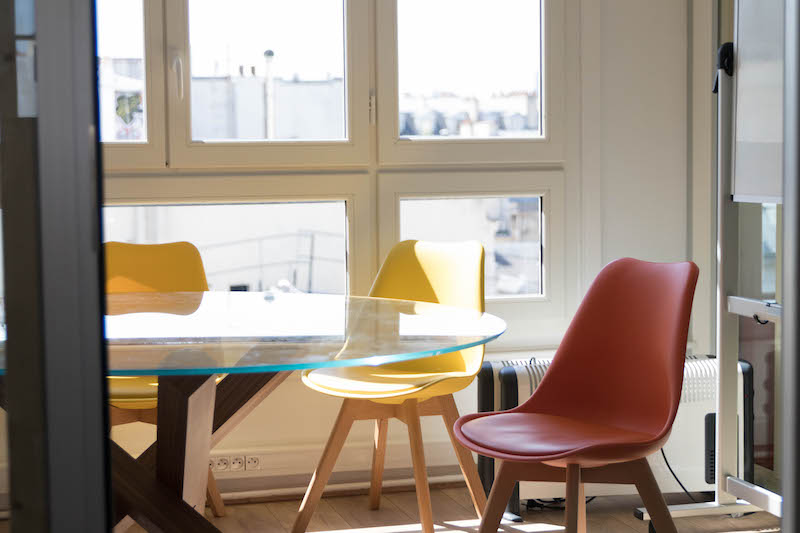 You can also work on a couch if you need to work in a more relaxed setting. 😌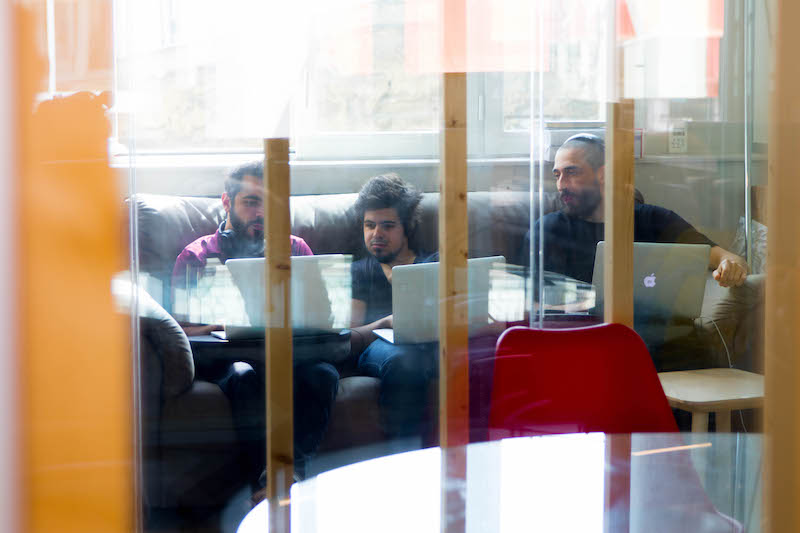 How we work at the office
Now, let's talk about how we work at the office. You've got probably a thousand questions, let's try to answer at least a few of them!
Office hours
What time do we arrive at the office, and when do we leave?
These are questions on almost everyone's lips! The answer is... it depends.
When do we arrive? Whilst some early birds arrive between 8am/8:30am, most of us arrive between 9am/9:30am. Some people also arrive a bit later.

When do we leave? Most people leave between 6pm and 7pm, but you'll find folks up to 8pm in the office (rarely later).
There's no general rule when it comes to office hours, just a set of habits. That being said, we have an important message here: we are fully aware that we work in a knowledge economy. Working more hours doesn't always mean we're going to do more work.
Yes we're hard working, because that's how we're building a great product. But you'll never see us boast about how many hours we've worked.
Breaks
Do we take breaks? Of course!
How you spend your break is up to you. Smokers often go outside the building (they are easy to spot), while others sometimes join them or relax on a couch.
We also have Tea Time in the afternoon, when people argue about whether it's better to drink tea or coffee.
Holidays
Holidays are a whole topic at OpenClassrooms, and for a good reason: they're unlimited! We've dedicated a whole chapter to holidays so that you can understand how OpenClassrooms views holidays.
Remote work
Everyone can work remotely one day a week. There's no obligation to do so if you don't want to, of course.
The process is simple: inform your coworkers you're going to work remotely. You should put this information on the Figgo tool to keep track of your remote days at least 2 days before.
There's only one day where we expect everyone to be at the office: Tuesdays. It helps us to organize a few meetings. For instance, our Checkpoints always take place on Tuesdays. Therefore, you can't work remotely on Tuesdays.
Keys
A few people have office keys. They cost a lot, so we've only cut a few of them. The people who have them are the ones who usually come early or leave late.
To get in to the office, you'll have to go through:
The Cité Paradis gate: it's open everyday except on Sundays and at night (after 9pm). You'll need to have a magnetic card to open it if the gate is closed. Beware: there are even fewer magnetic cards than office keys!

The entrance door of N° 7, Cité Paradis: you can open it by pressing the main button during office hours. If it's late or at the weekend, you'll need to enter a PIN code.

The OpenClassrooms office door: if someone has already opened the door with a key, you'll just need a PIN code to enter.
It sounds complicated but it isn't: most of the time, you'll just need to enter a PIN code at OpenClassrooms office door.
Sport
OpenClassrooms offers unlimited sport training through Gympass. We pay for 100% of your Gympass, which gives you access to a wide range of sports facilities : gym, yoga, aquabike... Go check it out!
If you need something close, note that there's an affordable fitness centre very close to the office if you want to burn some calories (~400€ / year, towels included, but not included in the Gympass offer). Its name is "Cercle de la forme".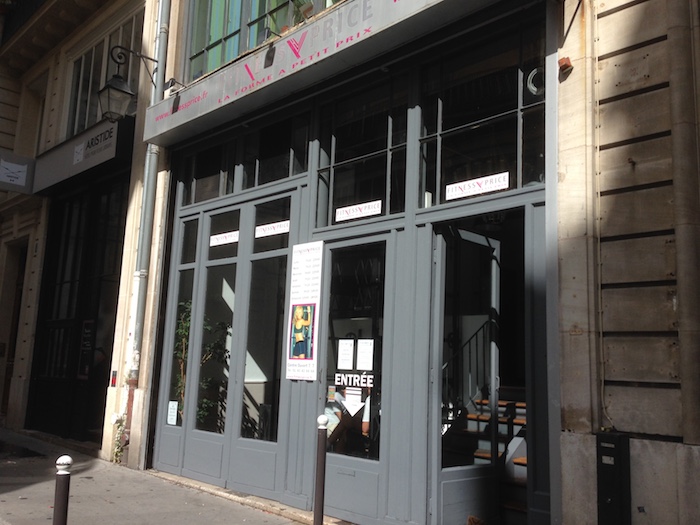 Here is the full address:
Cercle de la Forme Cadet, Paris 9e
13 Rue Ambroise Thomas
75009 Paris
The first session is free, check it out!
Dress code
You may be wondering if there's a dress code at OpenClassrooms. There isn't. Come as you are.