Let's talk about how we spend money. 💸
We believe this is an important topic, as the team needs to buy tools and software to function properly. We don't want people to get stuck in endless hierarchical decisions to be allowed to buy something they really need.
If you need to buy something at OpenClassrooms, what should you do?
Understanding the spirit
If you've read the rest of this course, you should now be aware that trust is paramount here. How does this translate when you have to buy something?
Here is what you should know in a nutshell:
There is no fixed budget per item. Spend just what you need. If we end up spending too much, you can be sure our CFO will share his worries with us and we'll find a way to reduce costs together. Note that we have set a budget per team, which is still global and quite flexible.

We trust you to make the best buying decisions. We know you're on the ground everyday. No one better than you knows what you need and what would make a difference. We just ask you to act in the company's best interests.

You must ask for advice each time you buy something. NB this is advice, not an approval request. Also, it is mandatory to ask for advice, but not to follow the advice.
Who should you ask for advice? It all depends on how much you're going to spend. If you're on the video team and you need new batteries for the camera, just ask one of your alter egos what they think about buying new batteries. On the other hand, if you need to build an entire shooting studio, you'd better ask our CFO and cofounders, as it's a much bigger expense.

You decide what you buy. You should hear for the advice first, but in the end, it's really up to you to make the buying decision.
What happens if I'm not following the advice someone gave me? Can I really do that?
Yes, you can if you think you're right to do so. If this is a small expense, there shouldn't be a problem. If it's a big expense though, and you decide to go against someone's judgement, they might start a conflict process with you. Be prepared for this, it can happen.
How will I know whether to ask for advice from one person, two people or more? When do I have to ask the CFO? The cofounders? What is the limit? What is the rule?
The first rule of Fight Club is... Sorry, wrong course.
There is no fixed rule. You really should use common sense and allow yourself to make mistakes sometimes.
The more you want to spend, the more people you should ask for advice:
Of course, you shouldn't disturb the CFO or the cofounders in order to buy 50€ of office furniture you need. Asking one of your immediate colleagues for advice should be enough to make sure you're making a good decision.

If you need to spend around 1000-2000€, you should probably talk to more than one person. You could ask the other teams too.

Above that, it makes sense to ask between two and four people, and maybe the CFO for advice at least. You should get several price quotes (three is a good number) so you can compare your options. Our CFO will offer to negociate the purchase for you to optimize the price.
How to spend something using Spendesk
Usually, there are 2 ways to buy something at OpenClassrooms:
Using the company's credit cards, but there are only two of them used by the cofounders (one for Pierre, one for Mathieu).

Making wire transfers, but it's even harder because you have to log in to the bank account. Only Pierre, Mathieu and Benjamin, our CFO, do this.
Wait... It doesn't look easy. You say that everyone can buy anything as long as the purchase is relevant, but if only the top management can pay, then we're back to square one!
You're right. This is why at OpenClassrooms, we also use a tool called Spendesk to buy stuff online. This tool generates unique credit cards numbers for each purchase. It can be one-time purchases or recurring subscriptions.
If you need an account, simply ask Benjamin our CFO.
On Spendesk, we can manage (almost) everything we spend. Here are different team members spending what they need, ranging from project management software to business cards: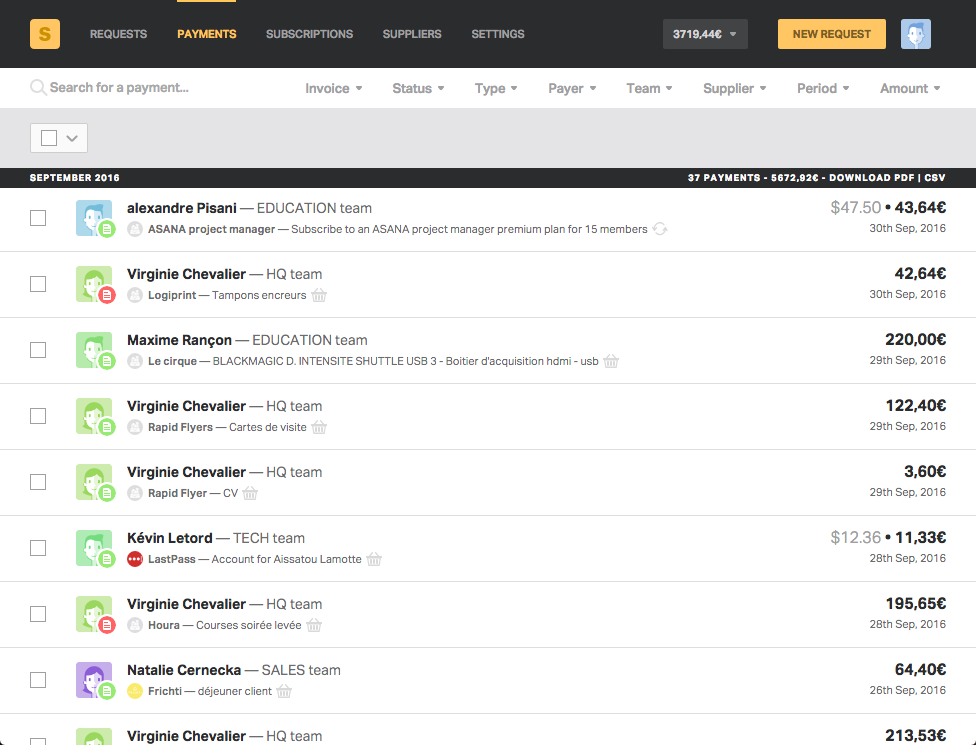 Now, you're probably here to make a purchase. There's a "New Request" button at the top: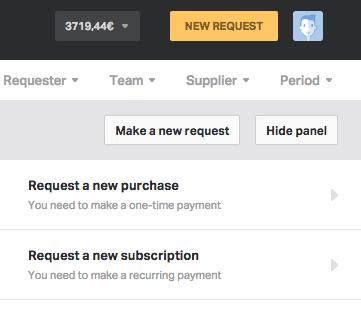 You'll have to choose between:
New purchase: one-time payment, like "I'm buying new batteries"

New subscription: recurring payment, like "I'm subscribing to this project management software"
Next, tell Spendesk a bit more about what you're about to spend: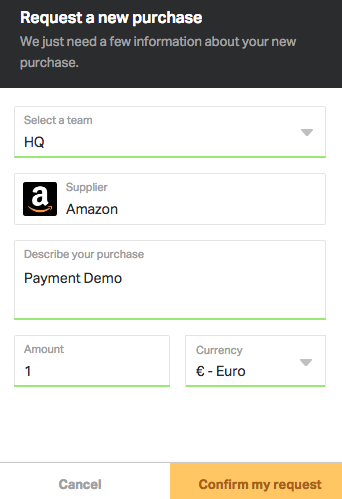 Once you confirm your request:
If the price is 300€ or less, it'll be automatically accepted

If it's more than 300€, our CFO will have to approve it. This is more a double-check measure than an approval request: he will only ask you questions if the request is dubious. This approval shouldn't take more than a day, and it can usually be done within a few hours.
Once the request has been approved, a unique virtual credit card will be generated for you. You can copy-paste it on the merchant website to pay: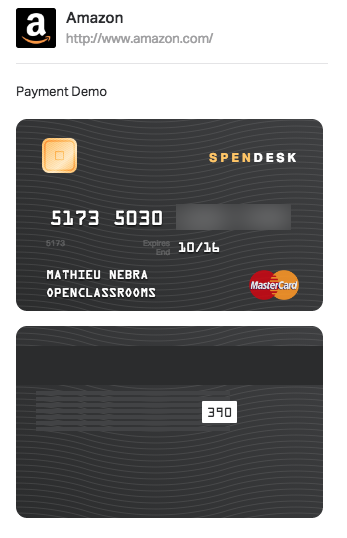 And... voilà! You can now make the purchase yourself with this credit card. 😀
Signing contracts on Concord
For some specific purchases, you might have to sign a contract. We use Concord to sign contracts online:
When we can, we upload the PDF of the contract online to Concord and all parties electronically sign it.

If we have no other choice, the signature will be done elsewhere (on a sheet of paper!) and then we'll upload the signed version on Concord for archival.
Therefore, all our contracts are handled on Concord. The vast majority of them are now electronically signed.
Once logged in, you'll see this interface: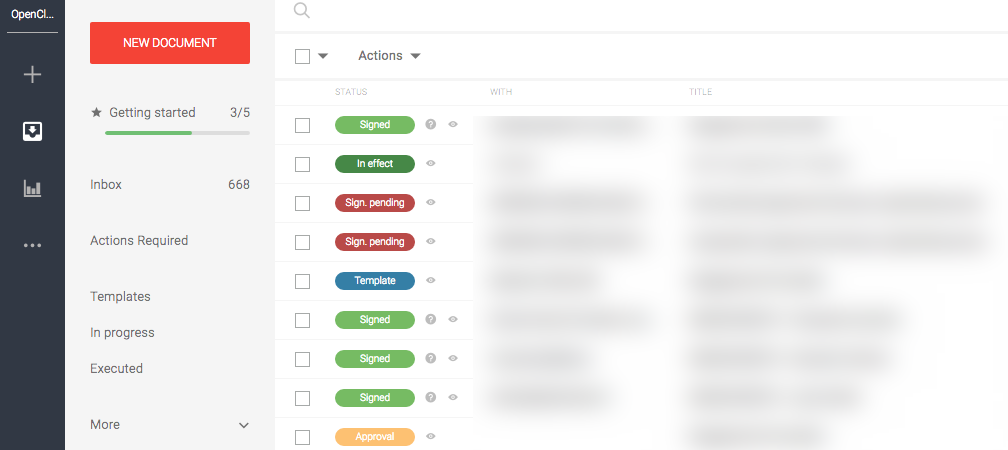 Each line is a contract. You will have access to less contracts (probably 0!) the first time you log in.
If you want to add a contract, simply click on "New Document":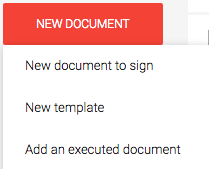 You have three options:
New document for signing: you want to sign a document electronically on Concord. The other parties will have to agree to use Concord to sign the contract. This is the best case scenario.

New template: if you're going to sign multiple similar contracts, you might want to build a template as a starting point. It will be easier to "copy-paste" contracts in the future.

Add an executed document: if you had no other choice, and the contract has been manually signed on paper, you can scan it and add it here.
If you create a new document to sign, you'll be able to write the contract (or, probably just import it from a Word or PDF version) and sign it: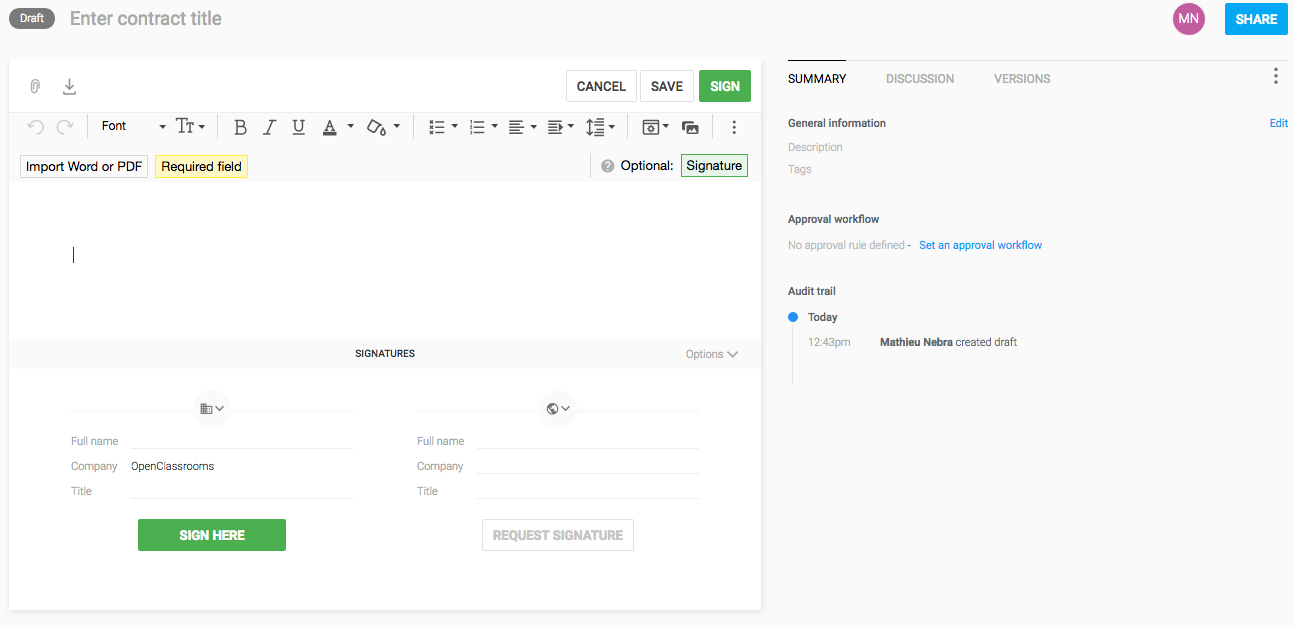 As you can see at the bottom, you can have multiple signatures. Choose "Options" to add more signatures if needed.
Each signature can be from OpenClassrooms, a specific third-party or anyone with an invite link. Just click on the icons to change who can sign the document.
You'll have to request a signature by clicking on the corresponding button. Simply enter the third-party email address and they'll receive a link to sign electronically!