All new mentors must have a short training period before taking on more than one student.
Training steps
There are several steps in your training:
Take and pass this course. If you're reading this, you're on the right track. 😃

Conduct and record a "discovery" mentoring session: 👀
This is the first session done with a student. It is different from regular sessions for the student and the mentor. It is also generally shorter (around 30 minutes). During this session, you'll present to the student how mentoring works and will go over the learning path the student has chosen. It also allows you to get to know the student, their goals, and their level. This will enable you to make informed decisions about how to get started.

🎥 This session will be watched by a member of the mentor network at OpenClassrooms, and they'll give you feedback! You will find an example recording of an intro session in this course.

Observe a mentoring session: 👀 - English version coming soon

Send us the recording of your discovery session + the certificate of this course ... Good work! We can now remove your "New mentor" status ! You're now an official mentor and can mentor more than 5 students.
How will I record my intro session?
Any way is fine! If you already have screencast software, like Camtasia, this is great. You can also use application like Zoom or Google Meet. Here is an article to give you some advices to record your first session.
Send the link to your contact at OpenClassrooms to complete the final step of your training!
Take on your first students
Once you've completed this final step and gotten the green light from OpenClassrooms, you'll be ready to take on more students!
Go back to your mentor profile on OpenClassrooms by clicking on the Mentorship dashboard.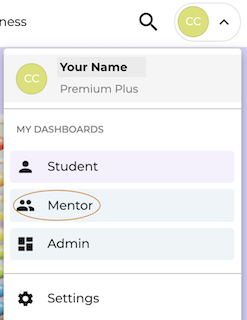 Go to "My settings" and click on "Edit" to indicate how many total students you can accept. Once you get rid of the "Novice" status, you can ask to mentor more than five student!

There you have it! 😎