You've just been assigned your first student! Now what?
Relax! 😎
Student attribution, contact and 1st session
Once you have input all the projects that you are capable mentoring for in your Mentor Profile on OpenClassrooms, we will gradually assign you new students. We make sure to assign you students corresponding to your themes and not to assign more than what you want.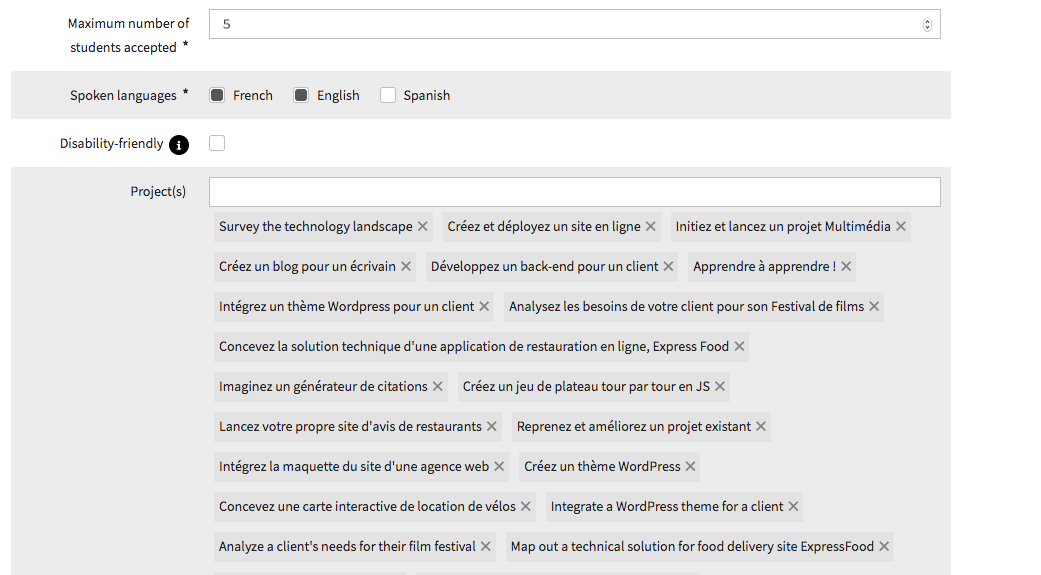 In your dashboard, you will see the student who has been assigned to you:

You will also be identified as the students mentor on their dashboard.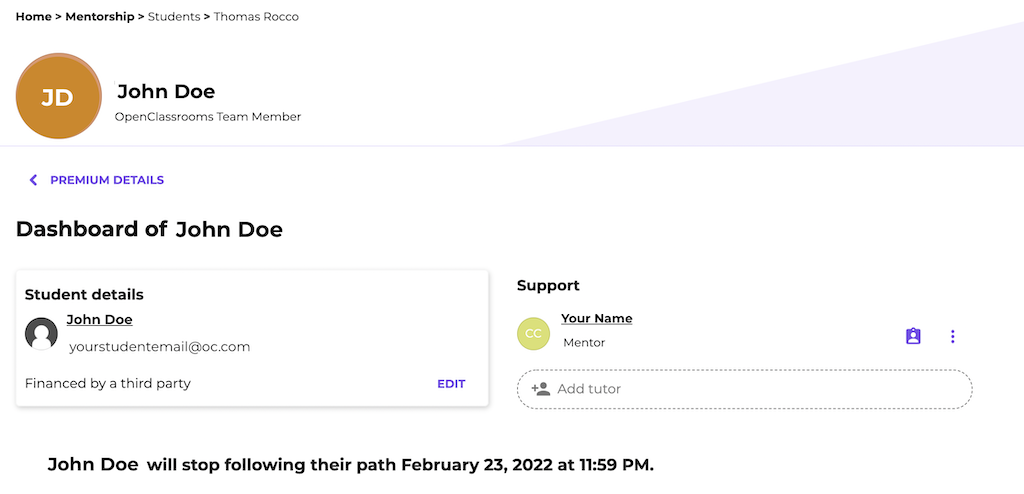 You and the student will receive an automatic email making an introduction.
It is up to you to agree on a session date and time, within the next days. The sooner the better: new students are always eager to get started.
1. Contacting the student
Most of the time, mentors will follow up to the first email with the below email. Most use a sort of boilerplate that can absolutely be adapted depending on their needs:
Hello,

My name's _____, and I'm a mentor on OpenClassrooms! I'm getting in touch with you so we can set up our first videocall to get to know one another.

Here's when I'm available. Do any of these slots work for you?

[time slots here]

It'd be great if you could let me know your availability 24 hours before the actual first session so that I have enough time to take your preference into account. If none of these time slots work for you, feel free to propose a different date and time.

Mentoring sessions will happen on Hangouts or Workplace at the following address:

[address here]

Be sure to test your microphone and webcam beforehand.

This first session will be fairly general. We'll go over mentorship, what to expect, and your goals for your learning experience.

Talk to you soon!

_______, mentor at OpenClassrooms
Once you have agreed on your first session with the student, register this session on OpenClassrooms.
2. Planning your first session with a student
There are two possibilities:
From your dashboard: by clicking to "ADD EVENT"

Then, you will be able to choose the student (as this is your first student, only one name will be displayed, after which all your students will be displayed). Indicate the date and time (Paris time zone) of the appointment.

From your student's dashboard: Select the student by clicking on his name and you will go directly to his dashboard. At the bottom of the page, you will be able to book an appointment directly with the student.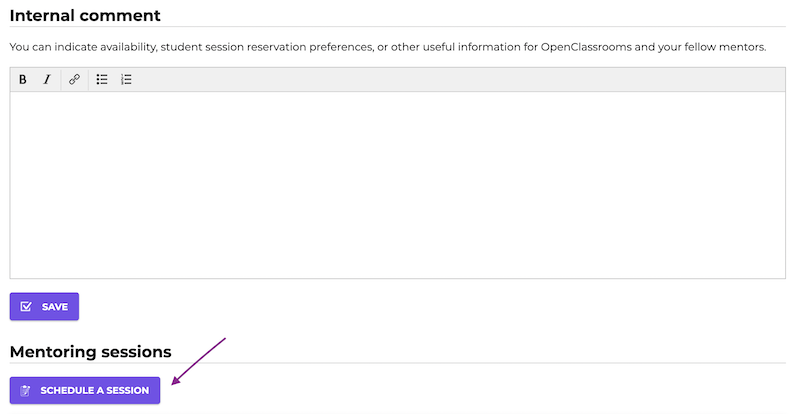 And here, as in the other case, you plan the session that you established with the student.
In both cases, an email will be sent automatically to the student to summarize the appointment.
3. Introductory session
The student will normally answer you by e-mail. If they do not, you can contact them by DM on Workplace or possibly by phone.
Once the first session is planned, called the "Discovery Session", you are ready for your first mentoring session.
The main purpose of the introductory session is to successfully onboard the student. The student presents themself and the context of their training. On your side, you should structure the session into four stages:
Mentor and student presentations

Overview of how mentorship works

Review of the chosen path

Setting objectives for the following week.
It is different from all the others because it is mainly about getting to know each other. It is also shorter: it lasts 30 minutes rather than the usual 45 minutes - 1 hour. You can find more information about it in this article.
This one, as well as all the other sessions, must be carried out in an optimal way: good lighting, good personal presentation, in a calm place. The goal is to put the student in a professional situation. If you have questions about your student, you can reach out thanks to the contact form.
The goal is to get to know you but you will surely want to have a little guidance, especially at the beginning, to know what to talk about. Here is a little help!
a) Getting to know your student
Give your student the opportunity to present themself. You can ask them questions to keep the conversation moving. You should aim to cover the following points:
Can you introduce yourself? What do you do for a living?

What is your background in tech, especially in web/programming/design/marketing?

What are your learning goals for this path? Why have you chosen this path? How would you like to apply what you've learned in the future?

Can you describe your level? (If they can't, try to figure it out by asking questions like: Where are you having trouble?)

Do you have a deadline for completing the path?

How much time do you plan on spending each week on your learning?

Your availability to set up future sessions.
b) Mentorship overview
Here are some questions students might ask you about mentorship.
What is mentoring? It's an exchange between a mentor and a student, divided into 2 parts:
A) Solo work during the week: working on projects and taking courses if necessary.
B) Session with a mentor once a week via videoconference: taking a look at the progress on the current project, answering questions, giving advice when the student is stuck, assigning objectives and tasks to complete for the week ahead, and setting a date for the next session. 📅

How long does it last? 30 minutes or 45 minutes (+15 minutes) depending on the student's funding type.

How can a student contact mentor? It can happens over any interaction tools once per week( Workplace chat, Hangout... you and the student need to agree on that), but the mentor can be contacted via email in the case students have questions over the week. Overall, it's better for them to post their issues on Workplace and discuss them with other students and mentors.

Will a student always have the same mentor? No, mentor change can happen in different situations. It can apply if the mentor doesn't follow certain projects or if the student ask to be mentored by someone else (other methods, pedagogy, etc). However, we try to stick with the same mentor for as long as possible.

"Can I change my mentor" ? Yes, students can ask to change at any time without giving a reason. The mentor may also ask to change students without giving a reason. The most important thing is to have mentors and students getting along and building a good learning relationship. A good communication is key 🔑 !

How does the path work? : Don't hesitate to tie things back to the path the student has chosen, explain the different projects, the courses, how much time they should expect to commit, what they will be starting with, and when they have official presentations scheduled. Share your screen so you can easily fill the below fields out together.
How do presentations work (also called "assessment") : Presentations last around 30 minutes (20 minutes to present/10 to discuss). The presentations are recorded because they are given to the jury at the end of the student's path and will be validated by another mentor.

What is the role of the mentor? The mentor is involved in the relational and educational well-being of the student. They are there for general support (helping students get unstuck, offering little motivation boosts, etc) and technical support. For example, iff the student starts worrying about their professional future, reassure them and share your experiences in the field. The mentor indicates which courses the student should take, the exercises they can do to learn further, and the projects they can start/make progress on. They can answer questions the student has at any point in this workflow.

What is the role of OpenClassrooms? OpenClassrooms administers the entire learning path. We take care of the administrative procedures and the financial stuff. Any questions related to money or should be handled by OpenClassrooms 💵 (tell your student to write to the Student Success team through the student contact form).

Do you have any questions? Always ask if your student has questions. Try your best to answer, but if you're not sure, write them down and send them to OpenClassrooms via the contact form.
4) Getting ready for the next session
At the end of each mentoring session, you should set up the next one. Choose a date and time (even better if you can set up a regularly-occurring session)! Make sure that you and the student are on the same page about what should be done for the next session.
Here's what you should do:
Set up the next time slot in about one week. It's even easier if you and your student can find a regularly occurring time frame every week (i.e., "Tuesdays at 7pm").

List what the student should do. Ideally, this is a project on OpenClassrooms, but if the student's level isn't high enough yet, you can propose smaller exercises or courses.
The last point is the most important. Ask yourself: "What's my students level?" and "What could I do to get a better idea of what my student needs?".
Be very precise and very clear about your expectations so that there is no misunderstanding.
The student should work at least 15 hours during the week, but those who have more time should spend up to 30-35 hours. Set course, exercise, and project schedules that suit the student's availability.
Don't worry if you make a mistake. It's very common on a first session to either give way too much work or not enough. The next sessions will allow you to recalibrate little by little and you'll have a better idea of the amount of work you need to assign.
What happens during the next session?
The next time will be a "classic" mentoring session, in which you will review what the student has done and where you will give them new exercises and lessons to read. We will go into this in greater detail in the next chapter!
5) Complete the session's report
You must give a status to each session, so that it is documented correctly and you are billed correctly. To find the historic of your pending sessions, go to "My sessions" > To Complete

a) Give feedback to your student
If the session went as it should, it it will appear like this: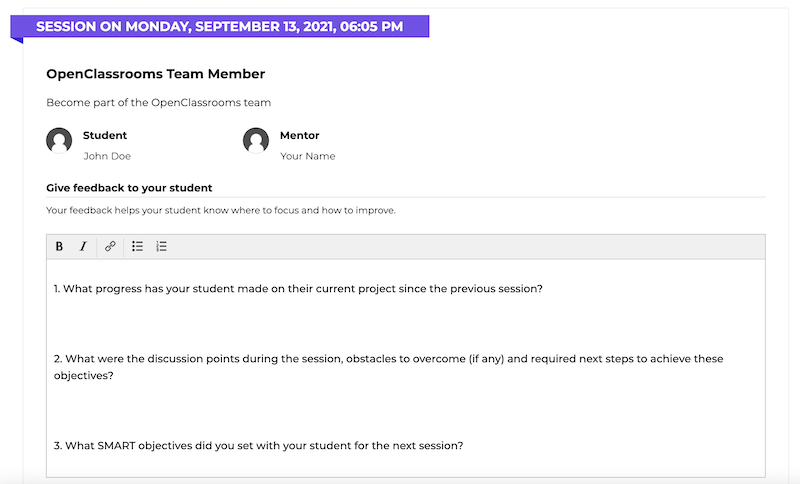 In the discovery session, take note of:
- What did the student do before the training
- The reasons that led them to register
- His objectives in general, his level, the time he can devote to training per week ...
- If there are any particular remarks
- The objectives for the following week
b) Estimate your student progress on the project

c) Provide a private evaluation
This will only be visible to other mentors and the OpenClassrooms pedagogical team.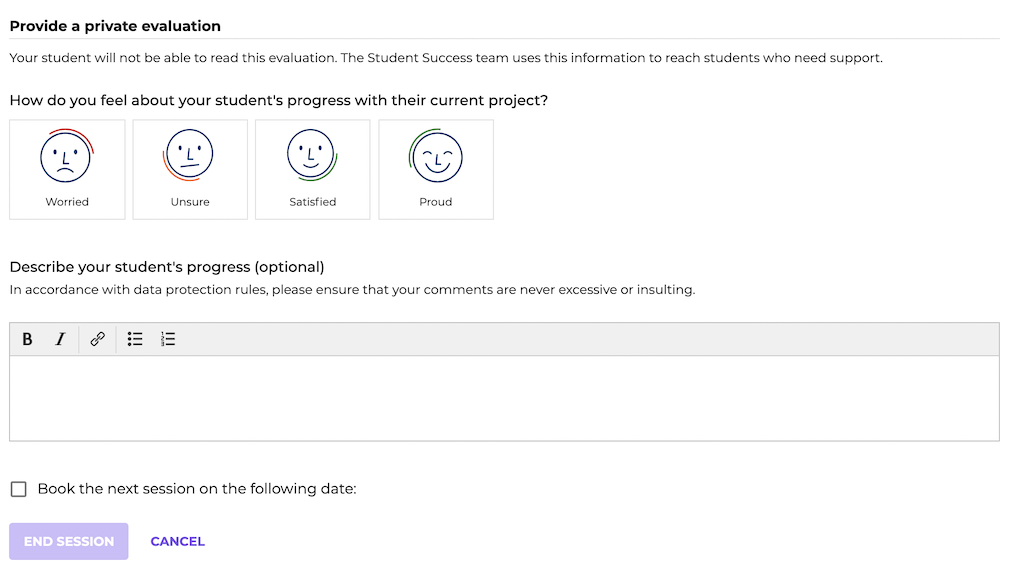 NB: You also have the option to book the next session directly from the report
d) "End the session".
Voila! Your session is fully complete and will be fully invoiced.
You can now set up your session for next week.