Hiring Process
Here's the situation: You've read everything about OpenClassrooms in this course, and now you're thinking about applying here. Great! Have you looked at our job offers website?
You might wonder what happens during the job interview: who you talk to, what we're looking for, what kind of mistakes you'll want to avoid. This chapter is here to give you all the answers!
Applying
First things first: What are the open positions at OpenClassrooms and how can you apply?
Easy one! We have a dedicated website: http://jobs.openclassrooms.com/
There, you'll find some information and photos of OpenClassrooms: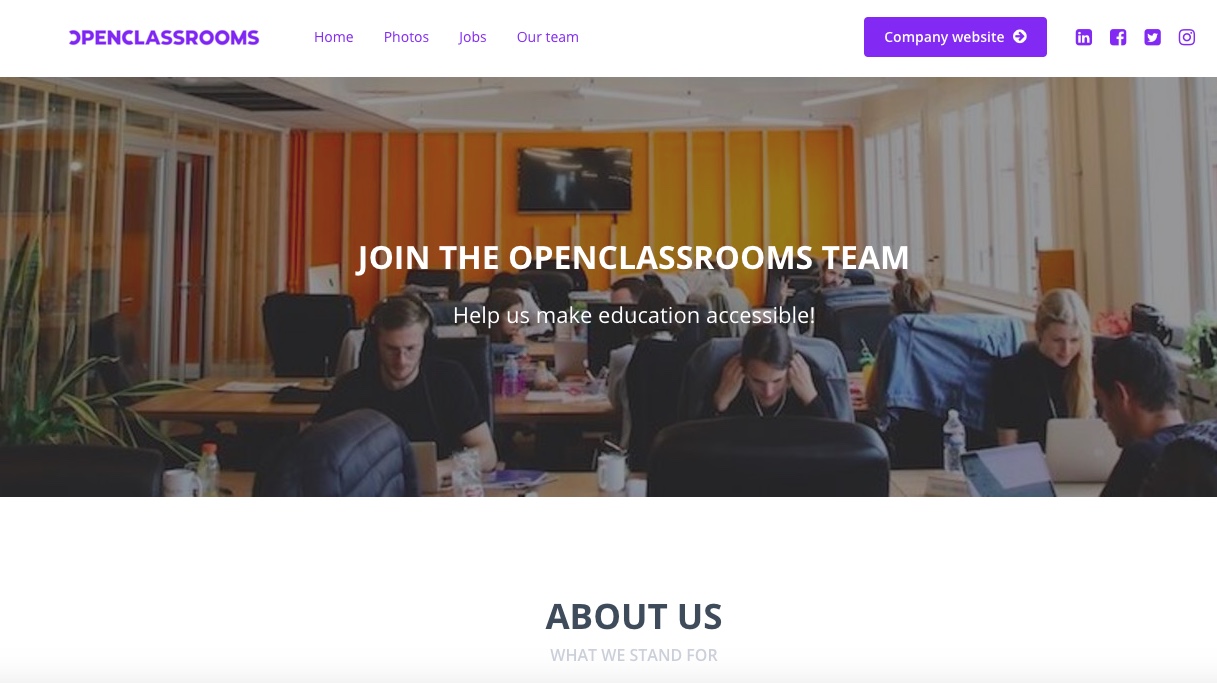 You'll find open positions on the same page. Pick the one that appeals to you the most.
Take the time to understand the job offer by reading it carefully: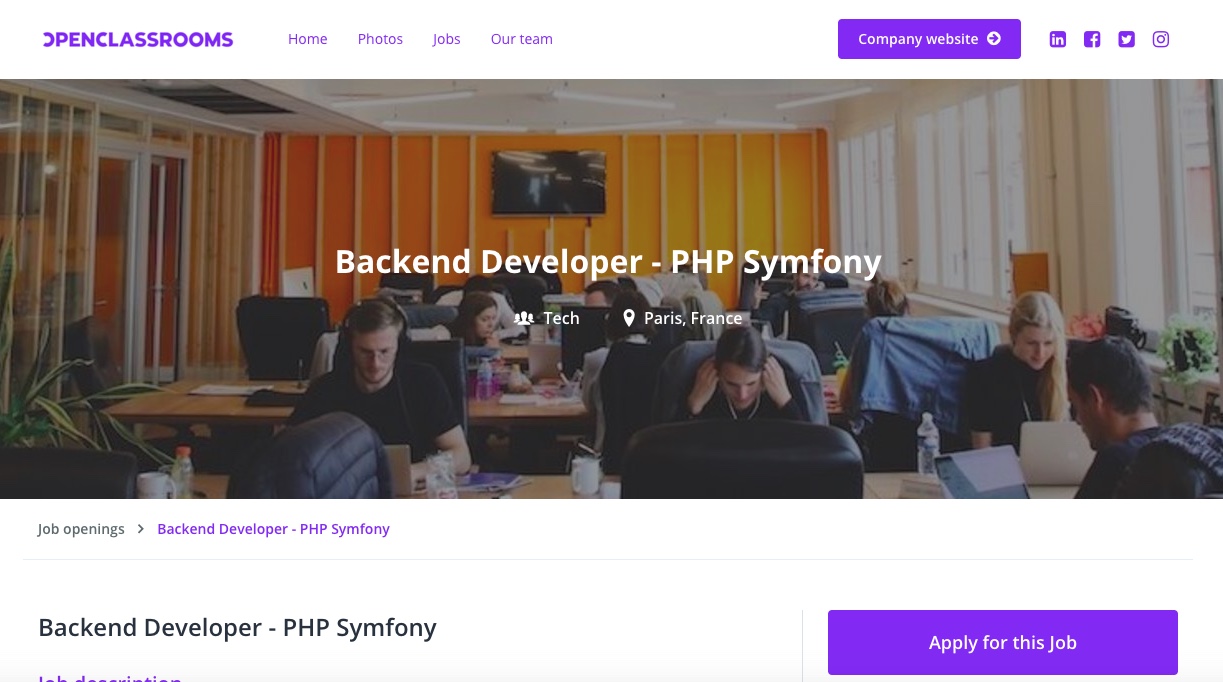 Click "Apply for this job" and fill the form. We'll then review it. It can take a few days, sometimes longer, depending on the number of people applying, but you'll always get an answer eventually.
If we decide to move forward, we'll contact you for a quick interview by phone or Google Hangout.
Introductory Call (Phone, 15-20 mins)
Your first contact with OpenClassrooms usually happens by phone or videoconference with a Talent Acquisition team member or the hiring manager. In a quick phone interview, they'll discuss your profile and why you want to join us.
We'll ask you to:
Tell us a bit about you and your previous job experience. We'll have your résumé, but we'd like to hear you present yourself. Make it short (3-5 mins); we'll ask you questions if we want more.

Tell us what you know about OpenClassrooms and the job offer. Rephrase it with your own words.

We'll follow up by presenting the job in more detail. We'll tell you if you were close or not. There's no catch here: the idea is to make sure we both understand who we are and what we're looking for.

We'll ask you if you have any questions.
That's it! 😉
Manager Interview (at OpenClassrooms, 60 mins)
If we decide to take things further, there will be a second interview with the hiring manager, your future manager.
You'll be asked to present yourself. We'll talk about the job in more detail and are likely to ask you more specific questions about your previous experience.
At this point, we expect that you've read a good portion of this OpenClassrooms course (the more you read, the better!). It will help us get to the interesting stuff quicker, and you'll be more likely to make a connection between what you've read and what you see in the company.
Seeing people face to face is very important. It helps us understand your personality better.
What Are We Looking For?
When we interview someone in person, we're interested in some key elements:
Do you have the technical capability to do the job? Your previous experience is significant but less than your ability to face new challenges. We might ask you how you'd handle specific situations.

Do you have the relevant soft skills? For example, what do you understand about agile project management? Are you OK with objectives that change often? With the fact that in six months, your job could be very different from when you started? And, more than anything, how would you fit the culture here? Are you someone that we'd see ourselves working with?
The most important skill we'll be looking for is honesty. Be sincere about what you know and don't know. We want to know what you don't know, and we're totally fine if you have things to learn.
Why Culture Fit Is Important
Our experience shows that cultural fit is essential. So much that we've stolen this chart from another company (Automattic, makers of WordPress):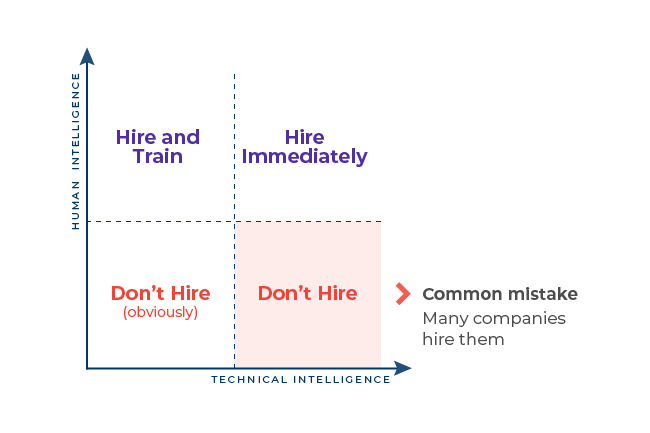 Of course, it's hard to quantify technical and human intelligence. However, people around the table can quickly agree on whether there is a fit or not. If you're qualified for the job, it doesn't mean we'll hire you. We look into soft (human) skills. They make all the difference in the end.
We prefer to start more slowly with someone we know we'd like to work with for a long time, then immediately get all the skills but be unable to move on due to personality incompatibility.
Salary and Perks
We'll ask you about your desired salary. Let us know what you'd be comfortable with. We won't talk about it further, but we'll find a figure we can agree on if we're meant to work together.
Some teams have already decided on salary ranges during their salary transparency process. Look at the Evolution and Salaries chapter for more information.
All employees also benefit from the following perks:
BSPCE

Free public transportation in Paris and suburbs (Navigo pass paid for by OpenClassrooms).

Free health insurance (Mutuelle monthly fee paid by OpenClassrooms).

Meal vouchers (Employer contribution at the max authorized by law).

Access to the gym for free (GymLib paid by OpenClassrooms).

Unlimited days off and a 1.000€ premium once a year if you take at least 15 days off in a row (yes, you read that right).

Access to remote working (Some fees will also be covered if you work remotely).

A company MacBook or PC.

A high-quality work environment and a strong culture built on agility, openness, and respect.

OpenClassrooms discounts for you and your family: if you or someone from your entourage (family and friends) want to learn a new job on an OpenClassrooms path, we will offer you a discount. You'll get 66% off of the total cost, and your entourage will get 20% off (up to 2 people per person). Even better: if you want to learn a new job to switch careers inside OpenClassrooms, we will pay 100% of your training!
Case Study (at OpenClassrooms or from home, 60 to 180 mins)
If you get past the previous steps, you will be given a technical assessment, also known as a case study or business case. You will be put in the shoes of the role you're applying for and will have to solve a problem in a limited time.
Most of the time, you will have to write down your answer in a document. Remember that there are usually no perfect answers: we look at how you try to solve it.
An English test will also be sent to you to evaluate your level. A B2 level is required, as we speak English most of the time at OpenClassrooms! If you're a manager, a C1 level is required.
Finally, we will ask you for references: it's very useful to hear what your former colleagues think about you. It also helps make onboarding successful, etc.
360 Interview (at OpenClassrooms, 180-240 mins)
For the last mile, you'll meet a whole range of people so we can get to know each other! You will be able to spend half a day in our offices to meet with:
The HR team: This meeting will help you better understand the company from a general perspective. We will also look at your interpersonal relationship skills (also known as soft skills) to make sure you'll fit well in our environment.

Colleagues from your future team. You'll want to know who you'll be working with every day!

Colleagues from other teams. That's right. You might not be working with them all the time, but we insist that you meet people from other teams as well. It is an excellent way to check that we all share the same values! Also, you'll get to know more about what other teams are doing at OpenClassrooms.
Hired!
What if you're hired? Well, this is just the beginning of your journey!
You'll follow a special (top secret 😎) OpenClassrooms path dedicated to new employees. We call it the Onboarding path.
Like any OpenClassrooms student, you will have to complete projects to show that you understand the company and its culture. We will pair you with an internal mentor (a colleague from another team). This mentor makes sure you have answers to all your questions to help you succeed on the Onboarding path!