As you now know, search engines look at content. Researching your keywords is the most important step in improving your SEO. There is little point in optimizing your site around words that won't bring you any traffic or that will bring in low-quality traffic.
Start by creating an empty Excel (or your favorite spreadsheet editor) file. We will update it as we progress through this chapter.
Find your basic keywords
Create a tab labeled "basic keywords." These are the keywords that define your activity, your profession, or your company.
There are several ways to find these:
Brainstorm with two or three people who know the business, and if possible, talk to a customer! Otherwise, you may inadvertently use words that are more technical than those customers would use.

Reread emails sent by customers to customer service. This will help you check that the keywords you found are indeed those used by your customers.

Finally, write down all the other keywords that relate to your organization. Focus on basic information, descriptions of the profession, areas of expertise, technical terms, etc.
There are methods to turn this set of basic keywords into a much larger one.
Examples for a website offering organic food boxes:
Basic keywords will be the obvious words, as well as those you found with the help of the methods described above:

Organic box

Organic products box and natural products box

Organic food box

As well as keywords like:

Organic standards

Find organic products
These keywords will not directly attract customers looking to make a purchase, but rather people who are interested in healthy food who should be easy to convince.
Sort these keywords into categories
Once you have your basic keywords, sort them into categories. A category is a generic or short-tail keyword. Create a tab for each category in the spreadsheet.
Example of categories: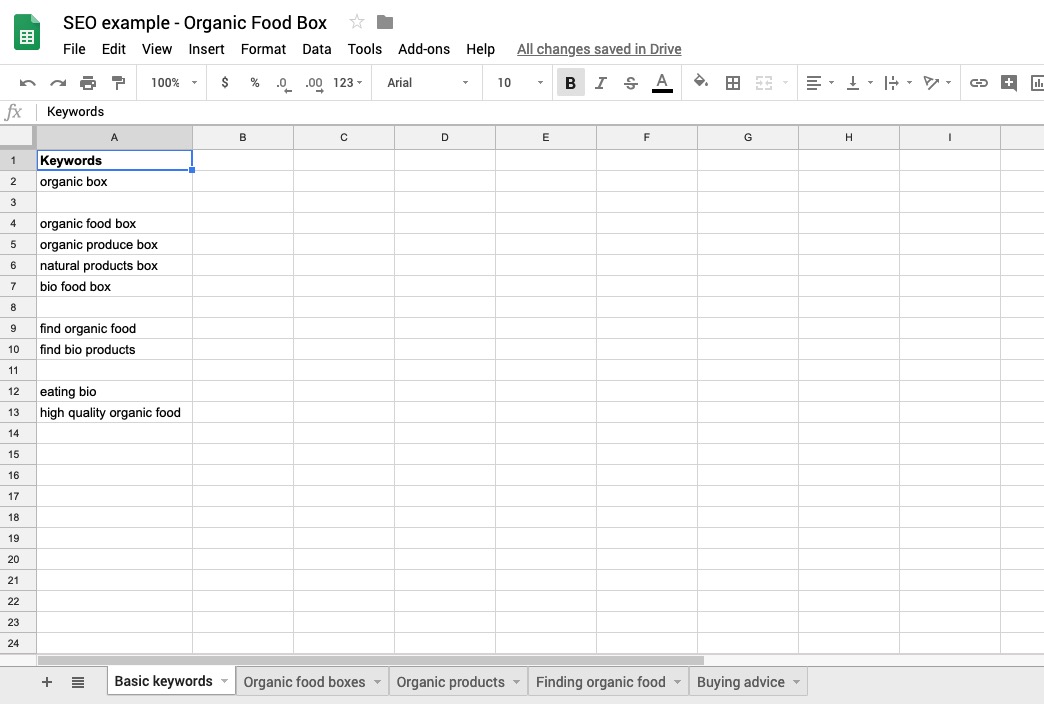 You will obviously have many more keywords than shown above. So, it is imperative you sort them into categories.
Organic box: All the keywords containing organic box or something similar.

Organic standards: Interesting keywords on the requirements of organic food to inform your potential customers and build trust.

Organic products: Keywords containing the word "products," like "organic products" and "natural products."
Multiply your keywords
Once you have the basic keywords and general categories, you can use several tools to multiply your ideas and fill in tabs:
Google keyword planner gives you an idea of the number of searches per month for paid ads! A search term that returns no results may still be relevant, but start by focusing on what you find with this tool.

KWFinder is a high quality subscription service that helps speed up the process by calculating the amount of competition for keywords.

AnswerThePublic is a tool that helps you find ideas using Google auto-complete. When you begin to type in the search bar, even a single letter, Google automatically makes suggestions. This is an excellent source of keyword ideas!
During this phase of research, you may come across categories you had forgotten to include. Just add them to your spreadsheet and research them.
Example of a KWFinder search: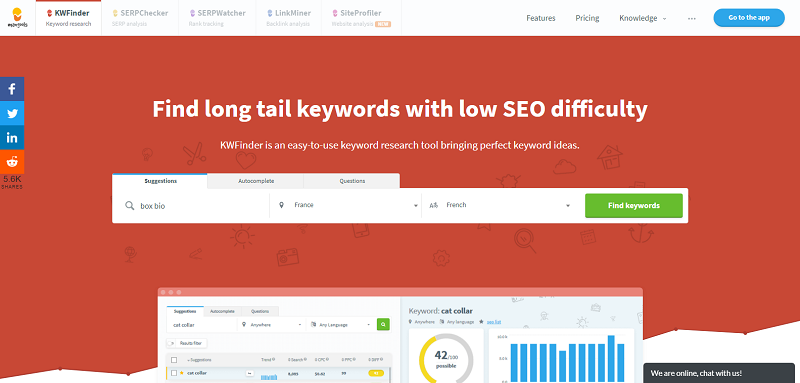 All you need to do is type your keywords into the tool. Don't forget to select the country and the language you are interested in.
You can learn several interesting things from the results:
It would seem that "organic box" is more closely associated with cosmetics boxes than with food boxes. So, the keywords is certainly too generic.

You will, however, find other ideas such as "veggie box," which has 500 searches per month.

This tool also shows you a keyword difficulty score, which suggests the amount of competition there is for that keyword to appear on the first page of the free Google search results.
Study the competition
You can easily find the keywords for your competitors by doing the following:
Enter your primary keyword (the one that best defines your activity, service, or area of expertise) in the Google search bar.

Identify your five main competitors.

Browse their web pages, especially their doorway pages (often found in the footer), and their blog.

Add ideas for topics in a tab labeled "competitors' topics."

Search on KWFinder or Keyword Planner to see if these topics attract significant traffic.
Example of an analysis of the competition:
If you enter "Veggie box" in Google, you can see a lot of competing companies. Depending on where you're located, Google many show the following boxes:

https://www.farmfreshri.org/programs/veggie-box/

http://www.farmfreshtoyou.com/

https://www.imperfectproduce.com/

http://allenneighborhoodcenter.org/veggie-box/

These websites are popular and contain high-quality text and image content. Additionally, they write extensively about local fresh produce. Veggie boxes tend to focus on certain geographics, and so each of these companies could focus more content on specific locations to rank higher in those areas.
Analyze your results
Once you have all these keywords, analyze them to find the most logical, interesting ones for your objectives. Remember the various types of keywords and prioritize long tail transactional ones at first. These are the keywords that will draw in potential customers the fastest.
Example analysis:
Don't forget that in our example, "organic box" is often associated with cosmetics. We will need to inform visitors and search engines that our website is, in fact, offering food boxes! "Organic food box" seems like a better keyword. However, it only has 10 searches per month, which is too few. The best compromise seems to be a "Veggie box."
Look for opportunities
An opportunity means a phrase with good traffic - a minimum of 100 visitors per month - that your competitors have forgotten about.
For each category, check the keyword difficulty score for the most common searches: are all your competitors using it? Is there little competition and, therefore, an opportunity?
Example of an opportunity:
Let's go back to our keyword "Veggie box." It doesn't contain the notion of "organic" but is still interesting. Indeed, it shows a visitor's desire to find a high quality food box. This keyword has 500 searches per month, which is entirely adequate, and with a low keyword difficulty score, it is not too competitive. Due to its strong potential business value, its good search volume, and the low number of competitors, it's a great opportunity.
Recap
Here is a summary of the steps involved in good keyword research:
Find your basic keywords and sort them into categories.

Multiply your keyword ideas.

Study the competition.

Analyze your results.

Look for opportunities.
Let's now examine one type of keyword which can be a powerful way of attracting high-quality traffic: local keywords.