Inspired by the workshop you saw in the videos, as well as the course resources, you're going to create an agenda for the following scenario which will apply design thinking to a team of user researchers:
You work for a travel company. Your team of 10 researchers has gone into the field in five different countries. They observed how people book travel, conducted a series of interviews in homes to better understand their habits around trip planning, and asked certain users to record video diaries (each researcher has already reviewed their main insights for these). Now they're all in the same city for one day. Your job is to facilitate a workshop to make sense of their discoveries.
Address the following information, which provides a bit more context:
Room set up: Sketch what an ideal set up would look like for this workshop.

Materials list: What supplies would you like to have?

Pre-work: Is there anything you need the researchers to prepare or bring to the workshop?

Workshop kick-off + introduction: The researchers all are working on the same project, but have never met each other in person.

Build empathy: Pick an activity to focus on the user perspective.

Ideate: Pick an activity to help teams work together to come up with interesting ideas and a range of solutions.

Make a decision: How will the group decide which idea to prototype? Does this need to happen in this workshop?

Prototype: What type of things will teams prototype? Is prototyping even necessary in this workshop???

Debrief: What will you do to wrap up the day?
This is a ONE DAY workshop, so your time is limited. It is not specific to design thinking but can be inspired by the process. Don't forget your primary goal is to try to learn as much as you can from the research that was conducted and collected while you have all the researchers in one place.
Create an agenda similar to the one shared in the course: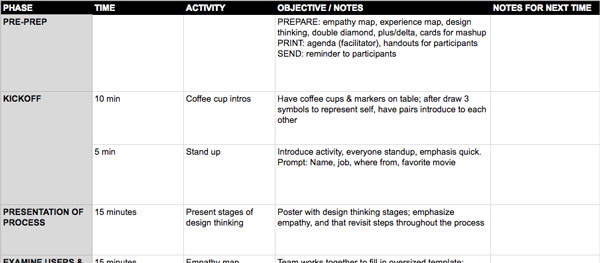 Do your best to plan based on the information you have, recognizing that scenarios will be adapted differently depending on the facilitator. Do what you can with what you know. Rather than having notes for next time column, add a column for questions you'd consider to better inform your decisions. Explore other exercises from Gamestorming and beyond which you can include.
Deliverables:
Create a spreadsheet style agenda with each of the bold phases listed above, fill in the fields for time (estimate), activity, objective + notes.

Draw a sketch of a room set up for 10 people and lots of space for whiteboards, blank walls or windows for adding sticky notes.

OPTIONAL (it may help you think about your approach to the workshop): Draft an email to the researchers telling them what to bring and expect. (It can be short, just make sure you address key ideas and think about the audience). [If you decide to include this, write the email in GoogleDocs and link it to the agenda].
Check your work!
Check that the following elements are present:
Fields are filled in with an activity or notes for each phase

More time is spent on actual activity phases than on introduction or conclusion

kick-off, and re-cap are included

at least one gamestorming exercise or energizer that relates to the project is integrated