One great way to help manage expectations is to prepare a creative brief. 
Creative briefs can be used in order to help win a client or job. Other times it's a document you may want to present at a kick-off meeting for a project. Either way, creative briefs include the essential information to consider moving forward in a project. They also are helpful to use as a reference document to ensure projects stay on track.
It may take a little time to determine the necessary information to include, but it will save you a lot of time in the long run. Creative briefs need to be adapted for every project, so even if you start with a templated format, be open to considering how you can update it for your project needs.
What to include in a creative brief
Creative briefs should be short and sweet – no more than a page or two. It's important to write the document so that everyone on the team will actually want to read it! If it's something that stays under a pile of papers on your desk, it's not very helpful. You want to create a document that is useful for everyone on the project. 
Let's consider what kinds of thing you could include in a brief:
Clearly state the project objectives, purpose, and goals. Don't forget to refer back to these throughout the process. For some projects, it may be useful to provide a bit more context, history, or background information into the project to serve as a reference and reminder for why certain goals have been prioritized.

Include who will be involved in the project. This is something you should determine early on. Make sure to include any key decision makers. Clients and stakeholders may be less familiar with the creative process, so you want to consider how the creative brief can help manage expectations for them by explaining their role and in what ways they will participate in the process.

Define what kind of project this will be as well as the scope of work. Breaking the project into phases is one way to address different components. These days projects can easily expand across platforms and involve elements of different social media platforms. Be sure to consider all the possible ways the project could grow and where specifically it starts and ends.

Deliverables can be defined in the creative brief. Deliverables are the actual output you will provide the client. You need to consider how far you're taking the project. Will the client receive wireframes and lo-fidelity prototypes or a fully developed app? What will you deliver to clients at the end?
Here is a simple page layout with aspects that could be included in a creative brief: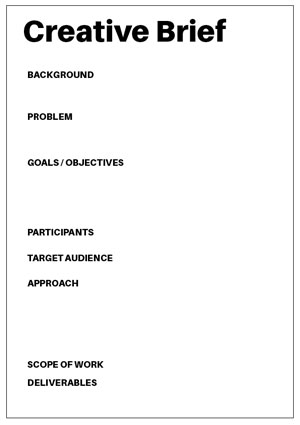 Depending on how you use a creative brief you may want to include different information (target audience, metrics, measures for success, timeline, etc.) as long as you keep it, well, brief! Use the brief as a reference document throughout the project that team members can refer to in order to stay focused and on track. 🎯
There are many ways to approach creative briefs.
Here are some more resources for approaching creative briefs:
Let research be your guide
Global design research firm STBY created a series of design briefs to help spark conversations and serve as a guide for the What Design Can Do Refugee Challenge. They used research, interviews, and a series of workshops to help inform the design briefs they created for the designers who entered the competition. The four different briefs they created provided a reference point in which designers could approach the problem from an informed perspective.
STBY presents how they created their design brief at the What Design Can Do Conference in Amsterdam. [12:07 min]
Along with creating briefs, STBY has also developed a workshop manual. We'll be exploring workshops in another course!
Let's recap!
Creative briefs serve as a guiding document to keep a project focused and on track.

Creative briefs can help put everyone involved on a project on the same page and unite the team. 

Creative briefs should serve as a reference document throughout a project to ensure goals are met.

Creative briefs should be brief: 1-2 pages, direct, and to the point!