When you want to learn about something, where do you look? A lot of people turn to Wikipedia!

A wiki, in a professional context, can be a helpful tool for finding everything you need in one place - particularly all the resources your team needs and accesses regularly. Because it's online, you can access it from anywhere. A wiki can be created by one person or have multiple contributors. Another major benefit of this tool is that it can be constantly updated and improved. Wikis are particularly helpful when a new employee or team member starts a project – they know exactly where to go to find what they need. Hopefully, it can help answer questions they didn't know they had!

What you include in a wiki is up to you. You can consider the information architecture of how you want to organize the information so anyone can find it. Typography can be used to help designate hierarchy. In terms of content, you may want to include things like best practices for doing something, tutorials with screenshots or videos, favorite resources, or a list of projects.
If you were to create a wiki for all your user test results or design research, you may want to consider including project status, test dates, observations, links to prototypes, highlight reels, and image folders. Imagine how you may search for information in the future and adapt your design accordingly.

One of the simplest ways to create a wiki is with a spreadsheet. This can be done by creating categories, fusing cells, and integrating color coding. Another option is to add a table to a text document. By using Google Docs, you can easily share your files with others. Airtable is a newer web app that works like a spreadsheet with the power of a database.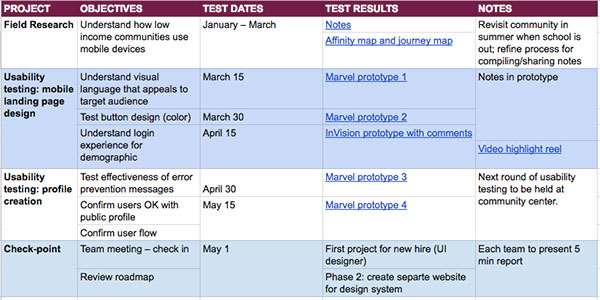 Notion.so is another web app which makes formatting content through headers, images, and dividers really easy. (Emojis make it fun too, and you can embed videos into pages as well!)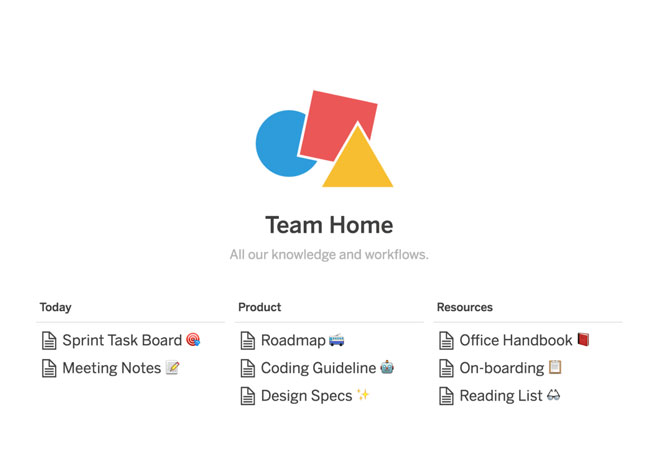 Github, the popular platform for sharing code for developers, also has a wiki feature. The display on Github is similar to a table of contents with links for more details. A lot of large development teams or product managers will use Confluence to keep everything in one place.
In the end, it's not the tool you use that matters, but the fact that you create a resource library of some kind, saving you time and making your life easier. Often the problem is not figuring out which information to include, but narrowing it down to what is necessary and useful. Rather than including every minute detail, how can you distill everything down to your core needs and use? Your future self will thank you!
Let's recap!
Wikis can serve as a resource library for team members to refer to regularly, saving time and energy for everyone.

Wikis are a good place to document and share best practices, tutorials, or information for the onboarding process.

Wikis are a helpful way to keep documentation of design research, usability tests, and results.

Shared Google Sheets or Notion.so are two easy ways to create wikis that can be shared with team members.
In the last chapter we'll look at design systems as a way teams stay organized!