You now have a service offer and a precise idea of the opportunities that you can seize through your marketing action plan.
The final stage in drawing up your freelance digital marketing strategy is to create a sales system that converts your prospects into clients.
Your marketing goal is to get a signature, an agreement and a client. To convert your prospects into clients, it's helpful to organise your efforts within a sales system, guiding you from prospection to signature.
In this part, you will learn to convert your prospects into clients thanks to:
Mastering your sales cycle;

Activating your prospects file to increase sales;

Drafting a business proposal;

Preparing your sales pitch;

And building a strong relationship with your clients.
What is a sales cycle?
The sales cycle brings together all the stages of marketing your services, from prospection to signing the contract.
It's an essential element in every marketing strategy since it enables you to know the action to take according to the stage of the relationship with the prospect.
The sales cycle is represented by a sales funnel. This tool allows you to schedule your prospect search and estimate the time needed to find them. Finally, it allows you to fix the next steps with your prospects.
It's recommended that you always end your exchanges with your prospects with a call to action, or by defining a next step.
The call to action, (CTA) is a request that you make to your prospect (e.g. "Could you send my message to your colleague in charge of recruitment?" or perhaps "Thank you for your call. As agreed, I shall wait for your working brief so I can draft a proposal."

The next step is an agreement on the terms of your next communication with the client (e.g. "Thank you for this discussion. I suggest a call at the same time, a week from now, to review the proposal that I'm going to send you."
In both cases, these methods enable you to assess the client's interest and reaction, estimate the time needed to complete the sale, or to let it drop if the prospect appears uninterested.
In this chapter, you'll learn to master your sales cycle with:
The setting up of a sales system;

Understanding the various stages in the sales cycle;

Measuring and improving your results.
Setting up a sales system
As mentioned above, the sales cycle for a freelancer is represented by a funnel because there is a loss of prospects at each stage (those that say "no").
The freelancers' sales funnel comprises a minimum of four stages: prospection, eligibility (prospect interest), the business proposal and the sale (signing the contract).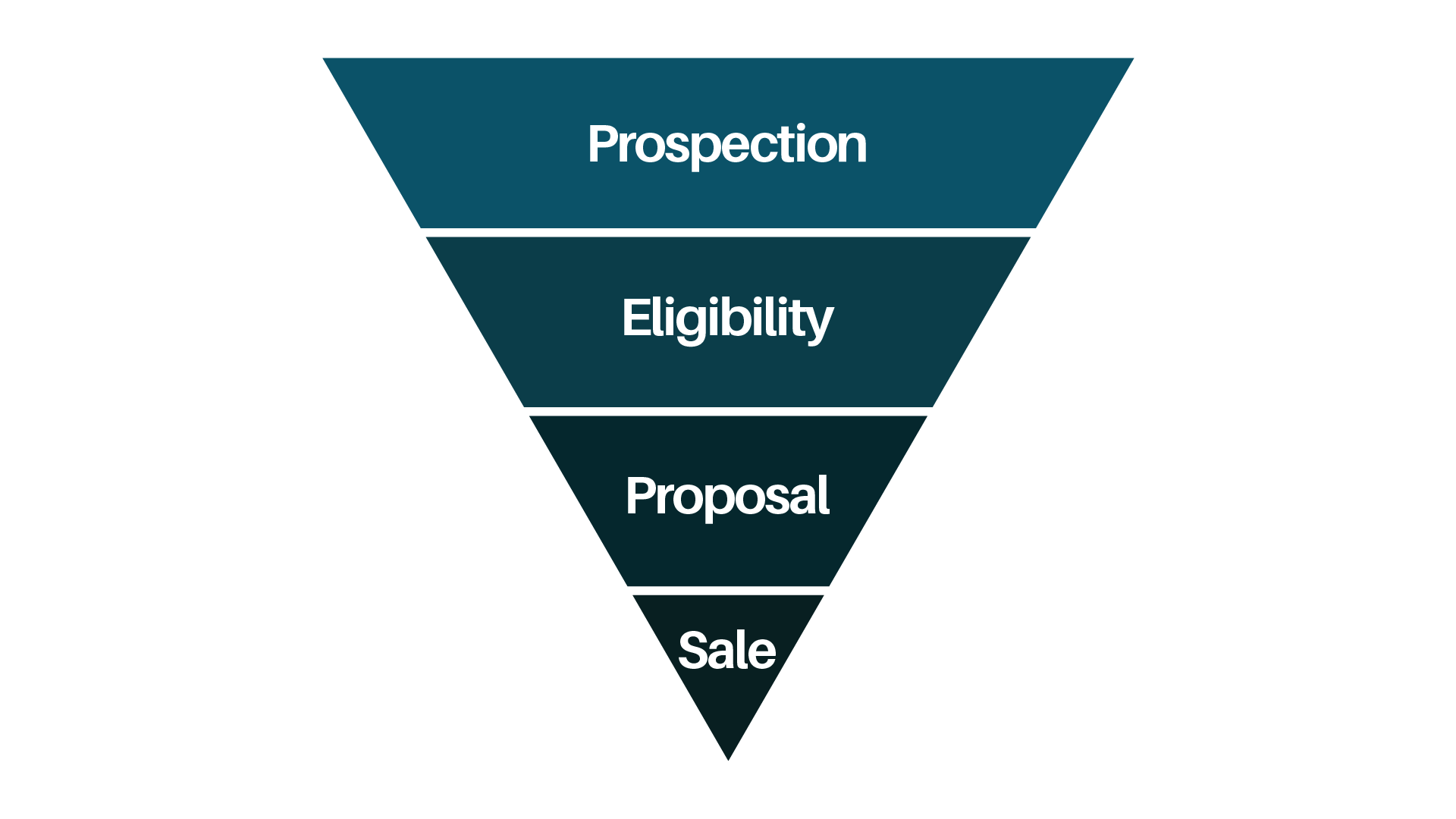 This representation is useful in creating a sales system.
It's a system that enables the creation of marketing activities to be carried out at each stage of the sales cycle, so as never to be short of clients.
Learn the stages of the sales cycle
Here are the various stages of the sales cycle:
1 – Prospection
The goal of prospecting a contact in your client file is to create a connection. You want to arouse interest so that the prospect agrees to discuss things more fully.
In the context of a digital marketing strategy, this means sending a "cold" email (i.e. an unexpected email – the content can be warm! 😊) to your "cold" prospect (they don't know you) to arouse a reaction and to convert them into a "hot" prospect (having an interest).
2 – Eligibility
Eligibility separates potential clients from those not within your target group. This can be achieved through a telephone discovery interview (i.e. a questionnaire) that assesses the prospect's needs.
Can you help this client? Do your solutions interest them? Do they have the resources (time, teams, budgets) to collaborate with you? What can you bring them in response to their problems?
The goal of eligibility is to find out whether the prospect is your ideal client, by asking them questions and letting them express themselves. It's not a question here of putting forward your services – that would be too early. But, it is possible to integrate your pitch, or indications of your business proposal at appropriate moments, to make the link between the client's need and your solutions. Finally, this stage can also serve to determine whether your prospect is the right contact person in their company (the M.A.N.).
3 – The business proposal
The next stage after gathering the requirements and eligibility of the prospect as target clientele, is the drafting and sending of a business proposal. This proposal will take up the problems highlighted by the client and will put forward your solutions to answer them.
Once the business proposal has been sent, it might be necessary to recontact the prospect to get a response. Consider using software programs, like Polymail, that enable you to monitor the opening, proposal consultation, and reactivation at appropriate moments.
Finally, this stage generally includes objections on the part of the prospect, or a wish to negotiate the terms of collaboration.
4 – The sale with signature
If an agreement has been reached between you and the potential client, the next and final stage of the sale will be to sign a binding contract or quote.
To summarise, here are the various questions to ask yourself at each stage, for converting prospects into clients: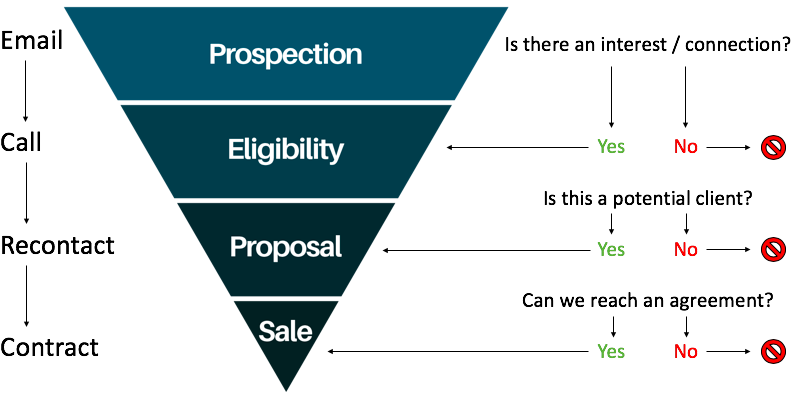 In the following chapters, you will discover templates and concrete examples for each of these stages.
Measure your results
Mastering your sales cycle using a system of actions specific to each stage allows you to measure your results, anticipate and improve your marketing effort. By measuring, you will be able to determine the number of prospects contacts needed to get a final client or to calculate the time spent to find one.
At each stage in your sales cycle, you'll lose some of your prospects and convert others. This is what is called the conversion rate. Shown as a percentage, it defines the number of prospects that go on to the next stage. For example,if you send out 10 emails at the prospection stage, and only two people reply to you, the conversion rate from prospection to eligibility will be 20%.
This might seem onerous to set up. However, there is software that can enable you to organise and monitor your sales system: these are CRM (Customer Relationship Management) programs. This software allows the automatic recording of certain actions (e.g. sending emails to prospects), and the scheduling of repetitions.
The programs most used by freelancers are Pipedrive (inexpensive) and Hubspot (free). The CRMs take up the different stages in the sales cycle.
For example,Pipedrive proposes the use of five stages: prospects identified (this means your non-contacted client list), prospection (contact made), eligibility (needs discovered), proposal made and negotiations underway. These stages are completely open to modification.
It's practical, but not obligatory, to use a program such as a CRM. You can use a spreadsheet, starting from your client file. You can always reintegrate this document into a CRM (these programs offer to import Excel files). What matters is to have an up-to-date file to understand and measure your efforts.
Example of monitoring the sales stages on a spreadsheet:
| | | | | | | | |
| --- | --- | --- | --- | --- | --- | --- | --- |
| Business | Role | Surname | First name | Email | Stage | Last contact | Next stage |
| Hila | Director | Lain | Justine | jlain@hila.co.uk | Prospection | 9/9/18 | Reactivate with a 2nd email |
| | | | | | | | |
Let's recap!
In the next chapter, we'll activate the prospection file to take on the first stages of this sales cycle.