Once the prospection and eligibility phases are finished, the next stage in your sales system is to customise your business proposal.
Drafting a customised business proposal is important if you want to increase the chances of converting a prospect into a client. This document may even be circulated within the company, to other intermediaries.
To draft a business proposal that brings in turnover, you need to:
Include the essential components expected in a professional proposal;

Incorporate the words and observations raised by the prospects;

Ask for the sale to be closed, once the proposal has been sent.
Master a proposal's essential components
The business proposal is a document that will reassure the prospect and enable a decision to be taken. It must be well drafted. This is not about your offer, nor a schedule of rates, but a culmination of all your conversations with the client to make them understand that their needs have been identified and that your solutions are relevant.
The business proposal must:
Analyse the clients' needs;

Propose a suitable solution;

List your undertakings with regard to your solutions (what you will contribute thanks to your services);

Show the price of your services;

Introduce you, recalling your career and your strengths.
It can be summed up by the following structure:
A cover page with, if possible, an attempt at graphic presentation;
A summary page comprising the following: the client's problem, the solution offered, the detail of the proposal, the price, and an introduction of the freelancer;
A quotation (to sign);
A contract or a list of your general conditions of sale.
This business proposal may possibly be compared with other offers and with competitors, freelancers or not.
If you work in a sector with strong competition, it can be useful to spend time researching your strengths, using an analysis according to the SWOT matrix: Strengths, Weaknesses, Opportunities, Threats.
Positive

(to achieve the goal)

Negative

(to achieve the goal)

Internal origin

(from the freelancer)

Strengths: your resources that give you a competitive advantage

Weaknesses: what you lack in relation to the competition

External Origin

(from the economic environment)

Opportunities: the potential offered by the market

Threats: changes that could have an impact on your business
Let's go back to the example of Louis, an independent English > French translator specialising in the video games industry, producing a business proposal for the MégaJeux Company.
Here is Louise's SWOT matrix:
Positive

(to achieve the goal)

Negative

(to achieve the goal)

Internal origin

(from the freelancer)

Strengths:

Total mastery of both languages (Franco-English family)

Good knowledge of French culture

Passionate about video games

Available (full-time translator)

Weaknesses:

Limited capacity (time), which doesn't allow her to rapidly take on large orders

Not much experience

External Origin

(from the economic environment)

Opportunities:

The video games market is enjoying strong growth

Companies absolutely must use translation to gain market share

Threats:

Development of machine translation

Translation budgets are often small
Here's the business proposal resulting from that: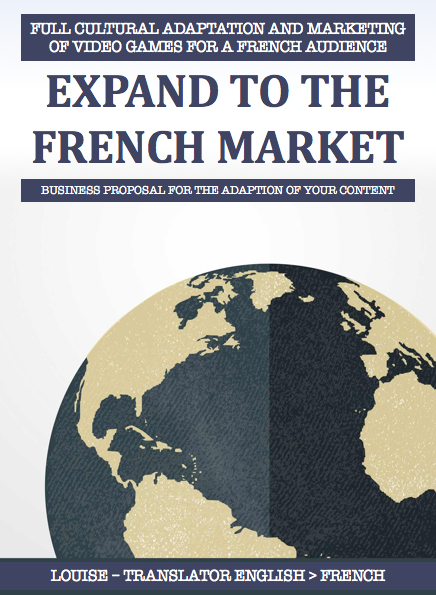 The description page of Louise's business proposal:
Description of project:
The MegaGames company is an independent studio that publishes video games of superior quality. It has recently procured funds for developing in the continental European market.
For the time being, the company's five games exist only in English, and all of its communication is also target to an English-speaking audience.
The company has very limited time to:
translate and adapt the content of the five games from English to French

translate the company website

translate and adapt the company's profiles on social media, as well as all publications

translate all of the company's support documents (general conditions, partner contracts, brochures, etc.)
The new investors wish to launch this international expansion within the next six months, including jumpstarting the project on social networks as soon as possible.
The company is based in Bristol, where it has proven difficult to find a Franco-English profile able to adapt the cultural references of the game from English to French.
Solutions:
Establish a regular and individualised accompaniment by a translator as soon as possible to satisfy all of the translation and adaptation needs of the company within the prescribed deadlines.

Outsource to a single provider for the construction of a glossary of terms and a fluid translation of the same.

Use a bilingual translator with knowledge of both the English-speaking and the French market.

Write promotional content addressed directly to a French audience, in preparation for the launch.

Set up a schedule with translation and content writing deadlines leading up to the launch.
Offer:
The translation of video games at £0.15/word, per individual contracts for each game.

The translation of the complete website at £2800 (£280/webpage, 10 pages total)

The translation of blog content and social network profiles, as well as the additional content writing required, at £1200/month (8 hours of work per week).
Who is Louise?
I am passionate about video games and foreign languages. Having come from a Franco-English family, I have complete mastery of English and French languages. Thanks to my knowledge of both cultures, I am able to offer a fluid, high-quality adaptation while preserving the spirit of your product. As a full-time freelancer, I am available for long-term projects, as well as urgent and unexpected needs.
The official quotation from Louise's business proposal:
Attention: Lowell Doe

President

MegaGames Company

123, Centre Street

Bristol

Date: 9/10/2018

Title of project: International Expansion Support

Description: Translation and adaptation of video games and elements of communication

Quotation # 12

Quotation valid 30 days

Description

Quantity

Fee

Cost

Translation of video games per word

32000

£0.15

£4800

Translation of webpages

10

£280

£2800

Monthly accompaniment

6

£1200

£7200

Sub-total

£14800

VAT

0,00%

£0

Total

£14800

Complete and final delivery in 6 months.

The client accepts the general sales conditions indicated on my website: www.louisetranslation.co.uk

In case of agreement, please return this quotation signed.

Sincerely,

Louise École
Personalise the proposal
The business proposal must be personalised because its goal is to demonstrate to the prospects that their needs have been well understood.
For this purpose, note the keywords used by the potential clients during conversations, in particular during the discovery interview.
You can then reuse these words in formulating the client's problem and in your proposal.
Dare to ask for the sale
The goal of your sales system (shown as a funnel) is to gradually lead the prospect towards signing and, thus, to transforming them into a client.
To this end, you need to ask for the sale, that's to say ask the prospect whether they want to purchase or sign. Marketing people use the verb "to close" to designate this stage.
The ideal moment is when the client has no further objections, and when their needs have been well understood.
You must ask, or you risk the possibility of never getting a signature. You can use sentences such as "Shall we go ahead?" or even "When shall we start?" to assess your prospect's intent to purchase.
Finally, remember that listening is the marketing person's chief virtue. Once your business proposal has been sent, schedule a telephone meeting to discuss it, and ask the client what they think of your proposal.
Above all, remain silent. People don't generally appreciate the value of silence during a conversation. It creates space for your clients, who can tell you their final objections, or even their doubts and fears.
Let's recap!
You've prepared an essential document for turning prospects into clients, but what about vocally selling your services? For that, you'll need to prepare an effective sales pitch!