The term single customer view (SCV) is used to describe how all the information the organization has collected about each of their customers is gathered together in a single database.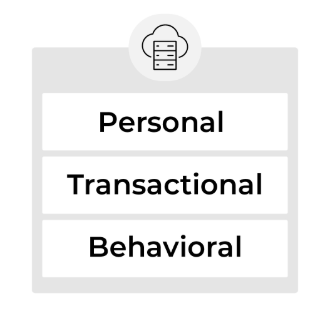 Don't Confuse CRM With SCV
Many people confuse SCV with CRM. They both serve the same objective - to have a fully joined- up conversation with customers - but SCV goes a step further and is an organization's attempt to generalize the consumer journey across all channels. This includes:
Physical stores, branches, or offices

Websites

Mobile apps

Social media

Web searches

Call center

Emails

Direct mail

Other advertising forms
The SCV also helps organizations to de-duplicate multiple records for the same customer.
One area where the SCV can have a dramatic impact is on controlling the costs of paid online advertising. If you can use the data stored in your CRM software to identify your target audience for online search and display advertising, you can:
Ensure that you don't pay to show acquisition ads to people who are already customers.

Control the frequency of ads, so that you don't keep showing the same one to someone who has seen it too often already.

Improve the relevance of the ads you do show to improve their effectiveness.
Understand the Challenges of SCV
Modern life makes that difficult and often expensive to achieve.
Customers will interact with you in a number of ways - such as social media, websites, mobile apps, call centers, and physical stores. That's a lot of data to harmonize.

They might choose to remain anonymous.

They might use a mixture of IDs: work and personal email addresses, social media IDs, office, home and mobile phone numbers, and more.

They'll often view your advertising in places where you don't recognize them.
The SCV is an attempt to resolve that, so you don't treat people you know as strangers when you encounter them.
Consider Setting Up Your CRM to Incorporate SCV
As explained, this is complex to achieve. You must ask yourself six important questions:
How is data collected?

What is the volume and nature of the current data?

Which project structure should you adopt?

What data model should you adopt?

What is the scalability of the SCV over the next few years?

What future data sources can you anticipate?
Beyond issues of governance and framework, you must also think about the process of merging data from distinct databases such as the leads and customer databases, for example. This will require additional processing. How do you ensure the reliability and timely delivery of results to SCV queries? Pilot programs and a proof-of-concept phase are essential to carrying this step out correctly.
Let's Recap!
SCV is not the same as CRM. It's an even more ambitious, as it attempts to identify customers across several channels.

When defining your new CRM software, you will need to decide whether, and how, to incorporate SCV. It will help you:

Manage cross-channel journeys, track multiple identity users, and establish programmatic processes.

Ensure precise identification of the people exposed to your messages and the effectiveness of your spending and investments.

Pilot programs and a proof-of-concept phase are essential to setting up a SCV.