You work in a fast-paced, constantly-evolving landscape if you're a developer. This is nothing to fear though, and can often be one of the most satisfying things about working in the field.
You'll find yourself dealing with changes involving tools you use, roles in your team, and project needs. The best way to handle these things is to just accept them as part of the job and be as prepared as possible.
Being prepared means staying up to date on what's happening in the development industry. There's inspiration to be found everywhere, including from:
Startups you admire

Coders building tools you often use

Bootcamps, universities, etc.
How do you go about accessing these different opinions and updates? You already work in the web, so you already know: online!
Twitter
A great way to stay up to date with tech happenings is by using social networks. Twitter is a great place to start because it's free and already used by many developers that likely work at your favorite companies or startups.
It's also an inherently open platform (unless you create a private account, which is okay too, but makes it harder for people to interact with you).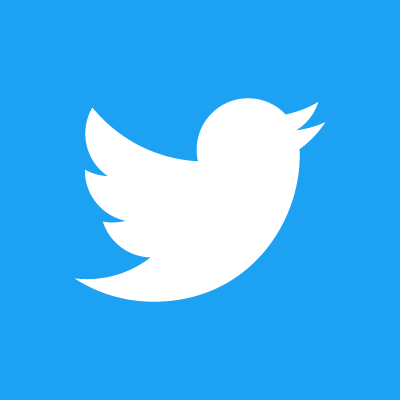 Twitter has been a very important part of my career. I have met other developers, designers, product managers, and more through Twitter whom I never would have met otherwise.
If you don't already have a Twitter account, you can create one very quickly.
You can create an account (or log into your existing account) at https://twitter.com. When creating your account, you'll create a handle, or Twitter ID, to enable people look you up.
Make sure your handle (username) is professional and, if possible, easy to remember! You can always change your handle later!
Find people to follow
Your next step can be browsing interesting accounts. In the search bar in the top right corner, you can search for subjects (ex. "HTML"), companies (ex. "OpenClassrooms"), people ("Jane Smith"), and more. Just start typing, and results will come up.
Once you've taken a look at some of the results and confirmed that you're interested in what these people or companies are doing, click the "Follow" button on their profiles to instantly follow them. This means you'll see their tweets in your timeline view!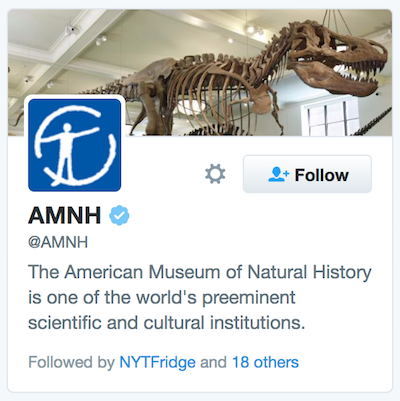 If you're not sure where to start, here are some cool and ethical people who work in tech and development:
Twitter isn't just about following though. You can also write tweets yourself. Feel free to tweet about:
Projects on which you're working, which also helps potential employers understand what you do

Ideas you've thought of, which could even help you find collaborators!

Questions you have that your Twitter community might be able to help you solve

Any other professional stuff you can think of
Just always, always be polite, courteous, and patient.
For example, when looking to get in touch with the owner of a project about which you're curious or have feedback to give, provide some context about how you found their project, and give them the ability to engage back with you before assaulting them with feedback.

Don't just launch right in there with your rawest opinions!

Twitter ethics
Twitter is usually a friendly and open place to connect with open-minded people, but it can often be a cesspool of the worst human behavior. ☹️
Trolling is unfortunately easy to find on Twitter or other social sites on the web. Let's be clear on one thing: internet harassment is not okay.
Twitter says:
"We do not tolerate behavior that crosses the line into abuse, including behavior that harasses, intimidates, or uses fear to silence another user's voice."
What are these types of behavior exactly?
Violent threats (direct or indirect)

Harassment

Hateful conduct

Multiple account abuse

Private information

Impersonation
Bear in mind that whatever you do on Twitter is public, unless you have a private account. Employers, coworkers, and others can see what you tweet, retweet, and like.
You can be fun, but don't be a jerk. Behind every computer screen is a human being.
Other social networks
You could also check out other non-journalistic sources of development news like Reddit, Hacker News, or others. These websites aren't necessarily social networks but are more in a forum style.
With sites like this, you just have to be even more careful than on Twitter not to engage with trolls. It's okay to have a difference of opinion, but it's not okay to be a jerk or to harass people.
Tech journalism
There are also many online publications that distribute news about happenings in technology, including startup news, investment rounds, and more. As with any journalistic endeavor, choose your sources carefully!
Nonetheless, we can give you recommendations for where to start. The following tech publications are well-known and generally reliable:
There are many more than this, but following some combination of these will give you all the news you need to know.
At OpenClassrooms, people share links to articles from these news sources all the time and say things like, "Hey, did you see that crazy article on TechCrunch?!" 😄
Choosing a good source of tech news also depends on what kind of news you're interested in. If you're really into video games (maybe you want to be a game developer!), following Kotaku would be great. If you're interested in a rather intellectual side of the web, check out ArsTechnica. For interviews or long reads, you could check out VentureBeat or Wired.
Why not check them all out now, and see which ones tickle your fancy?
Making a dashboard
At this point, you might be wondering how best to centralize all this information!
This is a regularly-occurring problem in technology; we have so much information coming from so many different places. How can we possibly keep track of it?
You might want to make a dashboard. A dashboard lets you centralize all your favorite websites in one place, and you can categorize them as needed.
Many of these dashboard solutions use RSS, which stands for Rich Site Summary. Each RSS entry is like a tweet but much more robust, including article summaries, information about the author, and more.
Dashboard solutions
A great dashboard solution might be Feedly, a fully customizable dashboard that brings together news from all your favorite sites, so you don't have to spend so much time hopping from URL to URL.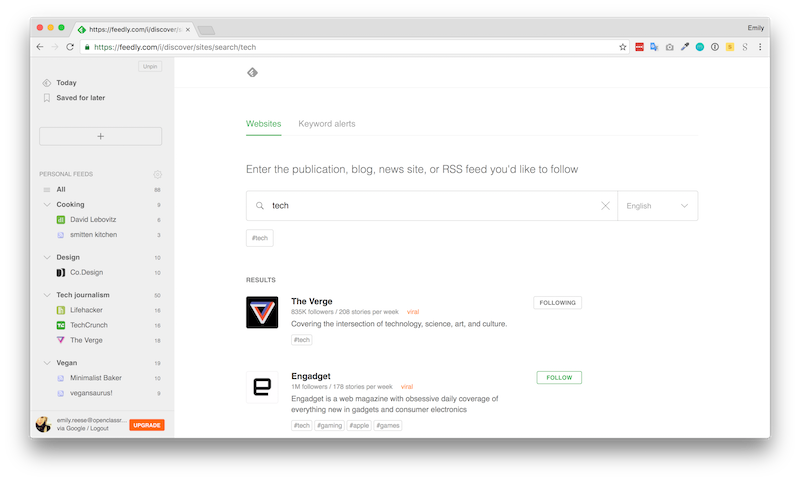 Within Feedly, you can search for subjects like "tech" or "coding" and select the feeds that interest you by clicking "Follow." Out of these selections, you can create collections according to your interests.
For example, you could create collections called "Tech journalism," "Development sources," or things that are entirely unrelated to the industry.
Once you're following feeds, every time you log into Feedly you'll see what's new for the day in your "Today" view.
To bring it back full-circle, you can even tweet items from Feedly into your Twitter feed!
Meetups and conferences
Tired of sitting behind your computer? Meetups and conferences are a great way to add a more in-person dimension to your technology experience.
Meetups
If you leave near a city, your Meetup options are virtually limitless. In London for example, there are more than 1000 tech Meetups within a five mile radius! You can meet up with other developers (Ruby, JavaScript, PHP, iOS, anything), UX designers, product managers, and more.
Even if you're not located in a city, you can still benefit from these types of events. Why not start one yourself? Anyone can create a Meetup group, and this might even be a way to meet friends as well as professional people. A simple group name might be "Frontend developers of [town name]", or something like that!
Conferences
While Meetups occur regularly, conferences happen less frequently; however they are generally larger events that last longer, featuring multiple speakers and events.
There are conferences on virtually any subject you can imagine. If you're a JavaScript developer, you might be interested in a JSConfs; these happen all over the world. If you're a Ruby developer, you might like to attend a RubyConf or RailsConf. What about iOS devs? Don't worry, there are also confsforthattoo!
Another great thing about conferences is that they sometimes have scholarships for people with less money who can't afford travel or accomodation costs.
Many conferences also promote diversity, so if you are a woman, a person of color, or otherwise identify with a marginalized group, check with conference organizers to see if they have any initiatives that could help you attend the conference.
Summary
Tech is fun, but if you also work in tech, you have to be responsible about it. Make sure to stay up to date on what's happening. Meet new people, learn new things. Do it all while being a great, respectful human being! 🤗