Having considered more integrated working practices, you are now ready to set achievable and motivating goals.
Demonstrate pragmatism!
Working autonomously gives you the freedom to choose how you want to organise yourself in order to achieve your desired results. In other words, you can find the balance between your personal goals (e.g. freeing an afternoon for yourself to participate in a sporting activity) and those of your various clients and their projects. This seems easy on paper, but can be more difficult if you don't set long-term goals.
Set yourself goals
Set your course and focus your energy on the goal.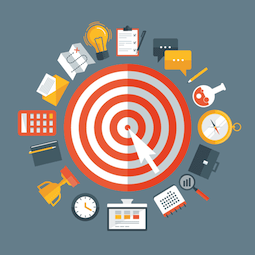 Here are a few tips for goal setting:
Mark your progress by giving yourself intermediate goals. That way you can measure your progress and check where you are by giving yourself milestones using an operations log.

Visualise the various stages of implementation. It will allow you to project yourself and not make it feel like you have a single mass to deal with.

Pracitise the strategy of small wins. Celebrate each small success or achievement as it arises.

With each assignment, look for fuzzy or unrealistic goals.

Don't hesitate to reformulate and/or specify (in writing) tasks that you don't have sufficient information to implement. For example:

You have to collaborate with someone but don't know the scope of operation. Ask for details about each person's role and assignments.
Set up a proper action plan
| | |
| --- | --- |
| | A complete action plan must address the following: |
| Objective | Give yourself an objective (if what's asked for isn't clear, get them to specify it for you). It needs to be SMART: |
| Strategy | Decide how you will achieve your goal: organisation, resources, etc. |
| Agenda | List the steps to be taken. Give yourself deadlines. |
| Means | Determine if you can do it alone. |
| Aid | Request the contributions of others if needed. |
| Results | Measure the discrepancies and implement adjustments to be more efficient next time. Also, don't forget to celebrate your successes. |
Be strategic and identify your high-performance activities
Pareto's law, or 20/80, is a principle that allows one to distinguish the essential from the non-essential. Just 20% of your activities will produce 80% of your results.
It would benefit you to spend the most time on your high-impact/results activities and in streamline the others. If you work on your own account, consider minimising the time spent on administration – which isn't your core business – by using a CRM or out-sourcing it.
Meetings are time-consuming – top of the 20% – and are often not very productive if there is no final decision. Change the formats and give preference to short, regular meetings with a single objective.
The web conference is a very good tool for framing things and avoiding unnecessary travel. Also, don't hesitate to communicate as your project progresses, with a more spontaneous tool like Slack.
Periodically ask yourself the following questions:
Am I concentrating my energy sufficiently on my key activities?
What are the 20% of my activities that produce or should produce 80% of the results of my work?
Among all my activities, which are the ones that produce or should produce (earn or should earn) the most important results in the long term?
Dare to ask for help
You're not a superhero and it's certain that you'll encounter situations where the goals are untenable.
Don't hesitate to ask a colleague for help or to subcontract all or part of your assignment, if you feel the need to. 😁 Asking is a sign of strength and confidence, and enables self-development.
Conversely, not daring makes you vulnerable to frustration and limits your capacity to achieve. Just because you're working autonomously doesn't mean you have to work alone.
It's important to sense, recognise and accept your limits in order not to put yourself in a difficult situation.
Ask yourself these three questions:
What's the worst that can happen to me if I ask?
What's the best that can happen to me if I ask?
What could happen to me if I don't ask?
You'll find through experience that an assignment completed with somebody's help can reduce your turnover, but it will undoubtedly make your work more pleasant.
Some advice on asking for help:
A request needs to be prepared, argued and analysed.

Choose the right intermediary, who is competent with regard to the particular situation.

Have with you all the documents necessary to be persuasive.

Be clear and get straight to the point.

Have several plan Bs in order, if required, so you don't depend on a single person. It's a way of getting a foot in the door and of resuming power over your environment, and that avoids depending on the other person.
Use these stages to ask for internal or external help:
Present the context; express your request clearly: "I am asking you for …".

Present information that's precise and with figures; emphasise the advantages to the other person.

Propose solutions/options to alleve any reticence or worries.

Answer questions and reformulate the conditions of the agreement.
Learn to say no!
It may seem like a paradox, but it's a positive thing to politely refuse requests that you can't fulfill immediately. 👍
A few rules to make it easier to say "NO":
Listen to yourself: be attentive to your feelings. Know what your priorities and limits are and take them into account.

Take time to think: don't be in a rush to answer and ask for time to give your reply.

Take a step back: don't blame but try to understand and analyse the situation in order to prevent it from happening again.

Propose an alternative: if you can't say no, propose a substitute solution, delay it, or suggest another person.

Don't give in: don't be shaken by an insistent person. Be clear and firm. Repeat your refusal for as long as necessary.
Summary
What's to be learnt from this chapter?
That it's important to give yourself goals so that you can measure your progress and move forward.

That it's better to say no if you're not in a position to meet the request properly.

Working autonomously doesn't mean working alone. Don't hesitate to ask for help if necessary.