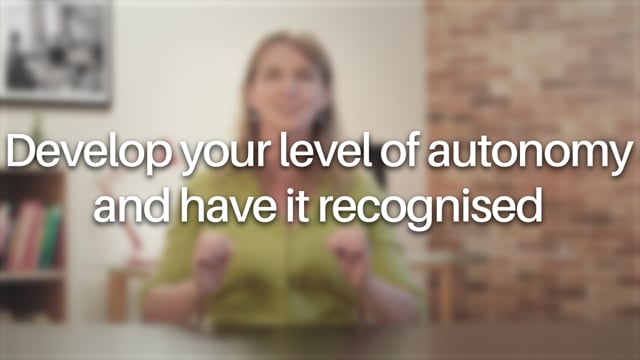 Well done for completing the first two parts of your journey to becoming autonomous!
This is probably the most sophisticated part of your learning, as it concerns how to use your interpersonal skills to work comfortably and productively with others. It's more complex because you are working with other personalities, level of experience and autonomy and group dynamics. Be aware of your role and influence in a group or collaboration, as well as that of others, and decide on the technique needed to get the best results for your project.
Develop your level of autonomy and have it recognised
You've launched yourself. That's it, you're an autonomous worker! That doesn't mean that you no longer work with others. All professional people are, at any given moment, in a relationship with others in their working environment. For instance, the artist has clients and suppliers. The postal delivery worker has a manager. The private doctor has patients and the health authorities. The director of a multinational corporation, with shareholders, must account for their activities to their board of directors. More importantly, your professional identity is built upon communication with others, both face to face and digitally.
Nurture your relationship with others, and not just within the framework of a business relationship. It's the key to sustaining long-term activity as an autonomous worker!
Agree on your own needs for recognition
Establishing a high-functioning relationship requires you to be conscious of your own level of self-affirmation (a subject we addressed in Part 1 Chapter 3). It's what will enable co-operation in your relationships at all levels, and is what strengthens self-confidence.
A shared vision is what makes a working team function.
For example:
You'll probably be able to collaborate well with another person if you both think that it's important not to mix one's private and professional life. You'd then organise your work so as not to impose constraints of that type on the other person.
What you expect of others?
In order to work autonomously with others, Will Schulz says that you need to agree on three points: inclusion, control and openness, which we will now look at in more detail.
Inclusion
This is the need to feel that one belongs to a group, to be integrated into it.
In an "autonomous" activity, the work can be carried out in project, participative and collaborative modes at a distance or face-to-face. You can choose to share the work (you do the first part of the job, your colleague deals with the last part) or the responsibilities (you provide the relationship with the client, while your associate provides the back-office work).
We each have a need for consideration, respect and a place in the team. You are perceived through the way you communicate and share information, act spontaneously, and also the confidence you exude. The cohesion of the project depends on how you relate to others.
Your need for inclusion will make you express (more or less explicitly) the rules of the game that you expect of others. The less you clearly express your need for inclusion, the more you risk a negative response from the others.
That's the case, for example, when you agree to jointly lead a meeting only to find that your role is to take notes and not to lead. If you have a strong need for recognition, you could get frustrated by not having been able to speak and being relegated to the background. Either you accept the rules of the game, or you express your need clearly.
As autonomous worker, your need for consideration will be permanently challenged as teams form and dissolve according to activities. Be aware of your team's work culture and ask yourself if you really want to work with it, or not. The more you feel at ease, the more risks you will take. And don't hesitate to clearly present your needs to the others.
Control
This is the need to feel recognised by the others as competent, and to be able to act on what happens within the team.
To this end, you need to feel that each person's role is clear, and that the contributions of the team members are defined and shared. You also need to feel that the role aligns with the perception you have of your talents and the talents of those who work with you.
Don't underestimate that need, and don't move too fast in determining your contribution and that of others. You could have a major clash if you perceive things differently. Ask yourself three questions which will clarify your thoughts: Am I confident? Is the other person (or the team) competent? Does the other person (or the team) see me as competent?
When a group forms, the rules can be jointly defined. Come to an agreement with the others about each person's place, the roles, assignments, organisation, what will make you succeed together etc. It can sometimes seem like a waste of time but is really time invested for the future!
Openness
That's the fact of feeling appreciated by others as a person, over and above the professional role.
This is expressed through your openness with others; having the time and opportunity to share your difficulties and your fears in a climate of listening to your peers. It's also about being able to step out of the professional framework with confidence.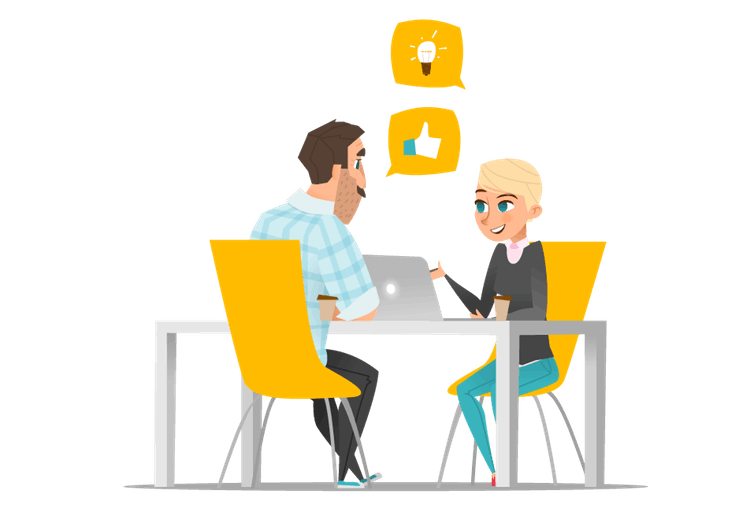 When teams are permanent, affinities arise and dissolve over time. When working with temporary teams, it's not so simple to develop this ability to open oneself to others. Be clear with yourself about your need for openness. This is for yourself, but also to be a help to the others. The collaboration will be all the more effective.
If the phases of inclusion and control have been well conducted, the team will be able to deal with any conflicts.
Develop your skills to strengthen your capacity for working autonomously with others
It isn't enough to want to be autonomous. You're going to have to overcome, develop and strengthen that skill. You're going to have to invest of yourself to get the autonomy you want. The more autonomous you are, the more you'll be able to develop your professional skills. Your work organisation, with the tools introduced in Part 2, will be your lever for developing yourself.
The following two skills approaches are useful in exercising your autonomy:
1 – The others must let you act as you want to. This latitude will be greater or smaller according to the activities you conduct, and according to the perception others have of your level of expertise. If you're acting as a contributor on a file, you must adapt yourself to the conditions imposed upon you. The capacity to innovate will be restricted.
This is the case with the architect whose client has very precise expectations, a defined schedule and predetermined materials to use. There is little room to manoeuvre the client expects exactly what they asked for. In another situation, an architect may have an exacting client whose expectations are more concerned with quality exposure to sunlight and space management. The architect in this situation has more freedom (nonetheless, within a certain limit, including that imposed by the budget).
2 – In order to act autonomously and take the initiatives you want, you'll have to implement strategic skills that will allow you to increase your room to manoeuvre and get your skills recognised by the people you're dealing with. These skills (coming from the works of Perrenoud), will enable you to defend your autonomy:
Knowing how to identify, assess and take advantage of your resources, rights, limits and needs: your capacity to clearly see your level of expertise and to position yourself clearly within a team.
It's not that simple to objectively assess your skills. If you can step back adequately, you'll manage it. If not, ask people you trust to help identify your strengths and areas for development.
Knowing, individually or in a group, how to form and conduct projects and develop strategies: project management has become a common usage, you'll have to adopt the right level of knowledge and tools to pilot projects (retro-planning, working brief, expression of need etc.).
This skill is useful when you're co-ordinating assignments that involve several people or working on projects that present challenges.
Knowing how to analyse situations, relationships, force fields: your understanding of the issues and the interpersonal games involved, and for which your view and overall understanding will make the difference.
Your clients are either individuals or collectives who work together. You have to identify how they collaborate, the ties that unite them, the actions that bring them together and more to determine how to act with each of them.
Knowing how to cooperate, act jointly, participate in a collective, share a leadership: it's your capacity to create a link with the others that will enable you to act confidently, take risks and develop your autonomy skills.
You need to listen while bringing the others together on the subject you're responsible for; to respect people individually and collectively; to respect each person's limitations, while keeping your discretion to decide and your room for manoeuvre. This is such an important skill!
Knowing how to build and lead organisations and systems of collective action: acting for yourself is one thing, making others act is another. Experience tells us that all the players won't have the same vision (openness). Knowing how to manage your client is an art, just like managing your boss.
Sometimes you don't have the reporting relationship to make things happen. This skill will be all the more useful to you. Let's say you're a developer and your client needs to check a system compatibility. You'll need to ensure that your principal does the necessary steps within the given timescale and that the information gathered is really what you need (without ruffling any feathers).
Knowing how to manage conflict: there's no relationship without the risk of conflict. If you want an autonomous job to avoid interpersonal difficulties, you need to develop this skill.
Knowing how to draw up rules and use them: safeguarding working relationships. You need to know how to set, negotiate, and keep rules. This applies to you as well. It can be more difficult when working from a home as a freelancer.
It's up to you to specify the rules of the game: "I begin working at such and such a time," "I allow myself some personal time on Friday," etc. and then have the self-discipline to keep them. As an autonomous worker, you are under no constraint, except perhaps that of client satisfaction!
Knowing how to construct negotiated instructions across cultural differences: it's not just about developing international relations skills. Working environments are different and can include artisans, large national corporations, family businesses, associations, etc. There are some examples where the codes are not the same.
Work environments vary from a bank branch, an agricultural cooperative to a cultural association and the people within them don't act the same way. It's up to you to bring the people together, whatever their initial environment, on the subject that connects you. 👍
Train yourself!!
Strengthen your autonomy and develop your skills through experience or by learning(what you're currently in the process of doing).
You can follow the course Learn how to learn, which will give you additional tools.
As an autonomous worker, you must train yourself independently. Become aware of your deficits because you need to know how to do things and act on them.
Should you get more training? Ask yourself the questions:
Can I take action and learn by doing?
Do I need a training course to be able to launch myself on a particular action?
Sometimes there isn't a choice like technical fields that require specific knowledge. For example, to write a computer programme, you need to know the basics of programming. It's impossible to start without this knowledge.
With regard to know how, everything depends on the level of expertise that's required of you, on the margin of error allowed, and on the time you have to train yourself.
For example:
If you're organising a meeting for the first time for an easy going audience who expects you to organise debates, it's possible that your listeners will fill the various roles of meeting organiser if you don't fill them (time management, reporting, refocusing the debate etc.). However, if you find yourself facing a demanding audience that expects you to have mastered the art of conducting a meeting, then perhaps it would be better to train yourself before launching into it.
You will learn from the situation if you take the time to sum up, take stock of your strengths and areas for improvement.
The questions to ask oneself are as follows:
What did I do with difficulty?
What are the results obtained?
What would I have obtained by acting differently?
What do I need to bear in mind for the next time?
This last analysis makes an experience a learning one. If possible debrief with someone who was present. Then you can check your perception with that of the other person.
Here again, if you have a bit of time available, you will certainly find a training course that suits you. But that's not always the case with the autonomous worker, who has to be responsive.
If you need training, negotiate your deadlines to incorporate the time you need. You'll feel more comfortable with what you do!
You'll find many online and reasonably priced training courses. If you want to participate in a face-to-face course, i.e. at a training centre, then the question of cost needs to be considered.
According to your situation, you can (or can't) get total or partial funding from your training funds manager. Look into it. Conditions differ according to your status, but also according to the type of training, its duration, its organisation etc. In all events, plan your application in advance.
Your training will be your autonomy's continuous improvement tool. Develop your knowledge and you'll become "unconsciously competent".