Before looking for an internship, job, or embarking on another course of study, it is essential that you define your career plan.
What motivates you? Where would you like to work? In what kind of structure? What type of activity would you like to do? What skills or assets do you already have? What do you still have to do before reaching your goal? What skills do you need to develop? These are the kinds of questions we will help you to answer here. The answers you come up with will play an important part in defining y‌our career plan.
What is a career plan?
The concept of a plan is generally associated with a goal, a strategy (or plan of action) and the means and resources necessary to helping your plan advance according to the planning schedule set in advance.
In terms of a career plan:
Your objective is the targeted career.

The strategy corresponds to the plan of action that you need to establish in order to obtain your objective.

The means and resources refer to the time (and money) you will need to spend in order to achieve your objective, as well as your studies, qualities, and skills, and your network of contacts, who may help you reach your objective.

The planning schedule corresponds to the various actions and steps taken over time.
A career plan is personal in the sense that it corresponds to your motivations and goals for the future and your professional life. However, it should be realistic (reflecting the reality of the job market) and achievable (with regard to your abilities and expertise).
What is the purpose of a career plan?
Developing or defining a career plan will:
Provide a meaning to your studies, motivate you and give you confidence;

Help you to be more efficient in your job search by targeting the sectors of the market and opportunities that correspond best to your training and skills;

Help recruiters or potential employers understand who you are and what your motivations are, thereby guiding you towards a job that suits your interests and abilities;

Enable you to decide more easily and more quickly your choices in terms of further study/jobs;

Provide you with an overview or roadmap of the steps and actions to be taken in achieving your goals.
Defining a career plan, ok… but how do I do it?
What steps should I follow as part of my career planning strategy?
A career plan is something that is defined after careful consideration of your desires, tastes, ideas and interests, and an evaluation of these in terms of the reality of the job market.
Below, we outline the process in four easy steps: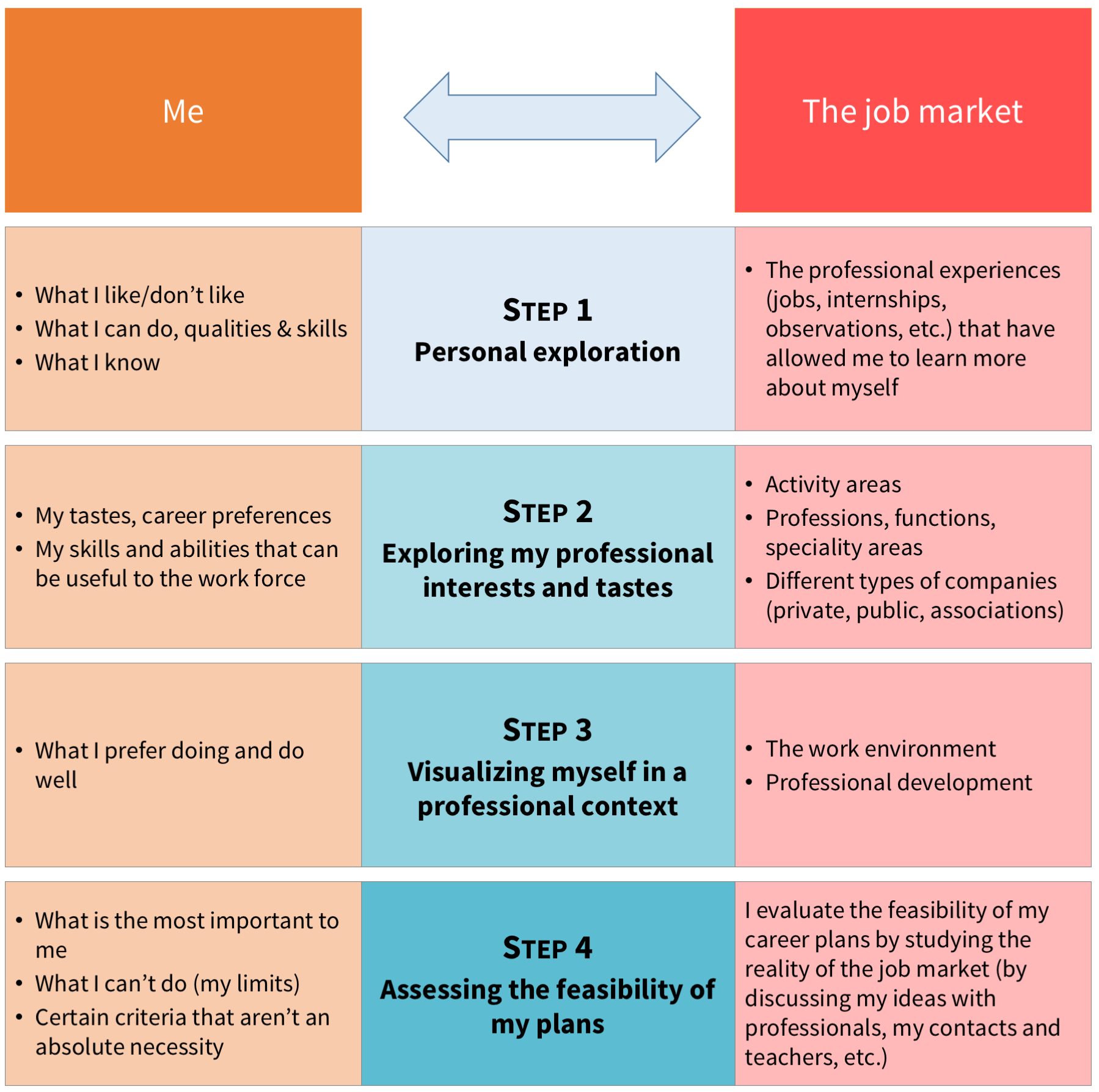 The first step consists of personal exploration

The second step consists of examining your professional i‌nterests and tastes

The third step consists of visualizing yourself in the professional context

The fourth step consists of assessing the feasibility of your career plan
Step 1: Personal exploration
Defining your career plan starts with looking at who you are and the type of person you would like to become. Think about your interests, tastes, skills and talents. Think about how these could be put to use in the current job market. Are there any opportunities that match your interests and abilities?
In order to discover who you really are, you should ask yourself the following questions:
What do I want to do in 5 years' time, in 10 years?

Who are the professionals I admire (teachers, family members, public figures, etc.)?

What do I like? What don't I like?

What is important to me? What are my values (money, helping others, the common good, etc.)?
Below are some ways to help you find the answers to the above questions:
Feedback from your entourage (how do others see me?)

Experiences (work experience, volunteer work, clubs and societies, travel, books, etc.)

Meetings with networks of professionals, teachers, career guidance counsellors, etc.

Personality quizzes and aptitude tests, workshops, etc.

Interview with the career guidance counsellor at your university or establishment.
To help you get to know your personality better, it is often a good idea to participate in student clubs and societies. These are an ideal place for you to express your ideas, to test your capabilities and limitations, to work as part of a team, to discover personal and collective responsibility, and even to manage or oversee a project or event.
The same applies to any individual or collective experiences you may have outside of university: event planning, budget management, etc.
Think about your research projects, thesis topic and papers … all of these may provide further clues about your interests and tastes.
Finally, it is a good idea to take stock of your skills. To help you identify your skills, have a look at the course Taking stock of your skills.
Over to you!
Use the mind map below to jot down your initial ideas and experiences. A mind map is a visual representation of your ideas and actions yet to be taken. The easy-to-read layout allows you to have an overview of the content in one quick glance.
Download our model and use it to get inspiration to create your own mind map. Fill in the bubbles with your key words or ideas. You will be asked to return to the mind map as we progress through this path.
Step 2: Think about your professional interests and tastes (what job/sector appeals to me?)
Now that you've thought more about who you are, it's time to explore your professional interests and tastes, and consider these in relation to the opportunities that exist on the job market. Your professional tastes refer to the interest or attraction you might have for a certain job, function, or sector. In order to discover what you like best, you need to explore the job market.
In order to explore the job market, you should:
Endeavour to gain as much experience in the workforce as you can: work experiences, internships, student jobs, group projects within a company etc., are all good ways of coming to grips with the reality of the job market. If you are interested in doing an internship, have a look at the course Making the most of your internship for advice on the steps to follow.

Go and meet professionals and ask them questions about their career/sector and/or go to forums or job fairs to meet companies (see the course Discovering the job market and keeping track of job postings and news for tips and advice).

Do plenty of research on the Internet (read about the job news in a particular sector or activity area, jobs of the future, promising fields, etc.).
If you already know what sector or type of structure you would like to work in, fill out the mind map below. If you are still unsure, or are uncertain as to the exact nature of the tasks and responsibilities connected to a specific career, have a look at the course Discovering the job market and keeping track of job postings and news to help you fill out the map.
Step 3: Visualize yourself in a professional context
The workplace consists of several components: the work environment, management style, the level of expertise or specialization required for a certain job, opportunities for career development, etc. All of these dimensions will have an influence on your work on a daily basis. Therefore, it is important to think about these when you are defining your career plan.
For example, working as a lawyer specialized in social law for a consulting firm or large company is not the same as starting out as the young assistant to a HR Manager. Therefore, you need to ask yourself the following questions:
Do you need to broaden your skills or make them more specialized? Are you targeting a large group/organization or a large consulting firm? (a law firm, engineering firm, etc.)

Do you need to identify with a brand or a recognized name? Have a look at well-known firms!

Do you need the support and structure of a company with its own decision-making policies in place? In this case, it may be best to look for work with large, structured companies.

Do you enjoy flexibility, pressure and creativity? Then, you should consider start-ups or start-up style companies, smaller structures, the smaller-sized branches of a larger group, SMBs, or why not try opening your own company?

Do you prefer autonomy? Try smaller structures.

Do you want to put to use your customer service skills in the public sector in a structured environment? The public service may be the right fit for you.

Do you like to work in the field, travel regularly and enjoy meeting clients and collaborators? Or do you prefer working in a traditional office environment?

Do you want to work overseas? Depending on your country of choice, the professional opportunities may not be the same as in France or other countries, so it is a good idea to carefully consider your options before following this through. Have a look at the course Improving your knowledge of the international job market.
In order to help you anticipate the future, you should also think in terms of career plans: 'if I choose this career, what opportunities exist for career development?' For example, you might decide to begin your career working in a marketing role in the retail industry before moving towards a position with a brand label, before ultimately moving into the specialized distribution sector where you could apply some of the techniques and skills you learnt while working in the retail industry. Or, another example: you would like to open your own tax consultancy agency but you wish to find an initial experience working as a tax expert in a company. What is important in terms of the evolution of your career is that there is a common or guiding thread. It should allow you to be able to answer the following question: 'what is the liaison or connection—which may be understood by someone other than myself—that exists between my current position, my last job, and what I want to do next?'
Exercise: Fill out another section of the mind map
Step 4: Assessing the feasibility of my career plan
This last step encourages you to ask yourself the following question: is my career plan realistic (does it reflect the reality and opportunities of the job market?) and achievable (does it take into account my skills and limitations?).
In order to discover whether your career plan is a realistic one, you should check the following:
is the career/sector that interests me in a healthy condition, or is it under threat (textile, printing industries, etc.)? Observe the changes that are taking place on the job market, what are the promising fields or professions? (consultancy roles, caring professions, IT, etc.).

the current situation and outlook for this particular job/sector in terms of the job market.
To help you with this, have a look at the course Discovering the job market and keeping track of job postings and news.
To find out if your project is achievable, you should:
have a look at the ideal candidate profile for job adverts for your sector/career, and see if they are recruiting people with your level of experience. Remember: you should be at this level of skill and experience at the time of applying for the job.

Be honest with yourself and ask yourself the following questions: right now, what are my capabilities and my limits? What would I be willing to give up or do without, if necessary? Does my profile correspond to the professional demands and requirements of the targeted job? Do I have the knowledge and ability to achieve my goals? If not, how can I do this?

Think in terms of a 'career plan'. Let's take the example of Julia, 22 years old, with a Masters in Communications, who is looking for a job as a communications manager in an agency. This position requires at least five years' experience. In order to be considered for the position, Julia needs more experience. To cut her teeth, she accepts a position as communications assistant for a project with an agency. She gains in experience and skills, and gradually moves into the role of project manager. After 2-3 years in this role, she can now apply to jobs for a communications manager. Thinking about your career development will help you define the stages in your professional advancement.
Exercise: Fill out another section of the mind map
Congratulations! You now have a first draft completed of your career plan or plans! Now, how can you put it/them into action? Have a look at our other courses for tips and advice.
‌
This course was developed with the support of: