What is a business model?
Business models are conceptual and describe the value that the business creates for customers, how it delivers this value, and how it captures value through making profits. A business model is a set of the necessary elements required to describe how a business organizes itself at a very high level.
Examples of business models include:
Freemium: where a free service is available but with certain limits only removed for customers who upgrade

Multi-sided platforms: where companies like eBay or AirBnb connect buyers and sellers on a platform

Subscription: where a service like Netflix is available usually on a recurring monthly subscription

Razors/Blades: where a core product like a razor is given away cheaply to generate sales of high-margin blades (we see this with printers and printer ink also)

Advertising: where sites like Yahoo! create valuable content to generate page views which can be sold to advertisers

Crowdfunding: where a user elicits contributions from his contacts and the platform takes a cut

Many more
What is a business model canvas?
Business model canvases are a great tool that allows you to create a one-page summary of a business model's key elements. The lean canvas requires concise information since the entire business model must be entered into a single page. Consider the following benefits of completing a single-page, lean canvas:
Facilitates discussion: There is only one page of space available so only high-level information will fit. It is therefore excellent material to prompt meaningful discussion.

Acts as a checklist: Filling in each box will make sure that you do not overlook any key business model elements.

Supports ideation: Each canvas should be completed in a 15-20 minute session, doing your best to complete what you can so it is an ideal tool to support the ideation process.

Encourages focus: If it proves impossible to complete a section, then that section requires more work before you have a complete business model.

Identifies assumptions to be validated: If you are sketching a canvas for a new idea, then everything you write is effectively an assumption. Completion, therefore, gives you a list to validate.
Types of business model canvases
There are three types of business model canvases that have been proposed by different practitioners. It helps to study each one.
The first business model canvas was conceived by Patrick Staehler.

The second is the business model canvas by Osterwalder and Pigneur.

The third is the Lean Canvas by Ash Maurya, which is the one you will complete in later lessons.
The Staehler Business Model Canvas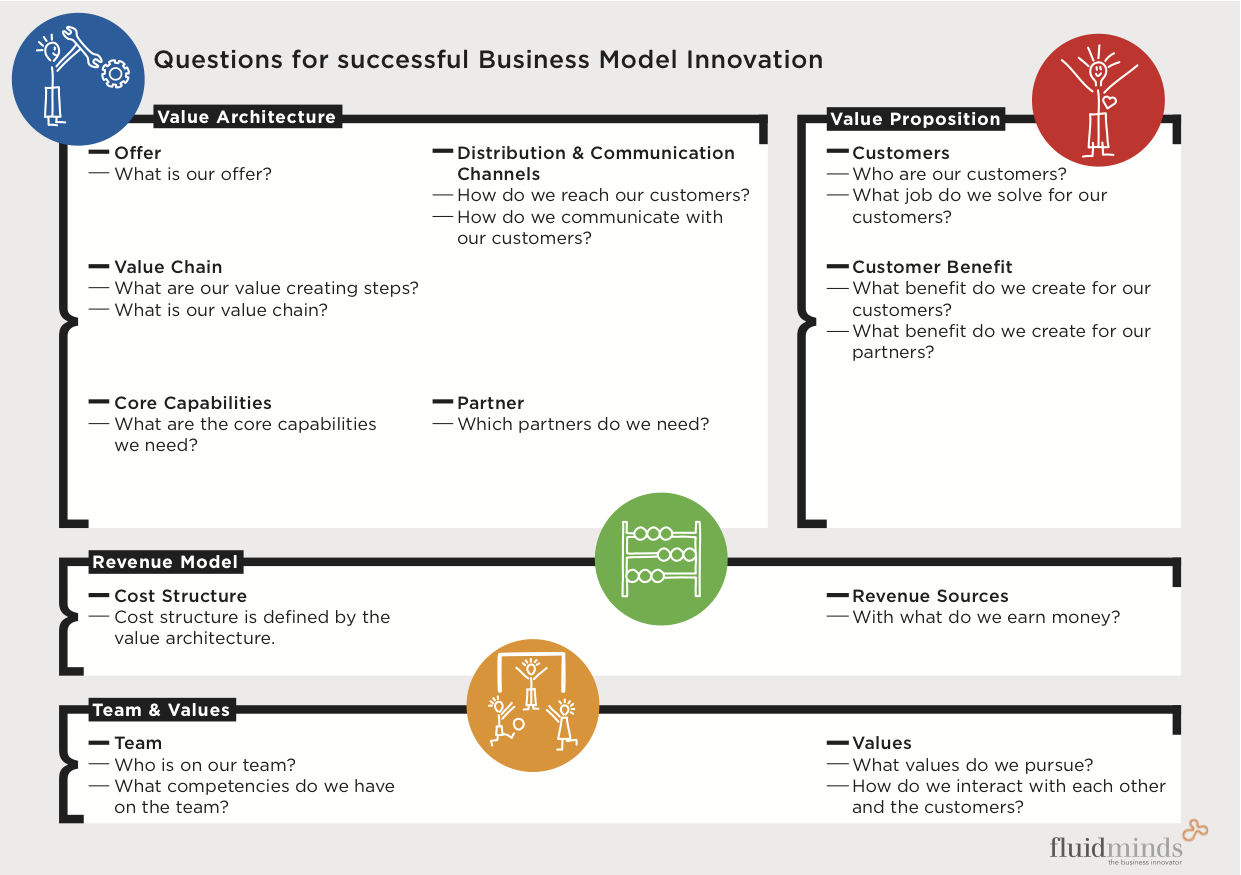 Notes on Staehler's canvas:
This canvas is the only one of the three to contain a section on team, culture, and values.

Value architecture shapes which dimensions of value you choose to add, remove, enhance, or reduce in your offer to customers. For example, Cirque du Soleil is not a regular circus: operatic music, dramatic lighting, and scenes are added while animals are removed from the typical circus experience.
The Osterwalder & Pigneur Canvas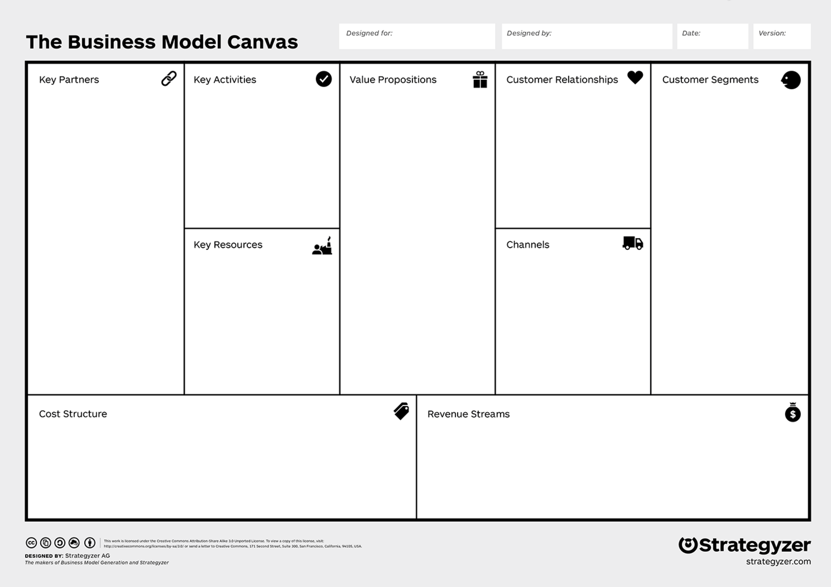 Notes on Osterwalder & Pigneur's Canvas:
This canvas appeared in the popular book Business Model Innovation.

This canvas contains fewer elements than Staehler, using more simple language.

Culture and team are omitted from this canvas.
Ash Maurya's Lean Canvas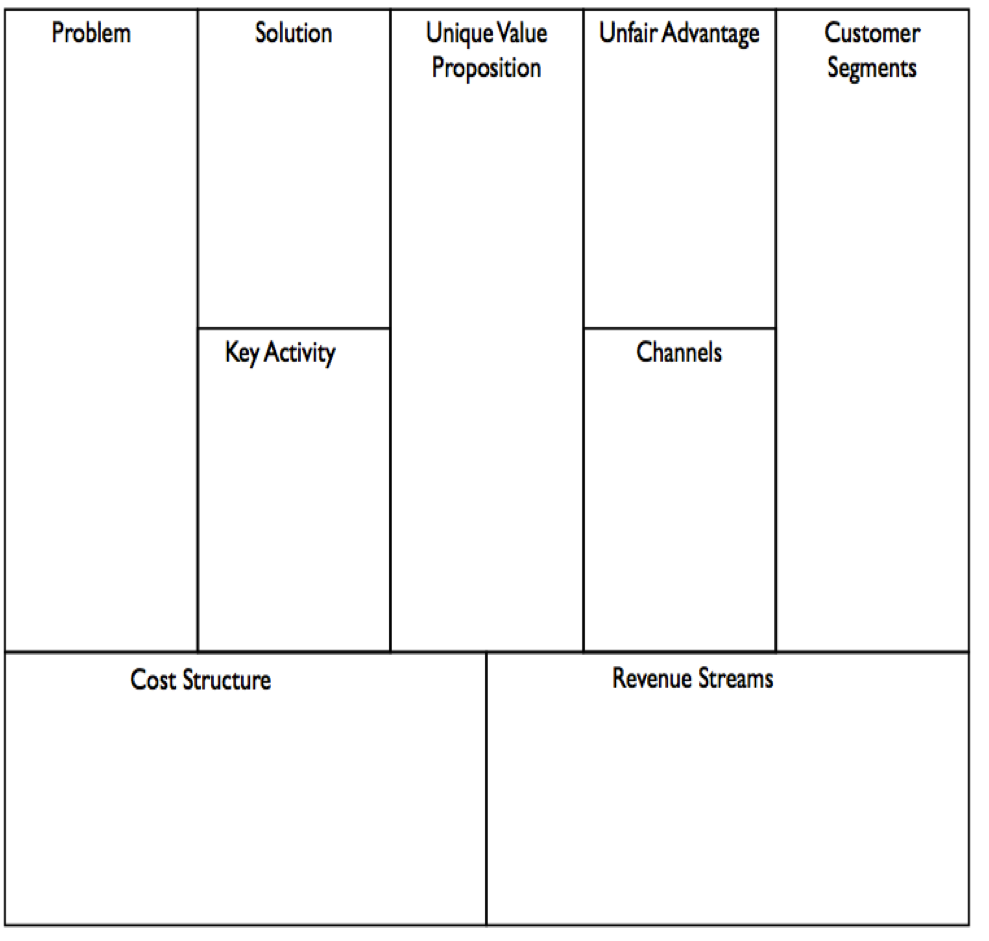 Notes on the Lean Canvas:
This canvas is often favored by product managers, as the concepts of problem and solution are popular in product management circles.

The addition of an unfair advantage lets the user specify what is unique about their proposed business model. It's something that would be difficult to copy tomorrow even with a lot of money (e.g., brand strength, a large community of users, a special algorithm).

This canvas can be filled-in online and then saved as PDF, which is useful for distributing to team members via email, etc.
Let's recap!
A business model is conceptual and describes the value that the business creates for customers, how it delivers this value, and how it captures value through profits.

The benefits of sketching a business model for your idea is that you can identify which areas of your plan are the weakest or which assumptions you are making that you may want to validate.

There are several different types of business model canvases. It's good to be familiar with them all, but we'll use the Lean Canvas as it can be completed online and is ideal for online companies and startups.