 Workshops can be exciting and inspiring. Part of the challenge is maintaining the learning momentum within the workshop as well as keeping energy and efforts moving forward. At the end of the workshop, schedule time to share work, reflect, and plan the next steps.
Share your work
We can all learn a lot from others. Building in time for teams to share their work is valuable. It depends on the structure of your workshop, but consider 30 minutes to be the minimum time needed. When you have only a few minutes to pull together your thoughts, key issues come to the forefront, whether it's lessons learned, what failed, or what you'd try next.
Sharing in the context of a design thinking workshop is relaxed, casual, and not highly structured. Think about "show and tell" when you were young. Ask participants to provide a bit of context, talk about what they made, and share a story about it.
You'll find that participants often have a sense of pride in the work they created. From the outside, it may look silly, but those who participated in the workshop will appreciate the process and thought that went into it.
Reflection
Plus/Delta is a valuable exercise that facilitators can use to help guide the conversation at the end of a workshop. The plus side of the chart is where participants share positive takeaways from the day: what they learned, what went well, what surprised them. Delta is Greek for "change." Rather than getting fixated on the negative aspects of the workshop, the goal is to be constructive and consider what you'd do differently in the future. Plus/delta helps focus everyone constructively.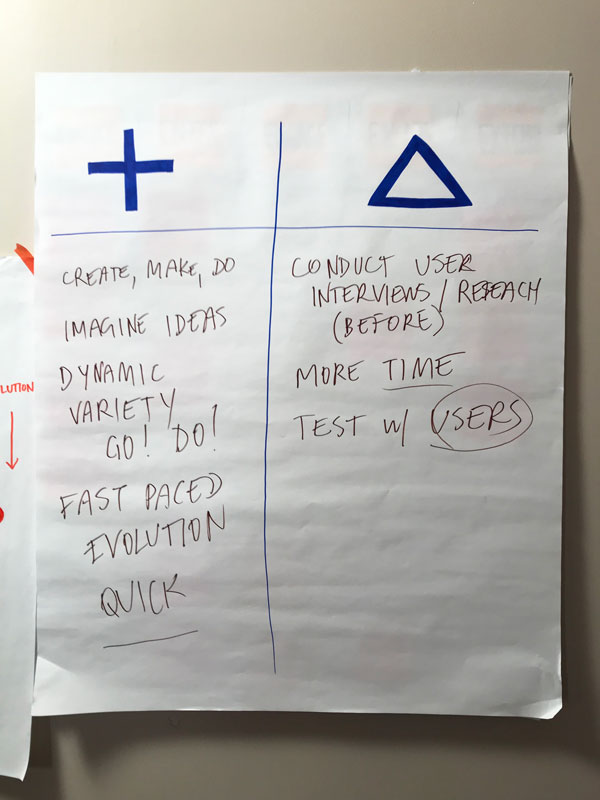 As the facilitator, try to guide the participants. Make sure they're the ones telling you what to put on the chart; remember, you're not the one doing the work. After the experience of the workshop, chances are they'll have a lot to say. Write down all of their contributions, then chime in with anything else you'd like to get the group as a whole to consider.
Next steps
Having a goal, vision, and objectives help shape a plan of action. Use the end of the workshop to have a conversation about actionable steps everyone can take. It will help ensure that motivation stays up and the project keeps moving forward!
Now it's your turn to take these tools, get creative, and see how you can implement them in your own work! Remember, it's all about people, whether you're working with teams or inviting users to be part of the process.