Some people are more comfortable talking about themselves than others. But being able to talk about yourself and your experience is part of the equation for getting hired. To land your dream job, you need to be able to tell your story beyond what appears on your résumé or CV.
Your story can be what drives the client or employer to hire you over any other candidate. If you all have the same experience, what makes you stand out? What can you bring to the company that is unique? The answer to this question is like more simple, and straightforward than you realize, but it may not be so obvious to the person looking to hire you unless you help connect the dots for them.
When people are looking to hire you, yes, they care about the quality of your work, but they also want to hire someone they want to work with. They're hiring a human, not a robot, and collaboration is key in the design process. If they're spending a lot of hours with this person, they want it to be someone who they can work with and know will do good work.
Craft your story
Another way to think of your story is the "about" page or section of a website or portfolio. Regardless of the format—PDF, website, or online profile—consider how you are going to present yourself to the audience. Remember, they may be discovering you for the first time, so now is time to capture their attention, and make a good first impression!

Telling your story doesn't have to be long. In fact, challenge yourself to keep it to a (short) paragraph or two. (Some mystery is OK. 😉) When it's too long you risk putting the audience to sleep! Believe it or not, writing succinct is often more challenging.
Pull together ideas
Working through your story or about page can be challenging. You may want to start with a mind map to make sure you cover the key ideas you want to communicate. Get messy when you do this and figure out how to draw connections and associations between your experiences that you may not have considered before.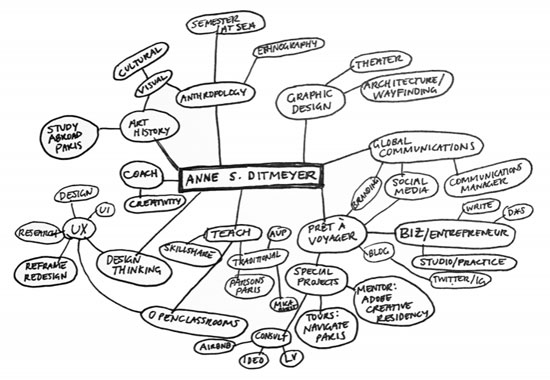 Consider how you can recombine concepts, ideas, and tell the story that best reflects the work you want to get hired for. Some past experience is more relevant than others. If you're submitting a résumé, you want to consider what new information you can present or tie together, rather than repeating everything the reader already knows.
Write the text
As you work through your text, consider talking about your background or where you grew up if it plays a role in the work you do today, your interest in design (but be specific, consider the moment where you realized you want to be a designer), where you find inspiration, or the approach you take in your work. Consider what makes you unique. If you have worked in a completely different industry before becoming a designer, you may want to use this as opportunity to connect the two for the viewer. What superpowers did you gain that you bring to your current work? These differentiating factors will help you stand out.
Sharing your story doesn't have to be deeply personal. Some people will choose to be more personal than others. However, sometimes telling too much personal information may turn off the person reading it. In addition to looking at the about pages of designers, consider looking at "artist statements." These often can be longer, but they are a way artists help frame the reason and why behind the work they're creating. There's no set rule on how to write your summary statement, so do what you can to make it feel like it reflects "you."
Like any work, the true test comes from showing what you've written to others. Find some trusted peers or colleagues to run it by and ask them for feedback. You're keeping it short, making it easier to get quick feedback. Often these statements are a work in progress, so don't be afraid to keep refining how you describe yourself and your work. A revision will make it stronger. It's not set in stone and can be updated at any time. You also want to adapt it depending on the role you're applying for.
Let's recap!
Storytelling is important for helping your experience resonate with the people who will hire you.

It's important to have a bio or about page so clients or hiring managers can better understand what you do and connect with you.

People want to hire people they enjoy working with.