You know your market - and your objective is clearly defined: you need 167 orders per month worth an average of €100 over the first year. 🎯
Now how will you achieve it? How will you acquire a competitive advantage?
Focus on What Makes You Unique With a SWOT Matrix
Wherever you're competing - in business, playing a game, or on the sports field - a winning strategy capitalizes on your strengths and exploits the weaknesses of your opponents. This strategy allows you to take advantage of opportunities and not buckle in the face of a competitor's threat.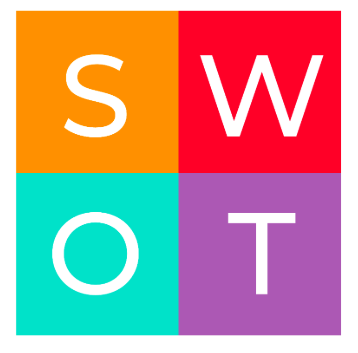 As you may have noticed, the name of this analytical framework is yet another acronym.
SWOT stands for:
Strengths: your organization's competitive strengths or advantages.

Weaknesses: where your organization is weak. Your competitors can turn your weaknesses to their advantage.

Opportunities: what opportunities you identify in your market. These could be situations, trends, or conditions.

Threats: changes and obstacles that threaten or compromise your competitive advantage - or your entire business.
Take these factors into account when you create your strategy. It takes discipline, but it's crucial that you complete a SWOT analysis and review it regularly.
For practice, take a few minutes to create a SWOT analysis for Mimine. You'll find that, based on your understanding of the market and your unique perspective, you'll identify points that others won't. Some may see a trend as a threat, while others will see it as an opportunity.
This is how I see the situation:
Strengths

Weaknesses

Low margin

Volume of production

Opportunities

Top of the line

Gift idea

Health and environmental impact

Threats

Ready to wear

Second-hand

Little Woude
A creative strategist can turn weaknesses into strengths and threats into opportunities. They don't view the grid as set in stone - but instead, moving parts. Be a creative strategist.
Integrate Your SWOT Analysis Into Your Marketing Strategy
You can draw some conclusions from this strategic analysis. You'll then incorporate them into your strategy. And what better place to do that than in your marketing mix?
If you don't remember hearing about the marketing mix, don't worry; review the first chapter in Part 1. If it sounds familiar, but you're still not quite sure, here's the diagram again: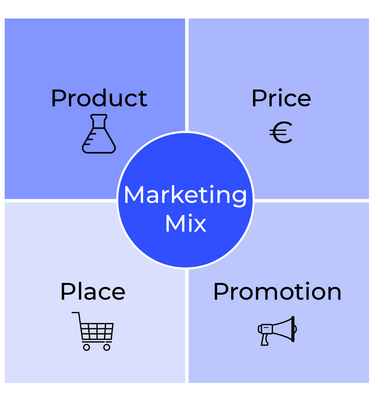 Let's see how well you remember the four elements of the marketing mix: 👏
Another way to lock something into your long-term memory is by putting it into practice.
So let's do just that and build a marketing mix for Mimine.
Before I show you how I approach it, take a blank piece of paper and think about how you'd create one yourself:
Create a four-square grid on a piece of paper.

Give each quadrant a title that matches each marketing mix element (from memory if you can). 🏅

In each quadrant, put keywords that describe your strategy. Don't worry about proper grammar or spelling.
Using keywords instead of phrases will help you to write down and adjust your ideas quickly. If you need to share them with other people later, you can develop your table in a little more detail as part of a second step.
Product
Mimine offers scalable handmade children's clothing.
In our market study and SWOT analysis, we identified several opportunities to modify the product:

There is potential demand for a more upmarket product than those offered by Little Woude, Mimine's direct competitor. In their design, Arthur and Zoë may want to improve the quality of clothing rather than cutting corners to save money in the short term.

On the other hand, there's a demand for an eco-responsible product. You could suggest Arthur and Zoë use only vegetable dyes - which could be help the marketing pitch.
Price
Do I have to be cheaper than my competitors?
Price is only an indication of the value of a product. If your price is high, you are indicating that it's valuable.
Positioning Mimine as high-end, handcrafted clothing would justify a 20% higher price than Little Woude. It would offset the higher production costs while remaining within the typical customer's budget. Remember that the persona, Leona, has a budget of €480 per year.
Distribution
To grow my business, should I try to open as many points of sale as possible?
You don't need to have multiple points of sale if you don't sell mass consumer goods, which is another strength of digital marketing. If you can channel your customer base to a single site, then a single point of sale may be sufficient. That said, it's worth exploring whether you can achieve your goals by using existing sales platforms that already have customers.
Arthur and Zoë love the idea of having an online store. But before they invest in developing an e-commerce site, you could advise them to see if there is a demand for their products by selling on other platforms.

For example, they could start by creating a crowdfunding campaign on Kickstarter or KissKissBankBank. If the campaign reaches its fundraising goal, it'll show that many people are willing to pay for Mimine products. Since the donors can receive clothes in exchange for their donations, you can position this as a distribution channel. The American clothing company Betabrand uses such crowdfunding tactics. They even allow users to have a say in what's designed! You can check out their website here!

Etsy is another distribution channel, potentially more sustainable than a crowdfunding platform. This e-commerce site aims to be "the global community for handmade items." In exchange for a 3.5% commission on each sale, they allow creators to open an Etsy store and reach up to 24 million consumers. It's minimal risk with massive potential - especially since the mass-produced products won't be on the site. ✌️

If Arthur and Zoë see an opportunity to have physical stores (or even pop-ups), they can look into them. However, they shouldn't actively explore that option at this point.

At launch, they will distribute the products on third-party platforms. If they do well after three months, you could suggest starting an online store. In the meantime, they can buy the Mimine.fr (or Mimine.com) domain name and start a blog to talk about their brand.

Three options for developing an online store could include:

Hire a developer: if they are successful and distribution becomes a central part of Mimine's business, it might justify having someone in-house (or a freelancer) to create and modify the store.

Hire an agency to develop the online store: if they are successful - but not enough to pay for an in-house developer's services, they could hire an outside agency.

Develop it themselves: if the two previous options are not possible, Arthur and Zoë can create their own site using one of the many tools available for people without a technical background.
Once I've developed my store, how do I attract customers to it?
Promotion
There are several possible available tools and techniques to promote Mimine's products. Some are free, others paid.
Mimine could start with:

Direct promotion on Etsy.com.

Marketing content: on a blog or perhaps even sewing tutorials on YouTube.

Community management on Facebook, Instagram, and Pinterest.

Regular email marketing with the first customers.

If Mimine creates an online store, they could also boost sales by trying:

Online advertising on Facebook Ads and Google AdWords.

An infomercial on sites that typical customers visit, such as www.elle.com.

Database rentals to reach young parents.

Automating customer relationship management using CRM software.
Let's Recap!
In this chapter, you learned that a good marketing strategy is not tied to the perfect product. Instead, it's about addressing the targeted audience.
You can find the right balance by:
SWOT analysis, making it possible to identify strengths, weaknesses, opportunities, and threats.

Integrating the SWOT results into the initial marketing mix: product, price, placement, and promotion.
So far, you've learned to plan your efforts with clear goals, a market study, and an optimal strategy. The next chapter shows how to translate all of this into an action plan.