Define Feedback
Imagine the following situation:
You're in a meeting with several members of your team, and you're presenting a project about a new piece of software or a new IT process for your company. During the meeting, you notice that one of your internal clients (the person this project is actually aimed at) has been looking at their phone a lot and has not heard a lot of what was said. You want to talk to him about it at the end of the meeting.
But how should you go about bringing this up?
Situations like this happen all the time - colleagues talking amongst themselves during a presentation, a person who says something out of turn during a meeting, a colleague who gives poor feedback, spelling mistakes in an important email, etc. - and you must gradually deal with them.
Because if you don't deal with these situations, not only could the problem get worse, but your contact/colleague may be upset if you mention it after a long period. Dealing with such situations is part of being service-minded.
And yet, it's not always easy to give feedback about something that didn't go the way you planned. But despite your reluctance - due to a feeling of being wrong, a fear of upsetting people, a fear of damaging the relationship, etc. - giving feedback is essential.
So what does giving feedback mean?
Interestingly, this definition means you give feedback to everyone, no matter their status or role in the company or outside of it. As long as your feedback is well thought out and comes at the right time (we'll get to this in a minute), then you can feel free to give feedback to your boss, your customers, your company's CEO, etc.
By the way, executives/managers in companies with a pyramid-style structure often appreciate getting feedback because only very few people dare to give them an honest opinion.
Although the benefits of giving feedback are quite obvious, it's worth going over them: feedback allows you to be seen as an honest person and as someone that people can trust. Giving feedback is a key part of being service-minded.
Give Feedback
Let's look at how you can go about giving feedback to reach an objective: helping the person to improve (or, at least, to realize what impression they are giving people) while ensuring that you don't damage the relationship.
There's no one-size-fits-all ideal way of giving feedback, especially when it's negative. It will depend on your relationship with the person, how they feel on the given day, and many other things that you won't be able to control.
However, you can ensure that you prepare well to give feedback by focusing on certain points: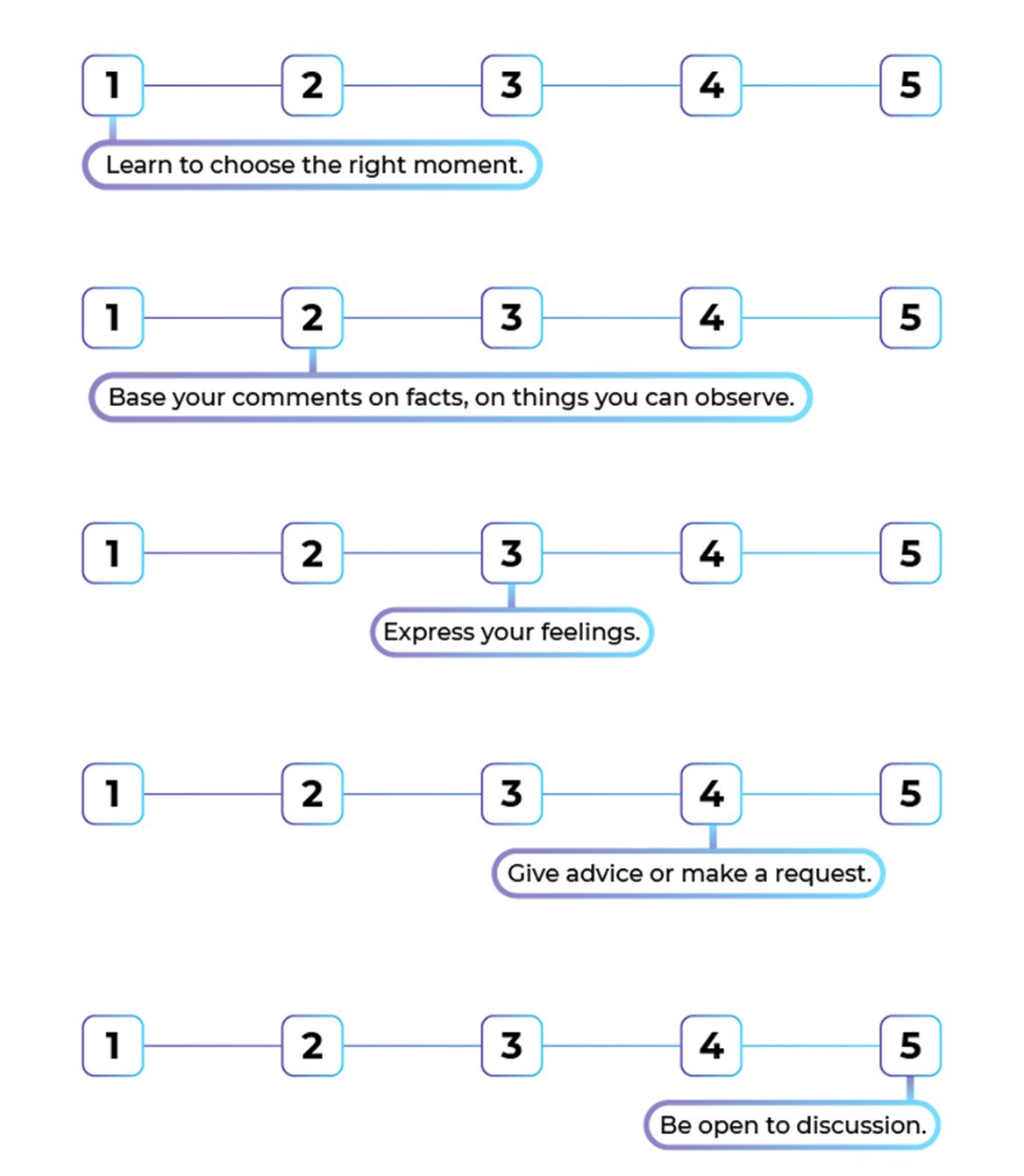 1. Learn to choose the right moment.
It's not always the right time to give someone feedback, even if you think it's essential to do it right away. Once when a colleague behaved inappropriately (my opinion) in a meeting, I called to give her feedback about it on a Friday evening when she was on the metro. It didn't go too well!
2. Base your comments on facts, on things you can observe.
Even if you have the best intentions, if you don't have any facts or anything concrete to back up your argument, then the other person may quickly start justifying their actions (making it harder for them, and for you, to move on). Therefore, you should outline facts to the person, such as an example of a task that they didn't complete on time.
3. Express your feelings.
Take inspiration from nonviolent communication and the work of Marshall Rosenberg. Learn to express your feelings and the consequences the observed behavior has had on you both internally (on your feelings) and externally (practical disturbances, delays, etc.).
4. Give advice or make a request.
In the fourth phase, you have two options that can be used in parallel:
To give the person advice.

To make a request regarding your future relationship (linked to certain needs).
If you choose to give advice, ensure that it is as concrete and as practical as possible.
You're trying to help the other person and doing them a favor, so your feedback should lead to something they can work on. If necessary, explain to the person why your advice will be beneficial to them.
For example, suppose you're giving feedback to someone who interrupts people when they're speaking. In that case, you could outline the benefits of letting people speak: improved relationships, understanding with others, and better listening skills.
If you decide to make a request of the other person, make sure that you express your need for change and outline the feelings the previous behavior caused.
5. Be open to discussion.
To ensure you don't leave the person stuck behind a closed door (especially if you want to end by giving them advice and not by making a request), then make sure you open things up for discussion by asking a question like:
"What do you think? How do you feel about this? Is this OK for you?"
To go back to the example at the beginning, you could say something like:
"Mr. A., do you have a minute? I'd like to give you some feedback about this morning's meeting."
If the person says "yes," then continue. If they say "no," then ask when would be a good time to discuss it.
"I noticed that you looked at your phone four times during the meeting and, to be honest, your attitude disturbed me, especially given that you're one of the key people for the launch of this piece of software. At the next meeting, could you please refrain from looking at your phone during our presentation? It would help ensure that everyone hears 100% of the message. What do you think?"
Over to You Now!

Think of a situation (a past situation or something that is ongoing) where it would be in the best interest of your contact person to give them feedback and fill out the table in your workbook:
When would it be best to ask if the person is free to hear your feedback? What happened (learn to look back through your notes and memories to get as detailed a picture as possible)? How did it make you feel? How do you still feel about it today? What advice would you like to give or what request would you like to make of this person?
Ask for Feedback Regularly
On a visit to the Airbnb HQ, Sheryl Sandberg, the COO of Facebook, was asked the following question:
"What's the number one thing you look for in someone who can scale with a company?"
She answered:
"Someone who takes feedback well. Because people who can take feedback well are people who can learn and grow quickly."
As Sandberg says, it's essential to know how to take feedback well, even (and most importantly) when the person giving it does so in a clumsy manner. Giving constructive feedback is a challenging exercise, and only very few people have learned how to do it by completing just one (admittedly high-quality) OpenClassrooms course. 😉
But on a more serious note, when someone gives you feedback, you should:
Thank them!

Highlight the useful aspects of the feedback and how you will use them in the future.

Encourage the person to give you their feedback again in the future.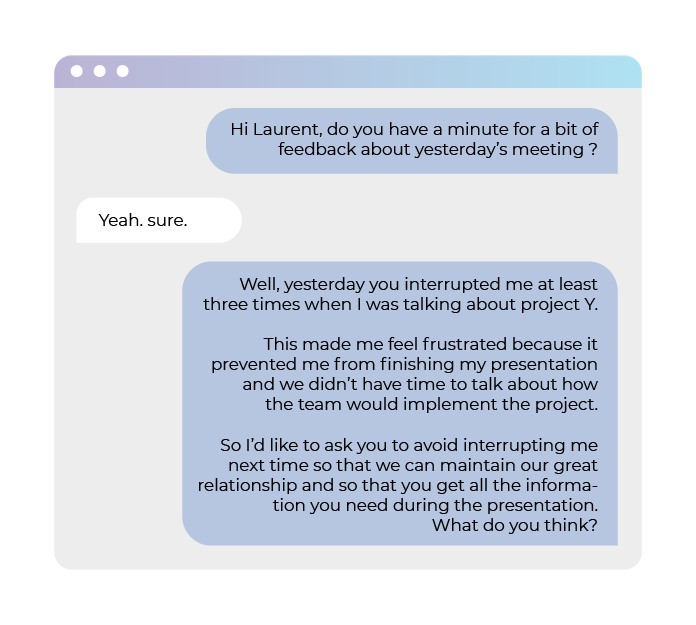 We have looked at how to give and receive feedback. But take a look around you. How many people are willing to give you regular, honest feedback? In my experience, such people remain the exception, not the rule, because it is not part of our culture: did you ever wonder about the quality of the teaching when you were in high school or even when you were at university? Neither did I!
Unfortunately, if you don't ask for feedback from your business contacts (internal clients, managers, IT users, colleagues, suppliers, customers, etc.), you'll keep making the same mistakes that you could have corrected if you knew you were making them. You will thus provide less quality service to those around you.
How do I ask for feedback from my business contacts?
By choosing the specific point, you'd like to get feedback on (there's no need to open Pandora's box if you just wanted feedback on the presentation you gave yesterday).

By explaining how useful such feedback would be to you in your professional development.

By thanking the person in advance for their feedback, showing that you trust their analysis. You should also reassure the person if necessary.

Ask questions such as, "What did you think of this specifically? How did you find my presentation? What do I need to work on?"
Over to You Now!

Choose three people in your professional life and think about what you would like them to give you feedback on. Write this down in your workbook.
Let's Recap!
Giving feedback is a key part of becoming more service-minded: it's one of the only ways you can really improve.

Prepare your feedback: focus on factual aspects, express your feelings, and give the person clear advice (or make a request).

Knowing how to take and ask for feedback is as important as knowing how to give it: always remember that being service-minded is a two-way street, and it's mainly about building up the level of trust in a relationship.
Now that we've looked at objections and feedback, you're ready to tame most of the stormy situations that can arise in the workplace. But let's keep sailing into the eye of the storm and look at how to say "no" when things aren't working anymore, and you need to adapt the working relationship.