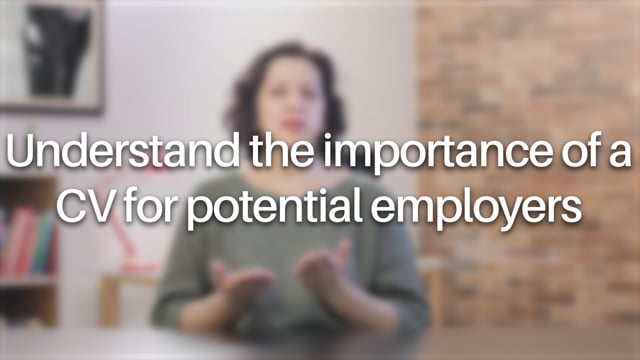 The purpose of your CV is to earn you an interview. Remember, you are writing your CV for your reader. A recruiter spends about two minutes reading each CV, so it's important to get it right! As you write your CV, keep the reader in mind and put yourself in their position; keep it short, to the point and most importantly, interesting.
We will adapt specific sections of your CV in detail in the next chapter. For now, let's look at an overview of makes up a CV:
Use a purposeful structure and order of information in the various sections of your CV.

Choose original, clear and persuasive writing when presenting information.

Choose an appropriate format for the document (refer to the checklist below).

Showcase your professional achievements and responsibilities of each role, and match your experience with the job description.

Highlight your personality, your organisational abilities and your ability to collaborate. Enable the reader to discover your personal attributes when writing your career objective.
The following section covers elements of your CV in detail via a comprehensive checklist. It will help you not only meet the challenge ahead of you, but also succeed in drafting a CV that provides a maximum amount of information in a minimum amount of space.
CV checklist
Once you have a general draft for your CV, put it to the test with the checklist questions below. Why not print this checklist and check it against a copy of your CV?
What if my CV doesn't address these criteria yet?
Don't worry, we're only in the first chapter! Feel free to edit your CV as you go through the questions, and we'll go into more detail about writing, optimising and adapting specific sections in the next chapter. It's a good idea to return to this checklist each time you adapt your CV for a new job application.
Personal details:

Is your name in bold at the top of the page?

Have you included your address and telephone number to be contacted easily?

Is your email address included?

Are your personal details in line with your address?

Is your nationality and work permit situation clearly stated?

Career objectives:

Is your first objective no longer than three sentences or four lines, including years of experience and industries you have previously worked?

Does your second objective clearly define what you are looking for, what value you would bring to the organisation you are applying and your future career plans?

Have you mirrored key words from the job advertisement in your objective statements?

Have you concentrated on achievements and examples of skills and competencies as per the job advertisement?

Have you included relevant experience?

Structure and layout:

Have you divided your CV sections clearly? Are your headings clear and either large or bold so that all information is easily navigable?

Have you used bullet points to describe roles you performed?

Ensure your CV formatting is tidy when moving onto the next page. You don't want potential employers or recruiters to lose a page when printing your CV!

Have you listed employment in chronological order?

Have you spell-checked your CV, both grammar and punctuation?

Are your fonts consistent throughout? Is it easy to read?

Have you adapted your CV to the position you are applying?

Education:

Have you included qualifications and grades?

Have you listed your most recent or important qualification first?

Have you listed relevant projects to include?

Have you stated equivalent-to-international qualifications?

Have you received any scholarships or awards to demonstrate relevant skills?

Interests:

Have you listed and explained positions of leadership (e.g. student representative, team captain, etc.)?

Are your personal details in line with your address?

Final Check

Is your CV arranged to draw attention to the important information?

Is your CV ideally no more than 2 pages long?

Have you confirmed there are no gaps in your work history?
Last question to ask yourself:
Now you're ready to have a deeper look into maximising the chances of getting your CV noticed and read by specific recruiters, as well as optimising your CV's four main components. It's time for you to shine!