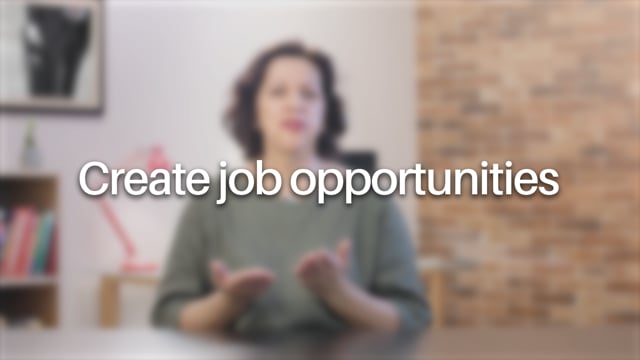 Don't wait for opportunities to come your way - go out and create them!
Career expos
Technology and digital changes in today's job market means there is an expectation for candidates to interact with recruiters, agencies and hiring managers digitally and efficiently.
However, there is still a 'hidden' job market out in the real world - and it accounts for a significant number of employment opportunities!
Be visible. Meet employers, recruiters and professionals by attending job fairs, recruitment events, Chamber of Commerce events and trade shows.
Upcoming career expos all around the UK
Bring copies of your new CV with you!
Youth Employment UK – lists career fairs and job-related events. (2018 events)
Job Fair Events – free for job seekers to attend; speak with potential employers face-to-face, register for jobs and attend a mini-interview on the day.
CV Library - various recruitment fairs hosted across the country, up to two events per week! (2018 events)
Job Fair, London – apprenticeships, student positions, summer jobs, tech jobs and graduate recruitment for free within London.
Graduate Career Fairs – with 508 active graduate schemes, jobs and internship opportunities throughout the UK, you definitely should be able to find a graduate position in London, Manchester or Birmingham.
Take a look at how many career expos are happening in the UK - surely, there's an event near you!
Make the first move
Research a company that you're interested in and find job vacancies directly. Find out the name of the right person to contact, such as the hiring manager who is in need to fill the vacancy. Should you not be able to find them, send an email or contact the company by phone and ask.
Taking the initiative to approach an organisation is another method in creating opportunities. Whilst they may not be currently recruiting, an opportunity may arise in the future! 😎
Explore freelance opportunities
A huge fraction of the economy is accounted for by freelance and gig work today. Whether or not short-term, seasonal or freelance contracts are your end-goal, keeping an open mind to such opportunities will not only provide some income, but will undoubtedly give you opportunities to develop new professional skills, expand your professional network and open the door to surprising opportunities.
Stay informed about the job market and stay employable
While searching for jobs, be sure to stay updated on the ever-evolving job market. Is there a job out there that you haven't even heard of before? You're likely to overlook opportunities in your job search!
Don't have the right experience yet for the position of your dreams? Take a course to upskill and to upgrade your credentials. Identifying steps you need to take in order to become a qualified and competitive candidate for your next job may become an essential to your job search.
And let's be honest: for one reason or another, it's not unheard of for skilled workers to find themselves at a dead-end. Sometimes the best way to create new opportunities is to change direction and re-train yourself in order to become qualified to work in new positions, even new domains.
We've covered a lot already - time to take a step back and make sure you're staying organised!