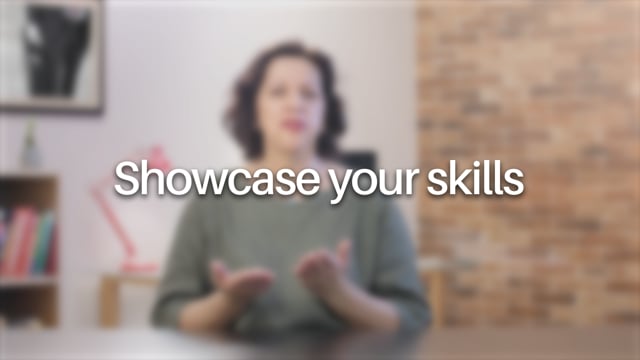 You've written four key sections of your CV. We've covered much ground but haven't completed the process just yet!
Next, we'll discuss personal branding and why it's important.
Personal branding
Your personal brand is the way you portray yourself and the impression you leave with others. It is crafted and cultivated to stand out around your name and career, the 'trademark' you leave behind of the way in which you express your emotions, passion, values, skills, personality and how you talk to others.
How to build your personal brand:
Be yourself: Your own style and uniqueness will shine in your organisation, in your social networks, in your CV and at an interview. So, be who you are and do what you believe in.

Identify with 'who you are': Be comfortable with the person you are; be that person every single day! People will be attracted to you and want to be with you.

Persistence & patience: Building your brand takes time yet communicating your message in the long-term can help you carve your brand throughout your job and career.
Why is it important to build your personal brand?
A better job, career or being recognised for a promotion are some of the rewards of having a strong personal brand. A potential employer or recruiter will associate your personal brand with a particular vacant position. This is what separates you from other candidates and you'll stand out.
Highlight important skills to enhance your CV
Enrich your CV with skills that may seem secondary; potential employers and recruiters look for such skills in a candidate, including:
language skills: language(s), proficiency levels, certifications

IT skills: software levels, achievements, certifications

soft skills: your professional qualities, live situations you established such skills, and results obtained
All these skills are a key element of your personal professional brand that will set you apart from other candidates and increase your chances of a job interview.
Foreign languages
In an international context, being bilingual or able to communicate in a foreign language is an asset to any potential employer.
Are you able to:
Hold a conversation?

Write a letter or email?

Read and comprehend the contents of a document?

Conduct negotiations?
What is your level of autonomy for these activities within a professional context?
Include in your CV whether you are at a beginner, intermediate or advanced level in professional contexts. It may be difficult to evaluate yourself, so consider taking an online test. Eurocentres offer free tests in French, German, Spanish and Italian.
Although you may have studied a language at school and may now be at a basic level, you might consider brushing up on your language skills. Free tools such as Babel and Duolingo provide free lessons and activities and can also give you an idea of your level of proficiency.
You may have attended an intense six-month internship, a two-month summer job or a similar activity in a foreign country. It is important to mention such experience in your CV. Potential employers and recruiters will likely be impressed by your ability to personally self-develop. During the interview they may discuss your travels.
Licence
Include whether you have a full, current, clean driving licence and/or your own vehicle, should you be requested to supply such qualifications.
Soft skills
What soft skills do you have to offer? In an ever-changing digital world, it is important to demonstrate qualities that define candidate's behaviour. Whether they're natural or nurtured through experience, or stem from participation in various non-professional projects, sports competitions or community involvement, soft skills provide valuable information about your ability to assimilate and thrive as part of a team or company.
Interpersonal skills, including communication, reasoning and team coordination demonstrate to a prospective employer your sustainability and competitiveness in future years. These qualities show you are open-minded, willing to share, adaptable, creative, ethical, operationally efficient, proactive and have a team spirit and sense of responsibility.
Being aware of your personal qualities and knowing how to talk about them helps market your personal brand. Think about what proof you have of them; when and how did you use these soft skills? Aside from mentioning these in your CV, you will be asked to provide details about them.
Examples of such situations during an interview:
Interpersonal skills: I communicated with management, provided regular updates about the project and achieved the following results…

Leadership skills: My leadership qualities; 'During my four years with company X, I headed a team of six working on our company restructure, which enabled our team to achieve…

Open-mindedness: I worked in a diverse environment with an international team.
Soft skills shine within the achievements you detail when you describe your various roles.
Work permit
If you were not born in the UK, is your nationality or residency status stated? Is your work permit indicated? Make it known of your eligibility to work in the UK.
IT skills
Job advertisements almost always ask for such skills and vary greatly depending on whether you are applying for a position as a software developer, accountant or HR manager.
Depending on the job you are applying, you should include:
Which tools, specifically Microsoft Office – Word, Excel, Powerpoint, and so on

Mention your proficiency level should you be requested to do so

Clearly indicate your ability to manage complex projects
Other relevant skills
Being a scout, summer camp instructor, member of a sport or debate team, volunteer, completing a first aid course or participating in charity events all point toward skills worth highlighting. These skills influence and demonstrate your values, commitments, involvement, leadership, personal development, responsibility, organisation and initiative.
Scholarships and/or awards
These demonstrate to the reader your exemplary academic record. Mention the award and/or scholarship and what they were awarded for: a math initiative, outstanding achievement at school or other details that quantify the achievement.
Professional memberships
List any membership to a professional body or society.
Referees
Have you thought about whether to include referees? You don't need to include references unless you have been asked to. Usually, two referees are sufficient. The first may be academic, the second a previous employer. After working for a number of years, you will be expected to be able to provide referees from previous employers.
Where do you mention these skills in your CV?
Mention skills in the body of your CV where you describe achievements and roles performed or create a special section at the end.
The talents you demonstrate in your CV will not amount to much if you don't create and build an impressive online image of yourself, one that your potential employer will view when they look up your details on social media. Let's optimise your online reputation.