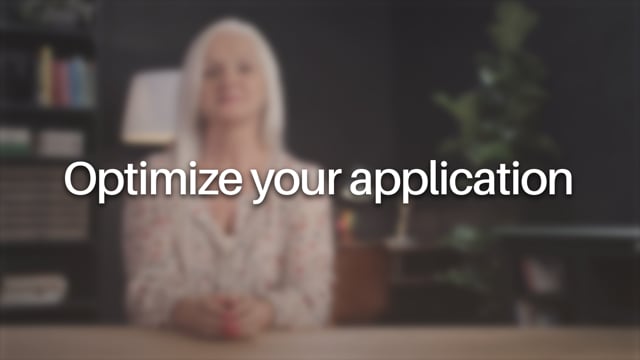 You have prepared everything with the greatest of care. There are a few details left to add – but by no means the least important!
How are you going to conclude your cover letter, meticulously check your whole application to make the best impression and prepare to send it off?
Invest time in the end of your cover letter
Finish your letter correctly to ensure it lives up to all the work you've put in up till now!
To conclude, let's meet
Be engaging but respectful! Suggest meeting; explicitly request an interview.
You're adopting a proactive posture! However, don't be too direct, as the recruiter must not think you are making the decision for him. One simple, effective sentence will be enough to demonstrate your motivation and get this interview.
For example:
"I remain entirely at your disposal to meet, detail my experience and prove my skills and motivation to you to become part of your team."
Choose your letter closing
You'll show the recruiter that you know social codes and the rules of politeness, have good interpersonal skills and an ability to adapt to any work environment. Find appropriate wording to position yourself as a professional in front of another professional whose responsibilities and position you respect.
Ask yourself about the person you're addressing and the company's culture:
What is their position?

Are you writing to an HR director or a trainee? (if you have any doubt, enter their name into Google or LinkedIn)

What business sector is the company in? The closing may be different depending on whether you are applying to:

the HR Director of a major bank

the CEO of a digital start-up

the communications manager for a trendy website

the recruitment manager for a hypermarket
Avoid completely outdated closing statements. To play it safe, be formal- even if the recruiter is the same age or would hold a similar or lower level of authority than you within the company. A quickly forwarded e-mail may appear too familiar to the recipient.
For example:
Common formal closings include "Yours sincerely," and "Yours respectfully,".
Sign your letter
You are strongly advised to sign both your cover letter and the e-mail.
Several options:
Print out the letter and sign it by hand, then scan it and convert it into a PDF

Type your first and last name in place of your signature possibly in a typeface that looks like handwriting, without being too fancy

Use a tool to digitize your handwritten signature and then incorporate it into your message; this tool is included in certain PDF editors like Adobe Acrobat Standard.
Your signature communicates commitment and personalization. It also demonstrates that you are aware of and respect the norms of professionally written communication. 😉
Prepare your e-mail
Help the recruiter in their job and be their ally. They are not there to judge you. They just want to find the best applicants as quickly and efficiently as possible!
It's time to practice your attentiveness to details – it's all too easy to make a poor impression or for your e-mail to get lost and end up not being read!
Your e-mail address
Use an address with a professional format: "firstname.lastname@gmail.com", for example. Reading your e-mail address, the recruiter knows who you are, since your first and last names appear there in a readable way.
You don't want to distract recruiters or give them an overly casual impression by using an email address that has unprofessional references to your personal life or nicknames, such as "corgi4ever" or "mimi80".
Think of the image you want to give the recruiter.
Recipient's e-mail address
Copy the addresses given by your contact or the one included in the job offer. It avoids receiving an "undelivered" notification and having to start over will complicate things. You might be in danger of the recruiter noticing this and coming across as a bit careless.
Specify the subject of the e-mail
The recruiter's job will be a lot easier if you include useful information in the subject box. Given the numerous e-mails received every day, you must provide the key information so that your e-mail is routed correctly, catches their attention, and gets acted on in a timely manner. Using an informative subject line proves that you are an organized person who thinks about others.
Depending on the type of application you make, provide the following information:
The job offer reference: if you are replying to a job offer directly on a job board, via LinkedIn, or on the company's "Jobs" page, use the "codename" of the job offer when applying (often made up of figures and letters). The purpose is to allow the recruiter to swiftly identify the post you are applying for.

The job title: copy the exact title used in the job offer

Your first and last names (especially if your e-mail address doesn't include your full name)

The name of the show or job dating event and the date you met (hence the importance of taking notes)

The name of the person who put you in touch (sometimes you can put them in copy too)
Many professionals use automatic filters to route e-mails directly to particular folders (Customers; Applicants; Spam; etc.). It's important to use the right keywords so that your e-mail goes directly where "Applications" are meant to go.
To do this, use terms that make the sorting out process easier:
Recruiters may use these same keywords in order to filter through their e-mails and find your application again.
Other details
"For the attention of": if the e-mail address is generic (does not give the name of a person) or if you want to contact one person in particular, then you can specify to whom you are addressing this e-mail by adding this line at the very beginning.

Choose an appropriate salutation: write "Hello" or, if you want to be more formal: "Dear Sir/Madam", depending on the person you are addressing.

Add an accompanying message: without repeating your cover letter, you can summarize why you are writing and what you are enclosing with the e‑mail. Be brief and precise. For example, if you are applying for a post as a developer in a small- to medium-size business:
Dear Sir/Madam,

I am sending you my application for the post of "X developer" advertised on your "Vacancies" page. I am attaching my CV together with a cover letter. I remain at your disposition for a meeting in the near future. Thank you for your time and attention.

Respectfully,
State explicitly what you are enclosing with the e-mail; for example, your CV, or even past achievements or a link to your ePortfolio or LinkedIn profile.

Convert each attachment into PDF format. This will make it easier to open and forward files with any type of tool, as the formatting will not change.

Pick a reasonable time to send your application: sending it in the middle of the night risks disturbing the recruiter and may send out the wrong signal. Send it early or late in the day. The best times to read e-mails are when there are fewer phone calls and appointments!
Chase up your application
You've put a great deal of energy into applying. Now, you wait for a minimum of consideration on behalf of the recruiter – and quite rightly so! Ideally, you're hoping for an interview and a job! If not, you'd like to get a timely answer.
What happens to your application?
If the company is well organized, you will often receive an automated receipt for your e-mail and application on the same day. You could also be personally contacted by e-mail or phone within 24 to 48 hrs. This usually corresponds to quite specific situations:
The recruiter is short of candidates and is afraid of losing you.

The recruitment drive is already well advanced and several candidates have been shortlisted; the quality of your CV can't be denied, and the recruiter wants to get you on board!

You have had an initial contact, you know each other, or the person who is recommending you has been very effective!
You can usually expect your application to be processed within a couple of weeks. After that, it's likely that you are not in the first selection. But all is not lost! The recruitment process - contacting the applicants and then meeting them - takes time, and it's not uncommon for multiple rounds of selections to be held.
No reply?
There may be multiple reasons for not getting a reply, which are not necessarily negative for your application:
The recruiter is running behind or has other, more urgent tasks.

A decision has been made to broaden the search if the advert has produced too few applications.

A decision has been made to postpone the recruitment for organizational or budgetary reasons.
How to chase up your application
1. After one week
Chase it up with an informal e-mail. You will send your application again by using "Forward" and adding a short, friendly, polite message of 3–4 lines. 😊
You'll maintain formality in order to show respect for any constraints the recruiter may have.
For example:
Dear Sir or Madam, (if you don't know who is going to read your e-mail)

I sent you my application for the post of XXXXX on (date). I am therefore contacting you to see if you received it. I remain, of course, at your disposition for any further information and look forward to meeting you.

Thanking you in advance.

Yours faithfully,
Michael Smith
(phone number)
2. After a second week
Next step, pick up the phone and call! If you don't get a reply within the next week, the most effective way is to call your contact or the company's human resources department, who will usually be able to give you information.
This is an opportunity to demonstrate professional verbal communication skills that you can't show in a cover letter and CV. You will also be showing the recruiter that you're motivated and know how to overcome difficulties and find solutions.
Carefully prepare what you are going to say; make a good impression and ideally revive your chances of being included in the recruitment process:
Introduce yourself very briefly, and state the purpose of your call: "Hello, I'm First name-Last name; I e-mailed my application to you for the post of xxx on (date), for the attention of (recruiter's name) OR to (e-mail address used)."

Ask a question that will encourage the person you're speaking to to get involved and answer you. For example:

"When can I contact Mr X or Mrs Y? "

"May I ask what stage the recruitment process is at?"

"When are the first interviews due to take place?"
You haven't been accepted?
If the person you're speaking with tells you that your application has not been accepted, stay calm and positive! Ask one or two questions to find out why your application didn't go through. For example: "If possible, I'd like to know what wasn't suitable so I can improve my future applications. What advice can you give me? Thank you very much for your time."
Out of 100 applications submitted, perhaps only 20 or 30 generate phone interviews and 10 of them lead to interviews in person. This is going to depend on several factors:
the quality of your CV and cover letter

the type of job you're looking for; some are very sought-after, others less so

the employment market in your area

your own self-confidence – yes, this can make a difference!

the number of applications you've submitted; the more visible you are in every company, job boards, professional networks, the more chance you have of getting noticed!
It's important to keep your application tracking file up-to-date. That way, when a recruiter gets back to you, you'll have all the information to hand - even a month after you sent in your application!
Let's recap!
You've invested a great deal of time and energy into preparing your CV and cover letter. Be equally vigilant right down to the last detail!