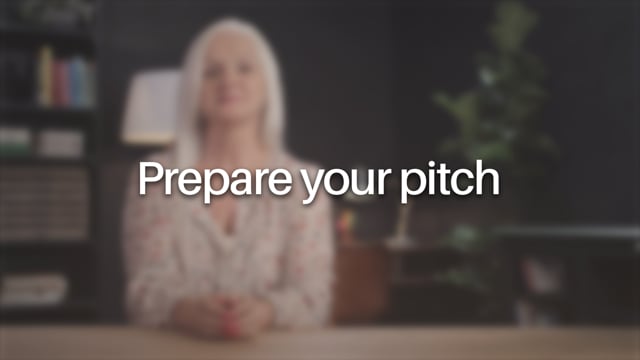 The pitch is a brief presentation of yourself. A smart, effective presentation.
Historically, it has been used as a way for writers to sell their ideas to film producers! They present an enticing story that makes the producer want to hear the rest and convince them it would be a worthwhile film to make.
It works the same way in recruitment. You are the author of the story, and the recruiter is the producer who has to believe in your success and offer you a contract!
Be prepared to deliver different types of pitch
It's your turn now to "pitch" your career. "Use and abuse it (your knowledge and experience)" when you're looking for a job especially when meeting for the first time.
Different occasions will allow you to pitch, and you'll need to adopt the duration of your pitch to each:
A job dating event: you'll have two minutes to present yourself before spending three minutes on questions/answers – then it'll be the next candidate's turn!

A meeting with friends or at work: allow yourself 30 seconds to explain what you do and what you're looking for, making the most of your network.

Visiting a job show: in general, these 30 seconds are useful for grabbing the attention of the person you're speaking to – and sometimes they'll allow you longer because they're interested!

A job interview: three minutes is our reference base.
Let's go a bit further into this job interview and work together on creating your three-minute pitch.
Structure your job interview pitch
Recruiters all want to know if an applicant matches the profile they're looking for.
Making the most of this profile presentation alongside your skills and experience eliminates all their doubts!
Clearly you're not going to improvise! This brief presentation has to be prepared in advance.
This pitch must not exceed three minutes. Why? After that, the recruiter's attention wanes, and they risk not retaining all the information. You must select relevant information that directly impacts the job.
You'll mainly use the work you've already done. The key assets you've identified within your experience will be essential here! The recruiter wants to hear your story – but first and foremost they want to know your strengths. Your pitch will focus on the experience, skills, and qualities required for the job!
For example:
| | |
| --- | --- |
| Criteria present in the job offer | My experience/skills appropriate for the job |
| Your ability to convey technical information at different levels | Company "XYZ": events co-ordination with the regional teams |
| You have a perfect command of French | English/French bilingual, International Client Manager at XYZ |
| A third language is an advantage | B2 level in Spanish |
| You have international experience | Internships: 8 months in France and 4 months in Spain |
Practice writing out how you would pitch these skills and experiences, then say it out loud and continue to edit until it sounds clear, natural and persuasive.
Tagline
Instead of following the logic of your CV, start your pitch with one example of an experience you're proud of, and that is directly relevant to the desired profile. In this way, the recruiter will want to find out more about you and will remain attentive until the end.
This will be your tagline, and will set the tone for your pitch. It must attract the recruiter's attention.
You can either opt for a conventional style, or take a gamble with something more original. Here are some options and examples:
Pick a criteria in the job offer that seems important to you and describe your best experience illustrating how you use this skill.

For example: "You're looking for a specialist in community management on Facebook? Well, for the last three years I've been voluntarily running a charity Facebook page. I currently publish three times a week and have 2000 followers, which enables us to find new donors."

If this option seems rather risky to you, and you're feeling lost for inspiration, then approach the recruiter in a more conventional way and tell them about your career to date, presenting your strengths that relate directly to the job.

For example: "I've spent 10 years doing various customer related jobs in large-scale retail. I'm currently moving toward being a developer. I've obtained my diploma from OpenClassrooms, and I'm ready to put these new-found customer service skills to use, join your team and provide a quality service to your customers."
Sell yourself using the CAB method
The tagline is not enough; you need to set out all the key assets of your application, without going over the three minutes!
Think ahead and tell them only the essentials of what they need to hear: "in what ways are you the right applicant?"
Remember, you highlighted your assets for the job when you wrote your three-part cover letter. Point out two or three significant examples of experience in your career to date that prove you correspond to the sought after applicant:
Characteristic: What have you been successful in doing? In what way/situation? What are the results?

Advantage: What skill have you acquired? In what ways have you grown through this experience?

Benefit: Which of the company's needs are you going to meet?
For example:
Characteristic: "I've spent 10 years doing various customer related jobs in large-scale retail."
Advantage: "I'm ready to put these new-found customer service skills to use..."
Benefit: "…join your team and provide a quality service to your customers."
Include your winning criteria
Remind them briefly of other assets in your application of which you are proud and would be of importance for the recruiter:
your diploma

your ability to work in English

your mastery of certain tools

your availability
You can adapt to the needs of the job; don't waste time going into detail on these points, it's just a question of reminding the recruiter of them and using them as additional stepping stones to reinforce your presentation.
Stick to a positive dynamic!
Incorporate all the strengths from your application into your speech.
Keep a positive vision of your career to date, your experience, and the ways in which you have overcome challenges.
You need to show the recruiter that you have the resources to be successful on a day-to-day basis!
The recruiter will come back to all that later if they need to know more! Don't forget that as soon as you've finished your pitch, they'll move onto the questions.
Influence the recruiter's questions
So everything you've included in your pitch is the material that the recruiter will re-use to question you and obtain more details about your professional experiences and behaviour.
Choose the elements you're proud to discuss or that you are comfortable with, giving yourself clear, structured talking points!
However, don't reveal all the details in your pitch. This will only arouse the recruiter's curiosity, and in turn, encourage further questions.
End the pitch on a high note
Apparently, people remember the last words said best – take advantage of this! In the final sentence of your pitch, open the possibilities: "The future is ours…"
Summarise using a key element from your application: (an example from your past experience): "With my knowledge of community management tools…"
Detail how you are now maintaining and expanding this skill and expertise: "…and the training in new SEO methods I'm currently following…"
And project yourself into the next phase of your future within the company: "…and I'd be delighted to put these skills to good use on your next projects!"
And then smile! 😊
Just like the tagline, the conclusion is very important. The goal is to make the recruiter remember you, believe in your ability to be successful in the job and want to know you better! Briefly confirm your desire to join the company and express your motivation, your strength of conviction! Yes, we can - together!
Let's look at an example pitch
Context: Nicolas is applying for the job of "Events manager – reception organisation" in a rapidly-expanding start-up specialising in luxury receptions. This job requires substantial experience in luxury events, well-developed salesmanship and willingness to manage a team.
Let's see how Nicolas is going to structure his pitch:
He starts with a Characteristic tagline:
"For five years, I specialised in organising Christmas events for major department stores (like Selfridges or John Lewis) and their top-end clientele."
Then, the Advantage:
"I've worked with a lot of international partners. My manager made me responsible for expanding the customer portfolio."
And the Benefit:
"I like working with this kind of clientele. Last year I succeeded in increasing the annual turnover by 30%."
Now it's time to talk about these various key assets:
"I recently completed an online course in sales management, and have found a tutor to help me refresh the French I learned during my internship in France."
Conclusion: where he sees himself within the company:
"Now, on the strength of this experience, I'd be delighted to join you. My ambition is to move towards team management and lead larger-scale projects."
Get in training
It's essential to get in training and be completely at ease when the time comes to deliver!
Optimize your time
Three minutes is short – but it can also be long! It's important to know what three minutes feels like, otherwise you're going to run over.
Try the following exercise: holding a stopwatch, remain silent for three minutes. That's the amount of time you're going to use to sell yourself to the recruiter.
Also, time yourself when you practice your pitch out loud. This will keep you aware of your timing and pacing. Break the pitch into three stages, each of which should not exceed one minute:
your opening tagline

your key experience, strengths, and additional assets

your closing statement: how you see yourself
Rehearse your pitch like an actor
For D-day, you'll have rehearsed your pitch so well that you now know it by heart.
The aim is not to deliver your pitch mechanically, but rather to feel so comfortable with the script that you'll be able to let yourself go on the day. It doesn't matter if you change certain words at delivery. What counts is to stick to the ideas developed and the timing, to convey the intended message effectively!
Attend as many interviews as you can
The more interviews you attend, the better you'll get at it! It's like everything else: if you practise and experiment, the skill develops.
Apply to many jobs so you can attend a lot of interviews: sign up for job dating events and shows, encounters with employers or recruiters; take part in workshops organised by job centres, regional employment centres, etc.
The more interviews you take, the more comfortable you will be (pitching your career, answering questions, "selling" yourself effectively, etc.) with a recruiter. And when you're not getting experience with an actual recruiter, remember to practise with a friend (or even a mirror)!
Let's recap!
You're nearly finished with this course! You've invested significant work into ensuring that you're ready to communicate effectively to recruiters when you're the right person for a position.
Now get out there and land your next job! 😁