As you have seen, Google Analytics is a very powerful tool for gathering information about your visitors. However, it doesn't show you the exact searches, meaning which keywords they searched for before finding you.
That is why you want to use Google Search Console.
Track the right metrics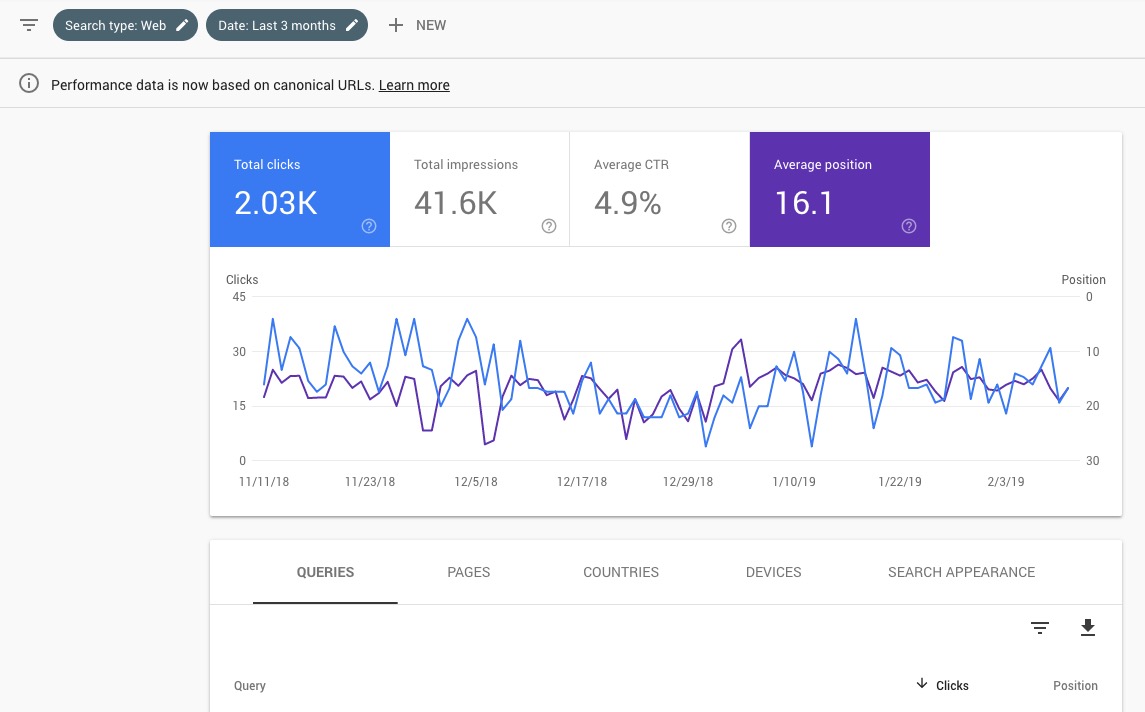 Clicks & positions
The two most important metrics you can track in the Search Console are the number of clicks and keyword positions over a given period of time.
You can not only track the changes in the keywords you found during the research phase, but you can also do so for the new keywords Google has automatically associated with you.
In any case, if you are not in ranked first and have been stuck for several weeks in a certain position, it is either because:
Your content is not as good or is less detailed than that found on the pages ranked first, and therefore, Google considers it less logical.

You do not have sufficient authority (a sufficient number of links) on these topics.
Don't forget that even if you are in first place - 💪 - your work is not done! It is important to keep your content up-to-date so it remains interesting to your visitors, and that you continue sharing it.
Why does my website's position differ in Google Search Console from Google search results?
Remember, Google adapts its search results for each user. The results you see are based on your location, previous searches, and websites you have visited.
Google Search Console shows you the average ranking of your website for each request at a given time. It is not unusual to be ranked differently in Google and the Search Console.
How often should I check?
This depends on your competition. In general, you should notice significant monthly changes. If you are in a very competitive field and already have a popular website, you should be checking weekly. Check your traffic daily with Google Analytics to solve any problems that may arise.
Impressions
This is the number of times your website was seen by someone in Google search results without them necessarily having clicked on your link.
This is less pertinent information. For now, focus on number of clicks, your position, and your click-through rate (CTR).
Click-through rate
The CTR is the ratio between the number of clicks and the number of impressions. In other words, it is the percentage of users who found your title and description interesting enough to click on your link.
This is a crucial piece of information. For example, if you are ranked first but aren't getting many clicks, you should look at your CTR. If it's low, your title and description are probably not very compelling.
Do not ignore errors
In the new Search Console, in the left-hand menu, click on Coverage to obtain a report on the indexing of your web pages. This report shows you whether all your pages are correctly indexed. It also lets you see if there are any errors on your website! As you know, Google appreciates high-quality sites so resolve any issues you find.
The most common errors are 404 errors. This occurs when a user tries to access a URL, but the corresponding page is absent (not found) from your website. This can happen if you made a typo when inserting a link.
When Google follows this link, it will reach a nonexistent page, and return a 404 error. Likewise, if you create a link to a blog post that you haven't published yet, or deleted a page but not the links, then visitors will receive the error message.
It is up to you to find these errors using Google Search Console and make sure you fix them! 🔎
Track changes in the number of links to your site
You can track the number of links to your site in the new Search Console (it is possible to do this in the old version as well, but you should be using the new version) by clicking on Links in the left-hand menu.
You will see a list of external links as well as a list of texts corresponding to the most commonly used links. Check that there are an increasing number of these links, and that they are from quality websites.
Notify Google of significant changes
This new Search Console feature, Fetch as Google, was not available at the publication of this course. If you are using the new version, click Go to the old version at the bottom of the left-hand menu.
It lets you notify Google that it should revisit your website. This feature is very useful if you have made major changes or have improved preexisting content.
Do I need to do this every time I publish a new article for it to appear in the search results?
It is not necessary to use fetch for every new article. It can, however, be useful if your website is still new and you've added pages. This tool does not directly impact how quickly a page is indexed or where it appears among the results. It is only a notification you send to Google.
Recap
Follow number of clicks and your position at monthly intervals.

Track changes in your links.

Notify Google of any important changes.
A few parting words
Well done 💪! You have reached the end of this course on the basics of SEO.
You should now be able to:
Incorporate SEO in an organization's marketing strategy.

Understand how search engines work.

Research keywords.

Optimize your website by following on-page SEO best practices.

Boost your progress thanks to off-page SEO.

Measure the impact of your SEO strategy.
Thank you for taking this course until the end. I am happy to say I also learned a few things while preparing it. I hope you found it useful and that it helped you get started!
If you enjoyed your time here, please feel free to tell others about this course!