Use a Strategy Document
If you are creating your social media strategy, you have to document it to get approval, but it also helps you stick to the plan. 📝
If you choose to go through an agency or a consultant, you'll receive a recommended plan. Write your document in a presentation or text format. Have it start with your goals, then detail your actions to achieve them, and end with the required financial and human resources.
Once you have defined your goals, you can include them in your social media strategy.
We'll refer to it throughout the course. Use it to guide you, step by step, in defining your strategy.
Your social network community brings together a group of people around common interests. It's led by a community manager or by the group itself, by creating and reacting to content.
Your organization can establish a presence on social networks and build a more horizontal and interactive marketing strategy. You'll want to prioritize creating a direct link between your organization and your community. Create your social media strategy toward this end.
Developing it takes time: first, you need to identify and understand your values and brand promise. It's what you bring to your community.
Next, define your strategic, marketing, and communication goals. These will be in line with your values.
Create your social media strategy with a long-term vision building toward a lasting relationship with your community. But it must also allow you to organize your daily actions and use your resources.
Formalize your strategy in a document that you can share with your colleagues and that you can follow. This document is not set in stone! It will evolve according to your experiences and lessons. Remember: it's test and learn!
Let's now summarize your strategy, with the four main pillars of the social media marketing strategy.
Get to Know Your Audience
Define your community profiles and get to know them by immersing yourself in them. Your role is to understand what drives them and how you can catch their attention.

Choose the Right Platforms
Then choose the networks you'll use. It can depend on the platforms your community uses. Explore all of the possible networks, whether general or niche. Test and learn from your experiences and make your decisions!

Create Great Content
What should you post on your social networks? Decide how you are going to engage your community and the content type that you want to communicate.
To do this, structure all of it into an editorial chart that will serve as your guide. It ensures that your content is coherent and helps create a brand identity.
Then always be present in the conversations, ready to lead them and react to the published content.
Get the Timing Right
The editorial calendar is the last element to put in your strategy. It allows you to organize your publication schedule: what you are going to post to each platform and when, as well as who s responsible for validating the post before publication.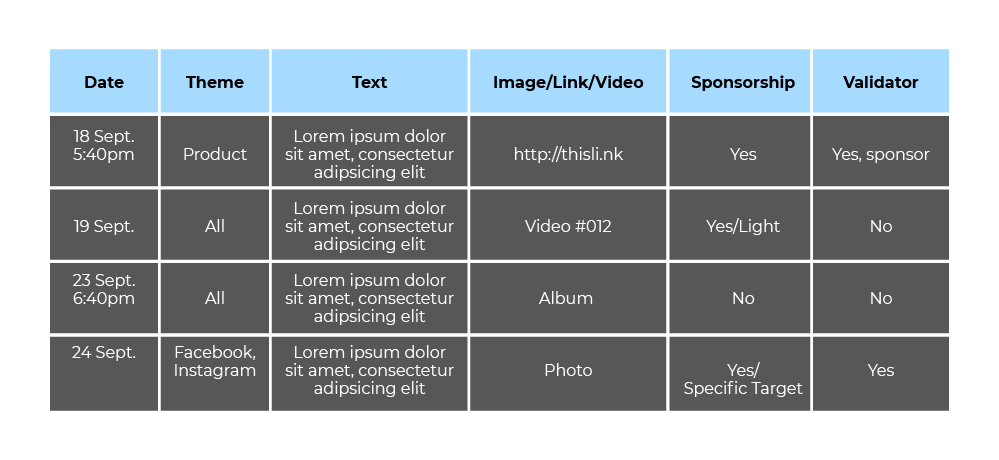 Develop Your Strategy
Finally, measure your performance by conducting regular reporting based on your performance indicators. This vital analysis allows you to track your goals over time and make new strategic decisions.
Let's Recap!
Formalize your social media strategy so you can follow it and share it with your colleagues.

There are 4 main pillars to a social media marketing mix:

Audience. Who is your community? How does it behave? What are its needs?

Platforms. Which platforms are most appropriate for my particular content?

Content. What should I post to best engage my community?

Timing. When would be the best time to post?
You've reached the end of the first part! You're going to create and formalize your social media strategy in the following parts of the course. You'll learn more about the audience, platforms, content, and timing First, take this quiz to see how much you've learned. Good luck!