You have identified your community, know what you want from its members, and what they want from you. But remember: you still have to find them! 🔍
The important thing is to understand which users are on which platforms, what they do there, and whether or not you should develop a presence there. Let's start by looking at "generalist" networks, which are those that attract a diverse population, not limited to a common interest or profile.
Facebook
Facebook has become mass media, a place to share information. Even if more and more people are detaching themselves from it or reducing their activity (especially young people), remember that this is the premier place to create communities, generate exchanges, etc. It's the conversation supermarket. Few people like it, but many go there anyway! Facebook - and its ecosystem - is the undisputed leader in the social media world.
The Facebook Company's products include Messenger, Local, Moments, Boomerang, Layout, IGTV, etc. Over the years, they have also acquired Instagram, WhatsApp, and Workplace. They also have useful marketing tools: Creator Studio and Ads Manager.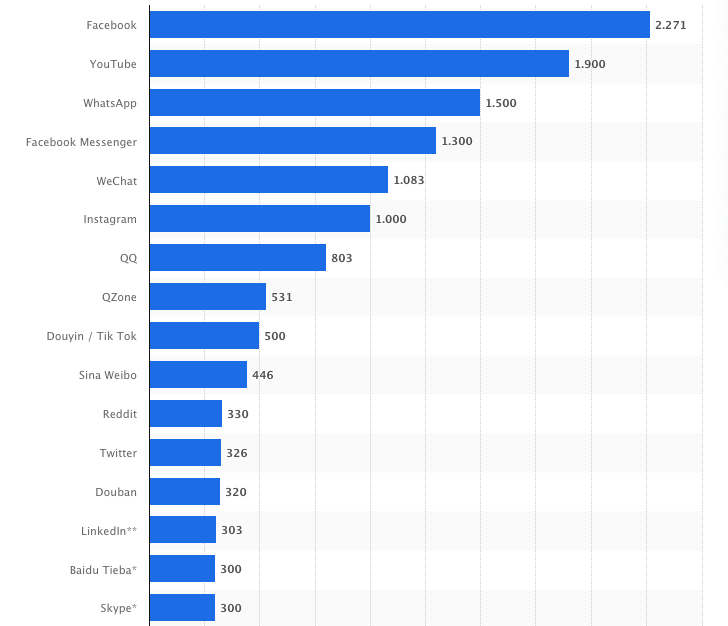 As you can see in the bar graph above, Facebook is a social media leader. Not only is it the most used network, but the company also owns 4 out of the top 6 most widely-used networks.
In the beginning, most organizations gather their community by creating a public Facebook page. In most cases, this makes perfect sense. But if your community is small and engaged, you may want to open a private group, which is a good idea if:
You're in the priming phase. You are launching your product/service and gathering some beta-testers (i.e., some initial users).

You need specific feedback. You open your group to a few trusted people who'll give you free feedback and answer honestly.

You want to encourage interaction within the community. Users, of course, can interact with each other on the pages. But this is done even more naturally in groups.

You already have a community on a Facebook page, and you want to gather certain users into a group. An excellent way to promote your most committed members.
As you can see, even if it is less and less popular in the media, Facebook is still the inescapable juggernaut. It's a potent tool to reach a broad and diverse audience. Unless your goal is to avoid the general public, Facebook is generally a good idea.
Instagram
Instagram has also become an essential network. Anything that you can represent visually (photo and video) has its place on Instagram. Specific themes that profit from a visual platform: fashion, travel, beauty, cars, architecture, and food (catering).
It's a network that has developed a lot since its inception. While it has lost many functionalities, there are two that are still there:
You can't put a clickable link in a caption.

You can't share posts except through unofficial third-party apps.
These features make it an aesthetics and influence network, rather than one of traffic or virality.
Only ad formats can include links. Instagram reaches many audiences, especially working and urban people making it an interesting media purchasing platform with its integrated e-shops. Learn about the network and be careful with the visuals. Don't try to hook viewers aggressively.
You can create content on the spot in Instagram stories (a slideshow of photos and videos that disappear after 24 hours). It requires less care than an in-feed Instagram post. Stories don't need visual perfection.
Instagram is essential: to use only your most popular aesthetic content and don't look for a traffic target.
Twitter
Twitter, meanwhile, is an affinity-based network. You don't just follow your friends; you give your opinion using short posts consisting of 280 characters (vs. 140 only a while ago). This network is more minimalist and immediate. It is the best platform for taking part in debates and reacting to the news in real-time.
It's also a network where simple ideas can quickly emerge through retweeting, giving you exposure to many people. Twitter is also preferred for public relations actions and to reach journalists.
In short, use Twitter, if:
You have strong convictions related to current debates.

You respond to the news.

You have pretty strong messages that may go viral.

You have a strong press/public relations strategy.
As with any network, only use Twitter if you find your community there!
The social blogging tool Medium is part of the Twitter family. It is a space to develop more complex ideas without a character limit. This tool combines both the benefits of a blog and Twitter allowing you to connect with ideas and to people. The live video tool Periscope is also a member of the family.
YouTube
You may not realize it, but YouTube is a full-fledged social network. Content consumers (2 billion) still outnumber content creators (50 million). Making a video takes effort, and not everyone has the capacity or inclination.
However, it's more than just a video host: it has a simple video or channel recommendation algorithm. And it offers a news feed on the mobile application with simple photos (see visual above), allowing channels to announce their next videos.
You can use YouTube to upload your videos, embed them on a site, or host extended versions that you publish to other networks like Facebook, Twitter, and Instagram.
But to take advantage of the power of YouTube, you'll need to publish videos very regularly, so you can develop a community of subscribers with whom to interact!
Snapchat
Snapchat focuses more on the under 25 demographic (they spend an average of 40 minutes a day there!) and women (70% of users). The network is popular in the United States, United Kingdom, Ireland, Norway, Sweden, and Saudi Arabia.
A brand or a subject that concerns them will be well suited for this network. You might have to work harder to get accustomed to the network if you're not already a user. The content is created on the fly directly on the application. So you or your staff have to be ready to set the scene using stickers and filters rather than Photoshop (in advance).
Snapchat acquired the map app Zenly and is now strategically geared towards local users. They offer several exciting advertising formats, especially for events or shops.
Use Snapchat if:
Your target audience is very young.

You can (and are willing) to create content on the fly.

You represent a business and want to create a key moment.
TikTok
TikTok also focuses on the younger generation. Forty-one percent of its users are between 16 and 24 years old, and about 50% of its audience around the world is under 34. Large populations of its users are in China, India, and the United States.
TikToks consist of multiple short snippets stitched together with comments, stickers, and music to create a short, entertaining video. Content on TikTok is accessible on desktop computers but primarily lives on mobile.
TikTok also allows businesses to create advertising campaigns using their self-serve ad platform.
Use TikTok if:
Your target audience is young.

Your product or service is entertaining, funny, or particularly compelling.

You are comfortable creating quick mobile-first content.
LinkedIn
LinkedIn is where professionals network or exchange topics concerning business, the economy, and innovation.
Don't think that LinkedIn is only for meeting recruiters and candidates. This network has significantly developed and brings together many communities in the professional environment.
Use LinkedIn if:
You're geared toward B2B.

You're a professional organization.

You demonstrate mastery of complex subjects.
Other Generalist Networks
There are several other generalist networks. Pinterest focuses on topics such as home decor, architecture, beauty, education, and fashion. Women (71% of users) make up most of this network and have a high income (over $100k per year per household for 40% of users). It's also a network that converts particularly well into purchases. Half of all Pinterest users are in the United States! As with Twitter, relevant content can easily go viral with the right tags and a bit of luck.
Consider also Tumblr, a network with a nice variety of possible formats. It promotes curated artistic content and is a simple platform for blogs, photo series, texts, videos, GIFs, and audio content.
Nothing replaces a test, but it helps to review usage statistics before deciding what your next steps will be.
Let's Recap!
Facebook is still the undisputed leader in social media.

Instagram is all about visual identity.

You may or not need to be on Twitter, depending on your business.

YouTube requires a lot of effort but could be worth your time.

Snapchat and TikTok are more recent but powerful for reaching a young audience.

LinkedIn could be relevant if your content covers topics concerning business, the economy, and innovation.
Now we've covered generalist networks, let's look at examples of niche networks and what to consider before creating an account for your business on one of them.