The global pandemic has increased work-from-home and online conferencing, so it is common to need a PC set up for this. If this is the case, make sure the PC has the audio and video (AV) capabilities to join a virtual meeting or display a presentation.
We have already considered a speaker system for the PC, so now let's look at the other items needed for interactive participation.
Choose a Webcam
The most popular webcams clip or balance on top of the PC's (primary) display, which puts them at a good height for most purposes. The connection to the PC is almost certainly going to be USB.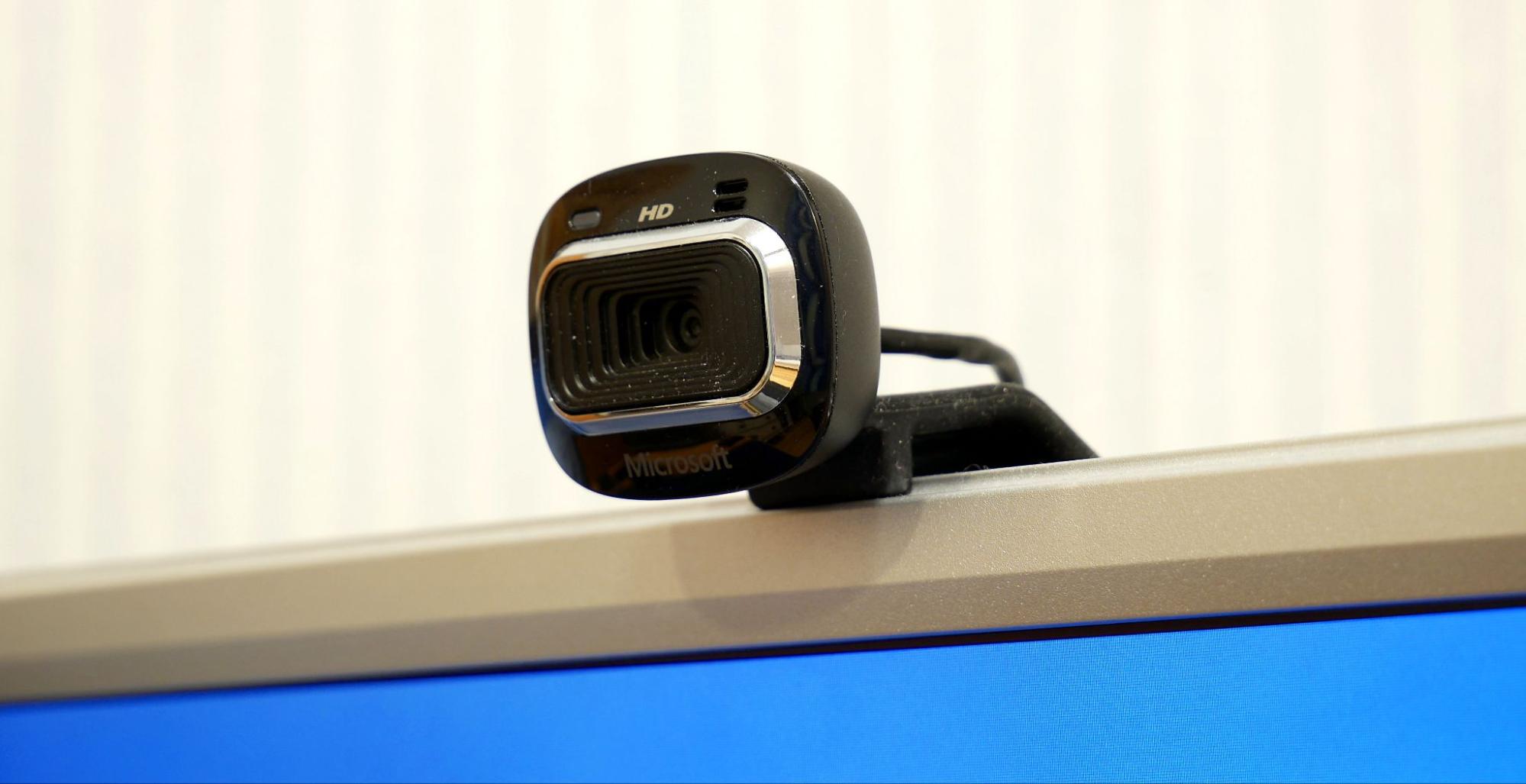 You can purchase displays with built-in webcams, but there are a few drawbacks to such a setup:
It can be expensive.

It may mean that you need to move the whole display to adjust the view.

You can't take the camera to a different PC (home-to-office and vice versa).

Replacing a faulty unit or upgrading will be difficult or impossible.
Webcams come in a variety of maximum resolutions - typically 720p and 1080p. They'll have a frame rate (number of pictures generated per second) between 30fps (frames per second) and 60fps.
Some webcams include an integrated microphone, which might be convenient for avoiding desk clutter. It also works as a backup if other microphone sources don't work or, in the case of a headset with a microphone, it's left at home! One thing to be aware of: unless the microphone includes effective noise canceling, it might pick up a lot of background noise - it depends on the quality of the webcam.
Other features to consider are autofocus and head tracking. Head tracking allows the camera to move its lens to center your head and body in the picture.
Picking a webcam involves checking the specifications for resolution and FPS, considering features and brands (reading the reviews), and deciding whether you want an integrated microphone.
Choose a Microphone
You may find that a webcam mic is acceptable for your needs. If not, you can choose to have a desktop or clip-on (lavalier) microphone or a headset.
Discrete microphones range from very cheap models to blogging/streaming units fit for a broadcasting studio. What you choose will depend on your needs. It's always a good idea to read the reviews.
The cheaper microphones plug into an analog mic-in socket, which most motherboards with audio will have (typically red or pink). Other models will have a USB connector.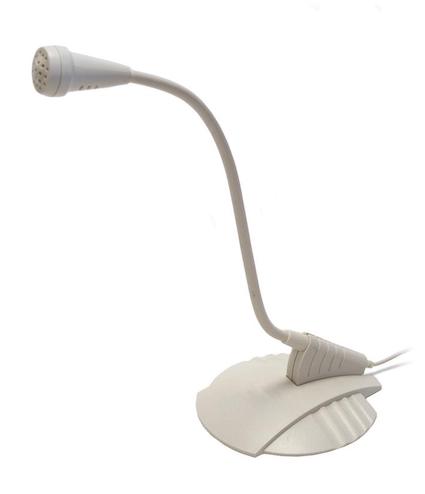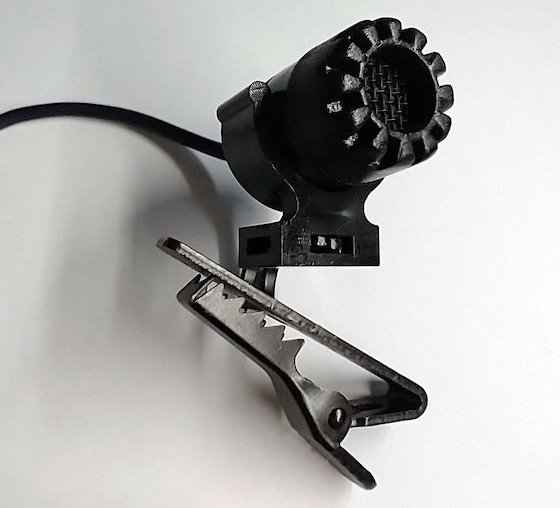 Your sound production depends as much on your surroundings as the quality of the microphone. You may need to account for reflective surface (hard surfaces) acoustics in the room.
Choose a Headset
Headsets are a popular choice for video conferencing because they combine the input and output (microphone and earpieces) in one unit and isolate the wearer from surroundings.
Mid-to-high quality headsets also include noise-canceling features and are less sensitive to the room acoustics because the microphone is so close to the sound source (the person wearing it).
Headsets range from very cheap to very expensive. To get proven quality, consider branded products first (time to read more reviews!). For ease of use, choose ones with a single USB connector rather than a separate microphone and earpiece plugs, primarily because some PC motherboards (or if you are using an add-on sound card) have the relevant ports on the back of the machine.
It's also very convenient to have inline volume and mute controls, so you don't have to keep reaching for the mouse to adjust things on the PC.
Headsets come in single (mono) or double earpiece versions. Double is best under most circumstances.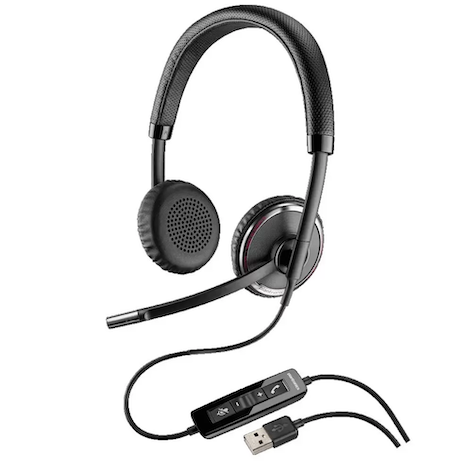 Checklist

Getting set up for online conferencing is pretty straightforward. There are a few bits to choose, but in general, there's nothing too complex. Let's summarize what's essential:
Do you need a webcam? Check out any desired features (such as face tracking), and choose a unit with a built-in microphone (as a fallback), even if a separate microphone is being used.

Do you need a separate microphone? Do you want a desktop, clip-on (lavalier), or headset-based one?

Review audio requirements. Do you plan to use the speakers in the PC's display (assuming it has them!), or are you happy with conferencing using desktop speakers?

Do you need a headset? A headset (with microphone and inline controls) might help with noise isolation.
Your Turn!

🎯 It's online shopping time again!
⚙️ Go get some audio/visual gear so you can participate in online meetings and conferencing.
Again, share your choices and those you find unsuitable. Your shopping list comprises:
A 1080p webcam with mic and autofocus.

A USB lavalier microphone for long meetings where you don't want to wear a headset.

An office-grade (as opposed to gaming) headset - double earpiece with noise-canceling microphone and inline mute and volume controls.
If you find some unsuitable products during your research, point them out and explain why they're no good for your needs.
✅ Once you've finished, see how your selections compare with mine in the Example Solutions document: .docx / .odt.
Let's Recap!
Your PC will likely need to be suitable for participating in online meetings.

You'll need devices to cover vision (webcam), sound (speakers or a headset), and voice input (a microphone).
You're all ready for online conferencing now. Let's move on and consider options for general document processing - that's printing and scanning.