As you read in the first chapter, OpenClassrooms aims to make education accessible by helping people find jobs and remain employable. We're what some people call an EdTech company: we work in education with the help of technology. ‌
OpenClassrooms' "Elevator Pitch"
You already know why we exist. Let's talk about what we do.
OpenClassrooms offers an educational experience that will lead you to a job. It could be a new job if you're looking to change your path, or it could be an evolution of your current one.
On OpenClassrooms, you'll find more than 400 free courses. More than 3 million people come to learn at OpenClassrooms every month.
To help navigate between these courses, we have created paths. They are designed to give you the skills you'll need for a specific job (for example, Web Developer). A path combines:
Courses

Projects

A dedicated mentor

A community discussion space
You can get a recognized degree 100% online by following a path. This helps you get a job or continue your education in a real-life (IRL) school if you want to!
Our paths are designed to be accessible to as many people as possible. We do not require a previous diploma (unless the law obliges us to), you can start whenever you want, take a break, and work your way through the course quickly or slowly depending on your schedule.
Most people aim to get a degree on OpenClassrooms in just one year when they'd otherwise take three! The price they pay is also much lower: ~3,600€, compared to the 20,000 to 30,000€ you'd usually spend to get the same degree.
Education Quality is Paramount
Seriously. Online education doesn't have to feel "cheap."
We all had great and not-so-great teachers at school. At OpenClassrooms, we feel a responsibility to push things further beyond the physical world.
It's not only about creating engaging courses in which we "explain things well." Education is an experience. Think about the:
Projects: they need to prepare you for a real job, and help you develop the necessary skills.

Mentors: they have to do an amazing job to help students throughout their learning experience.

Online platform: it has to be fast and reliable.

Customer service: people should be able to contact us easily and get the answer they need quickly (we also check with them frequently to see if everything is going well).
It's easy to rely on early success and forget that education quality is paramount. We need to challenge ourselves constantly. How can we do better? We need to be proud of what we deliver.
Remember: Every time that someone accepts lower quality, thinking it's "not so bad after all," a kitten dies. 🙀
It might not hurt that much immediately, but in the long run, it'll hurt everyone including students, companies hiring them, and ultimately ourselves. Only trying to do our best is not an option.
We Welcome Everyone
Because we want to make education accessible, we welcome everyone at OpenClassrooms.
Whether you want to join the company or just follow a course, we want you to feel at ease. This includes (and is not limited to) ethnic, religious, and sexual minorities. We believe that having a diverse workforce will help us to achieve our mission.
We have a team in charge of diversity at OpenClassrooms. They observe how we behave as a company, and what messages are sent through our courses, to make sure we honor this commitment. If they see or hear something that we could do better, they act to make sure we remain open for everyone.
What it Means to Be a Startup
People say OpenClassrooms is a startup. Why?
Because it's a small company? Well, we currently employ almost 200 people.

Because it's a new company? Not really, everything started back in 1999! More on this in the next chapter.

Because there are a lot of young people? Maybe, the average age is 34. Then again, we value diversity - you'll also see several people who are 50+, while others are still at school.

Because we use technology a lot? Probably. We have been using it since we were young and like what it allows us to do. We have a very strong tech stack, but that doesn't mean technology is always the solution to a problem. It's just part of the world we live in.

Because we have a foosball table? Yeah, but don't let this kind of detail fool you; that's just the tip of the iceberg. 😝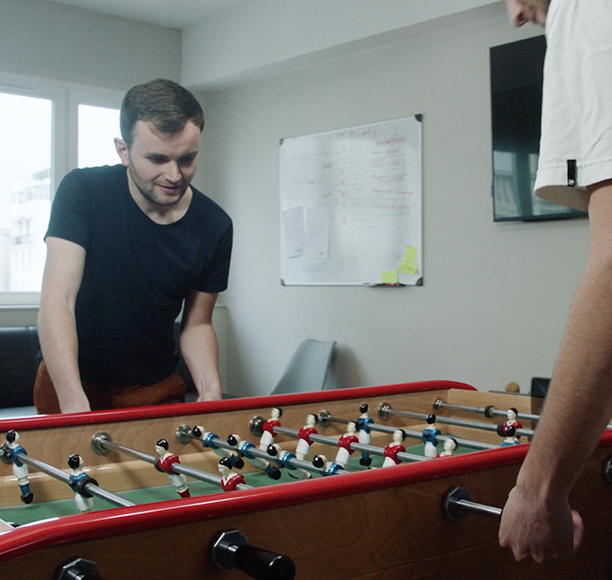 These are all valid answers, but over time we've concluded that a startup is more than these things. It's a company working on its own business model. A company that does not settle.
We have a lot of things to discover and understand. As long as we continue to innovate and try to bring more value to the world while having fun, we think it's fair to say that we're a startup. 🙂‌