Now let's talk about money! 💶
OpenClassrooms' business model is Freemium. All courses are available to everyone for free and if you want more you can subscribe to one of our Premium Offers: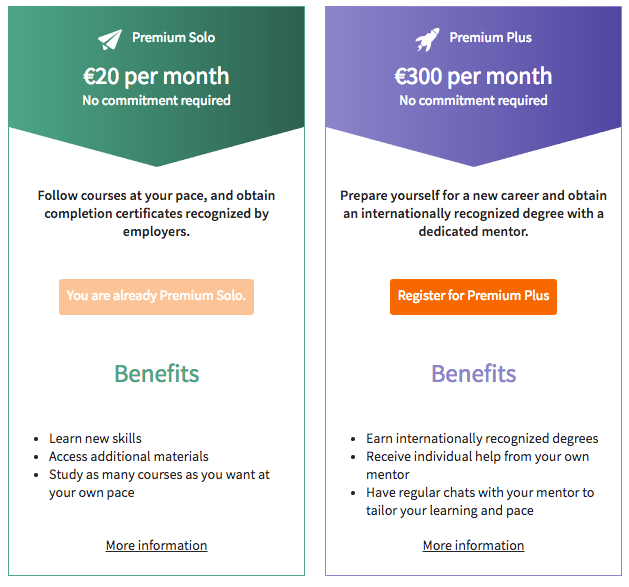 We'll cover the Premium offers in detail in this chapter. We'll also discover that OpenClassrooms has a few other sources of revenue.
The Premium Model
OpenClassrooms is based on a Freemium model: all our courses are free, and you can become Premium to get additional features.
Our Premium Solutions
Both Premium offers target a different type of user, depending on their level of commitment and their needs:
Premium Solo (20€/month - course level): you can watch as many course videos as you want each week. You can also download these videos offline and hundreds of eBooks. Finally, you can get a certificate after succeeding in a course.

Premium Plus (300€/month - path level): you meet with your dedicated mentor once a week via videoconference for support in completing paths (6-12 months). On some paths you can earn a State-endorsed degree upon completion. You will have to successfully complete the required projects with the support of your mentor and peers through community discussion channels. 
Both of these solutions are subscriptions that you can start and cancel anytime.
Our costs
Of course, the money earned doesn't all go into OpenClassrooms' pockets:
OpenClassrooms returns part of the Premium Solo revenue to course authors, depending on how much usage the course has had.

Premium Plus involves mentors, who get paid for their work. Course authors also get a cut from usage, as well as the partners who helped us build the path.
The biggest costs are course creation and mentor fees. It's also worthwhile noting that some courses require frequent updates: we invest in course maintenance because that's what enables us to stay up to date -technology evolves quickly.
B2C or B2B?
Most of our revenue comes from B2C (Business To Consumer): we charge customers directly. It is fair to say that OpenClassrooms is a B2C company.
However, we also sell Premium offers to companies. We do have Premium B2B (Business To Business) offers based on the public B2C offers. In this instance, we sell a number of licenses to a company (say 500 Premium Solo accounts to a medium-sized company). The company also gets its own dashboard in which people can compare how well they're doing in relation to each other:
Talent solutions
We work closely with companies who are looking to hire people... but who can't find enough candidates. We tell them that we can find future talents and train them together with Online Apprenticeships. We expect this to become an important part of our business in the future, as it solves an important problem for companies.
Here is how it works:
A company is looking for a specific type of profile which they can't find on the market.

We ask them what they're looking for precisely.

We set up a path, personalized for the needs of the company if necessary.

We look for candidates who'd like to participate in an apprenticeship with this company on this path. There are a lot of benefits: the company will pay for the training (it's free for the student), they will hire them on the first day of the training and will even pay them at the same time.

Selected candidates start working at the company and learning on OpenClassrooms at the same time. Usually, they spend 3-4 days a week at the company, and they learn on OpenClassrooms on a path the rest of the week.
It's a new type of product that has never been possible before: an online apprenticeship. We can set up cohorts of students from anywhere in the world, as people can learn from their home.
Instructional Design
When working with partners to build a course or a path, we want to have it available as soon as possible. The best way we've found out is to actively participate in the course/path creation, by designing and building it. We sell these services to our partners as instructional design. You can see this as consulting work in pedagogy.
One should note that it's not our main business model. In fact, we do this to accelerate course and path creation and to ensure the highest quality possible. In short: it works better in-house. While we generate a minor part of our revenue through instructional design, it's not our objective to make as much money as possible here.
👉🏼 The objective is to create as many relevant paths as possible, to get more Premium users.
Some partners also choose to make their brand more visible, by having their logo displayed next to the course introduction:
Who sells what?
Let's recap quickly. We sell:
Premium offers to consumers (B2C)

Premium offers to companies (B2B)

Instructional design
Most of the revenue comes from B2C Premium offers. It is naturally sold through the website directly to consumers, though a B2C marketing team is here to help make it happen. 😜
Some members of the team answer our users by email and phone, whilst others offer advice to users who would benefit from the Premium Plus offer. Some of our users qualify to have their premium offers financed by funding bodies, so we have members of the team dedicated to help with financing plans.
The Premium B2B and instructional design service are sold by a B2B Sales team. Within the team, some team members are specialized in selling Premium B2B and others in building paths with partners while selling some instructional design.
You'll get more information on the internal organization of these teams in the next part of this course.
One word about competition
There are different ways to see competition:
For some, it's a nuisance. It's these other companies that can steal our market shares. They avoid talking to the competition.

At OpenClassrooms, we see competition as a good thing. As long as our competitors have the same objective to make Education accessible, we talk to them. In fact, we don't hesitate to build partnerships and we invite them to our office.
The market size is not fixed (and in the case of Education, it's huge). We don't waste time trying to beat a competitor, and remain focused on achieving our mission. Always remember this!